Our Readers' Favorites post is a monthly roundup of items you loved most from the last 30 days.
At the end of every month, I sit down and look at our site's stats. One of the reports we receive is what was purchased every month. This data does a few things: (1) helps me create content that builds on pieces I know you own, (2) allows me to see trends in what you are looking for, from styling to price point, and (3) provides a list of top sellers.
I like to think of this post as a crowdsourced list of pieces approved by our busy, professional, and practical readers.
The best of our March picks are versatile assortment of easy to wear basics, feminine tops, practical staples and one effective skincare product at an insanely low price.
Let's dive in.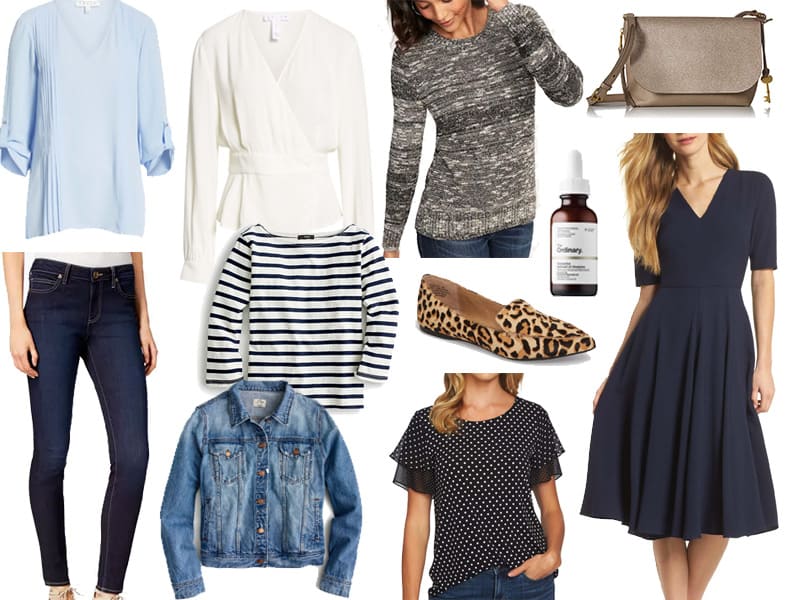 Blouse, $69 | Wrap Top, $69 | Sweater, $25 | Striped Top, $49 | Polka Dot Top, $59 | Leopard Loafer, $90 | Midi Dress, $178 | Jeans, $94 | Retinoid, $10 | Denim Jacket, $110 | Crossbody, $80
When a blazer feels too dressed up for the office, a blouse with some extra details is ideal. This crepe blouse is under $70 and comes in three colors. The pintuck detail on the side adds interest and slightly pulls in your waistline.
This simple yet elegant blouse is a fun date night option to wear with dark jeans or black pants. Add a pair of statement earring, grab a clutch and head out for a fun weekend night out.
An inexpensive sweater is a buy now wear now multi-use staple you can dress up or down for six months out of the year.
By now you know my love of striped tops. This timeless boatneck available at J.Crew comes in for color ways, from sizes XXS to 3S. Wear it with dark jeans, white jeans, khakis or any pair of denim or white shorts come summer.
Another "social" top at a can't beat price; this polka dot top is quintessential spring. Wear it now with jeans or freshen it up with crisp white slim pants and heels.
A hint of leopard goes a long way, especially in a classic wardrobe. These loafers work in so many applications, from work to weekends, with jeans or black pants, a basic dress, as a commuting flat, or an everyday office shoe
The spring is filled with occasions, like baby and bridal showers, weddings, graduations and religious holidays. If you need a chic yet conservative dress (with a sleeve and pockets no less!) this Gal Meets Glam staple, available in black navy or pink is for you.
I love a good skinny jean, but many cuts assume our bodies are shaped like pencils, not naturally curvy. These KUT from the Kloth "curvy" style accommodates are hips and bottoms, while still extending the line of our legs. Tip: Wearing some kind of heel with skinny jeans will enhance the line of your leg helping to look longer and leaner. It doesn't matter how high the heel, even an extra inch will make your outfit more elegant. Your color and size options are great, with three washes available including black, and a size range from 0 – 16.
I never considered using products by The Ordinary because their price points are so low. Then I read countless reviews praising their potency and gave them a try myself. They're pretty incredible and their $10 Retinoid, works like products with an extra zero at the end of their price tag.
A denim jacket works in almost every situation so if you don't have one yet, consider adding it to your mix this season. A good one (and "good" doesn't always mean most expensive) will last a very long time. Like this classic style denim from J.Crew, once again offering all sizes from XXS – 3X.
With spring break weeks away a crossbody bag may be on your list of must-haves. Fossil makes a gorgeous bag without a lot of fuss. There is no obnoxious logo, or hardware, just clean lines, and functionality. It's available in eight colors, with my favorites being "champagne" featured above and a go-with-everything tan.