Reader Favorites is a monthly series that highlights the most popular items on the blog from the last 30 days. Think of it like a round up of items highly recommended from your friends. We'll use these different ways in upcoming style posts to help you get the most of what you're buying and share ideas on how and where to wear them.
Shop below and stay tuned for more outfit inspiration.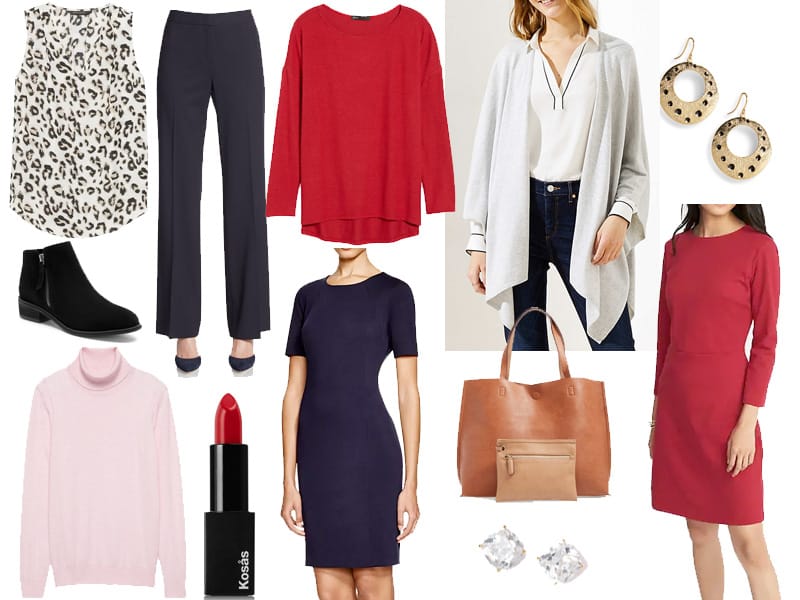 Leopard Tank, $60 | Trousers, $145 | Sweater, $30 | Wrap, $60 | Hoops, $90 | Waterproof Bootie, $130 | Turtleneck, $41 | Lipstick, $28 | Sheath Dress, $98 | Tote, $49 | Studs, $32 | Shift Dress, $26
Leopard Tank, $60: A wearable leopard print you can layer under a blazer for work or with a cardigan and jeans on the weekends. Sizing goes up to an XXL (approx. a size 20).
Trousers, $145: When I worked with clients they would pay full price for these pants. They have a beautiful drape and just enough stretch. Sizes and colors are starting to get limited. Sizing ranges from a 0 – 18 and tends to run full.
Sweater, $30: An easy high/low pull over for jeans and leggings. Sometimes runs large, also available in petite.
Wrap, $60: For flights or to keep at your desk when it gets chilly, this light weight wrap will help you look polished and NOT like you are walking around wrapped in a blanket. Also available in black and blush.
Hoops, $90: I was so happy to see how many of you loved these earrings. I usually like simple, basic earrings,
Waterproof Bootie, $130: Comfortable, easy to wear and waterproof. Wear these for three seasons whenever the weather turns wet and messy.
Turtleneck, $41: This stretch-cotton turtleneck fits close to the body without clinging. Wear it with slim jeans and booties on the weekend.
Lipstick, $28: Non toxic lipsticks isn't known for its great pigment, but this Kosas lipstick in red goes on smooth and doesn't bleed. It's one of my personal favorites.
Sheath Dress, $98: A classic, wearable dress you can wear on its own or under a jacket for less than $100, available in black or navy.
Tote, $49: There is a reason this is frequently on the top of our favorites list. It's a practical, stylish, affordable bag that you'll use every single day.
Studs, $32: They call these "mini" studs but they make big impact. I like them because they are not trying to look like the real deal, they're just a fun, sparkly accessory for under $40.
Shift Dress, $26: Under $30 for a shift dress is insane. Will you have it forever? No. But it's a fantastic value for a dress for travel or the office AND it's available in missy, petite and tall sizes.