I love watching the seasons change, in person and through your style choices here on The Well Dressed Life.
It's so fun to see new pieces and favorites emerge. Knowing what you loved each month helps me tremendously when planning our seasonal content. And because my top priority is helping you build out a chic and thoughtful wardrobe, knowing what you bought allows me to offer even more outfit options.
So our Readers Favorites series highlight the most loved items for the month and gives you a peek at what your fellow readers are incorporating in their wardrobes.
And every month, I feature you top 5 – 6 favorites.
Reader Favorites: February 2022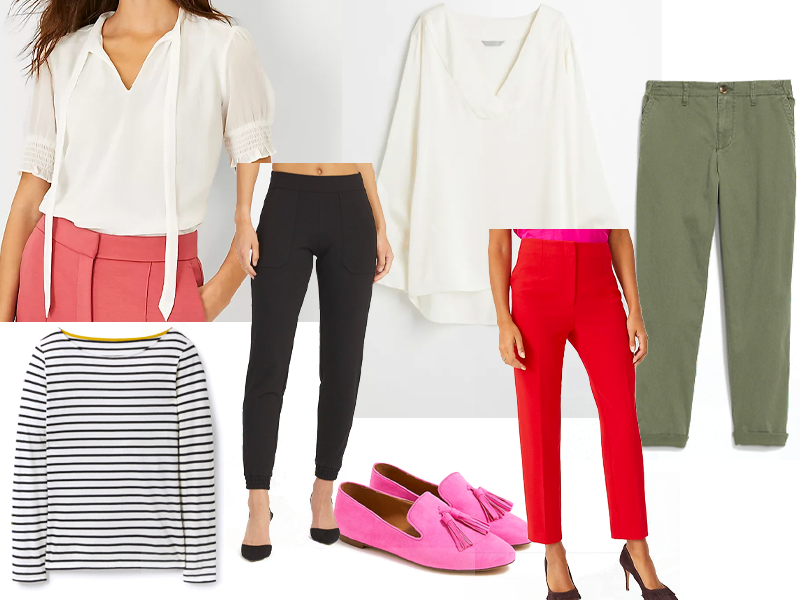 This month, there is a nice mix of basics, spring must haves, and color.
And, as luck would have it, many of these are on sale, with wide size ranges.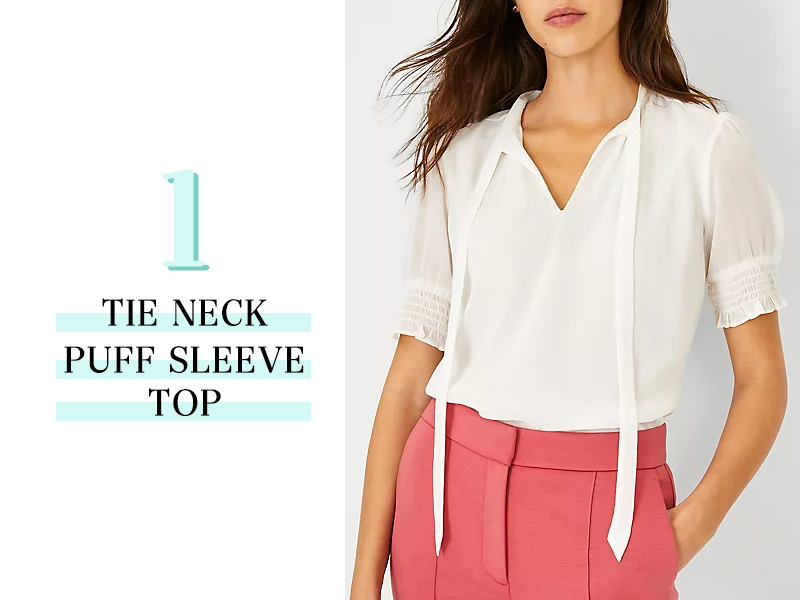 Tie Neck Puff Sleeve Top, $79.50
For the past few seasons Ann Taylor has been a bit disappointing, but this season might just be their redemption story. After seasons of limited sizes, supply chain issues and confusing sales, they came out of the gate for spring with items ideal for rebuilding your work wardrobe.
And it turns out, I'm not the only one who is sucker for a short sleeve blouse. This one has a very subtle, sheer puff sleeve – wonderful if you are narrow shouldered, and a tie neckline that adds a little extra detail.
Available in white (above) and navy, in regular and petite, in sizes XXS – XXL.
We highlighted two ways to wear this here.
(You can see my top picks from their new arrivals here.)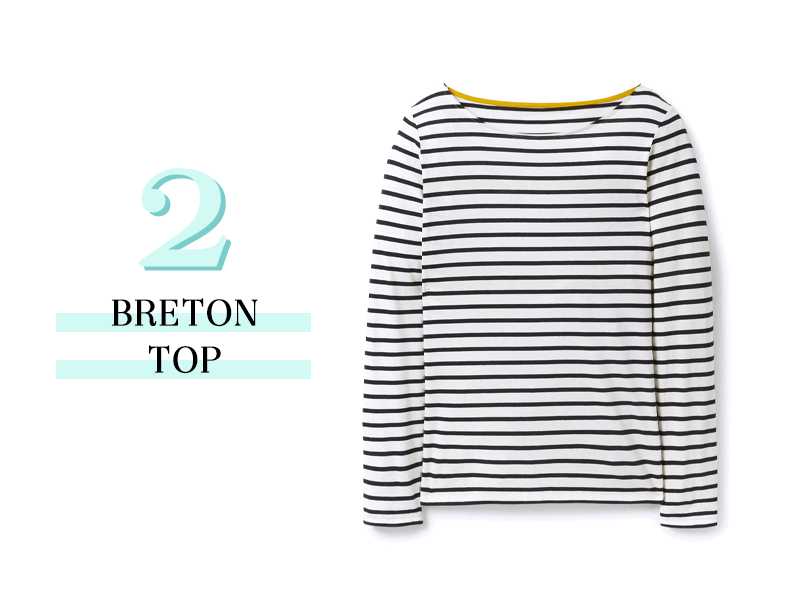 Breton Top, $40
The classic Breton is a WDL key piece, and Boden makes one of our favorites. It's available in various combinations; I like navy or black stripes against ivory, sizes 2 – 22.
If you have a full bust, you may not like the combination of a boat neckline and a horizontal stripe, as it might make you feel wide, and that's okay! No one can wear every style, so go ahead and skip this as an option if you are uncomfortable.
We featured this earlier this month here in our Outfit Formula #5 and also here in How to Wear Classic Chino's And Not Look Frumpy.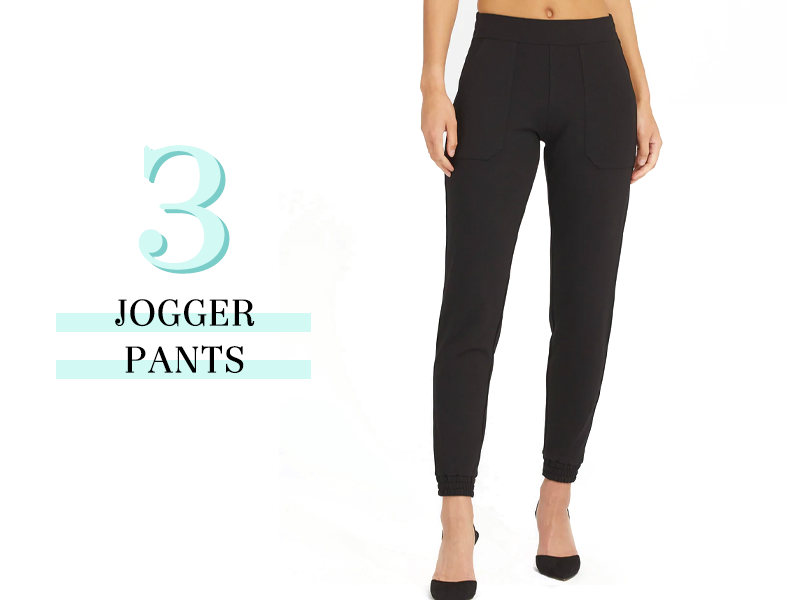 Jogger Pants, $128
We frequently talk about joggers as a basic. You can find these in every fabric, from casual cotton to silk.
This month we featured the Spanx Jogger Pants, similar to their "Perfect Pants" but in a softer shape. They are great if you are looking for versatile pants that aren't skinny but still shapely. Dress them up for work or a date night out.
You can see how to wear them here in our Outfit Formula #6 & #7.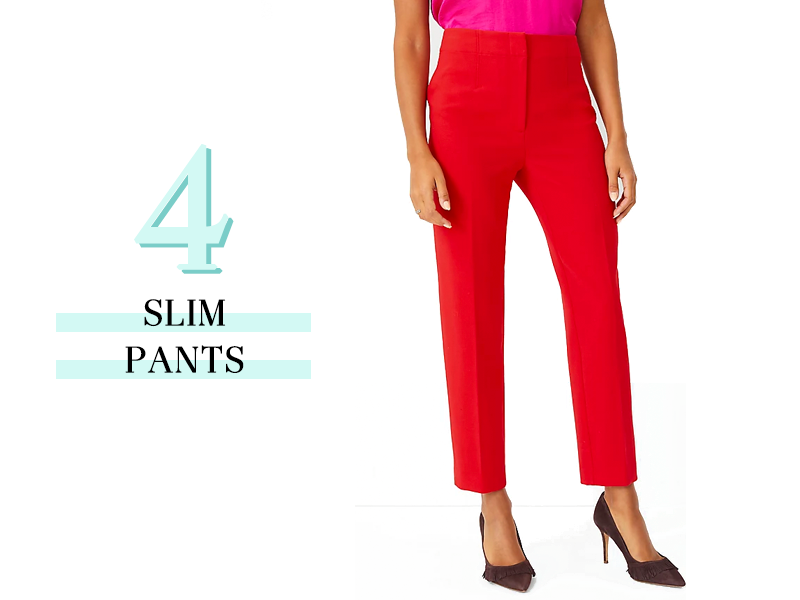 Slim Pants, $80
Ann Taylor has always made a solid trouser. Even back when I was working with 1:1 clients, I could always count on them to have a classic work pant, in a range of sizes at reasonable prices.
So don't sleep on these slim cut pants. We featured them last week here, in the red.
But the black (above) is the perfect basic for spring. You want them to hit right at your ankle, like on the model above, or a hair longer. If you get these and they are too long, have them hemmed.
Available in regular and petite, in a traditional and curvy cut, in size 00 – 18.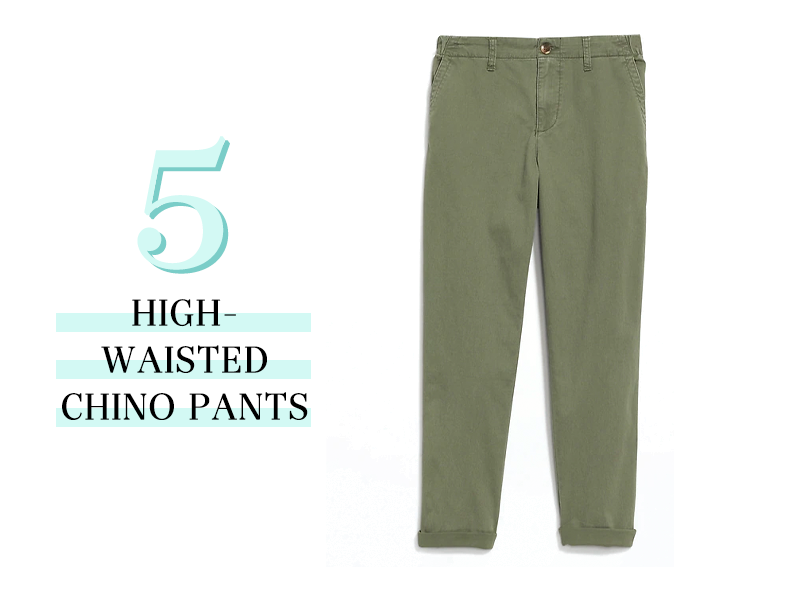 Olive colored bottoms have been a popular neutral for the last few years. They are especially nice in early fall, and now, in early spring. So I was so happy to see this Old Navy version on our list, for $25 in regular, tall and petite in XS – 4X.
You can find some inspiration to incorporate them into your wardrobe in this older post here, that's being updated this week 🙂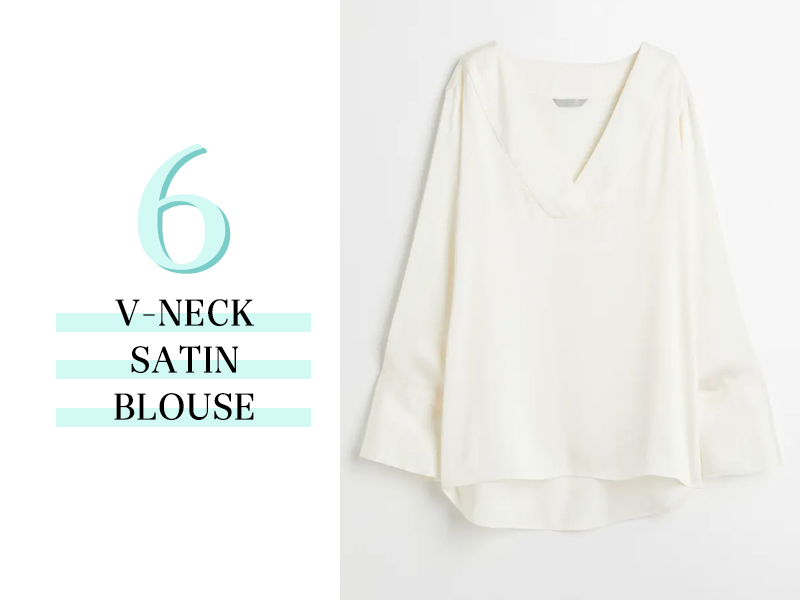 Satin Blouse, $30
H&M always has some seriously elegant and equally affordable pieces every season. This simple but beautiful blouse is only $30 and is just the thing to pair with slim lined trousers.
The v-neck is flattering on all body type. When you wear it , you can either let it hang out or half tuck into your waist band.
AND! if it feels a little too long but fits everywhere else, have it hemmed, it's an easy alteration to make it work for you.
You can see them paired with the Spanx Joggers here.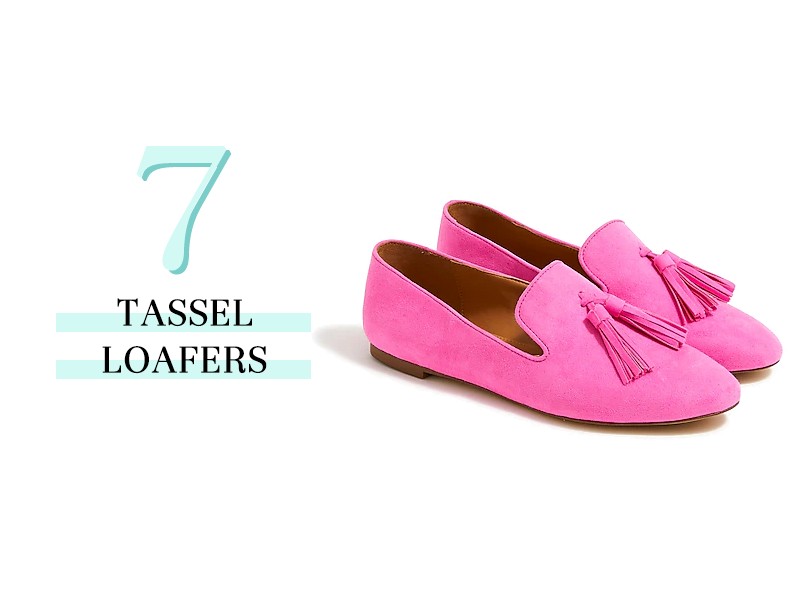 Tassel Loafers, $55 plus an extra 20% off with code: STOCKUP
Finally, Spring is the perfect time of year to add some poppy color to your look, and when you have a wardrobe built on basics, it's so easy.
I love these Tassel Loafers from J.Crew Factory on sale for under $45. There is a full size range and an array of fun colors, like pink (above), a preppy green, and a classic red, along with your basic black and tan.
Grab a few if it's in your budget and have fun adding some color to your looks.
Follow Me on Instagram for Real Life Fashion and Style Advice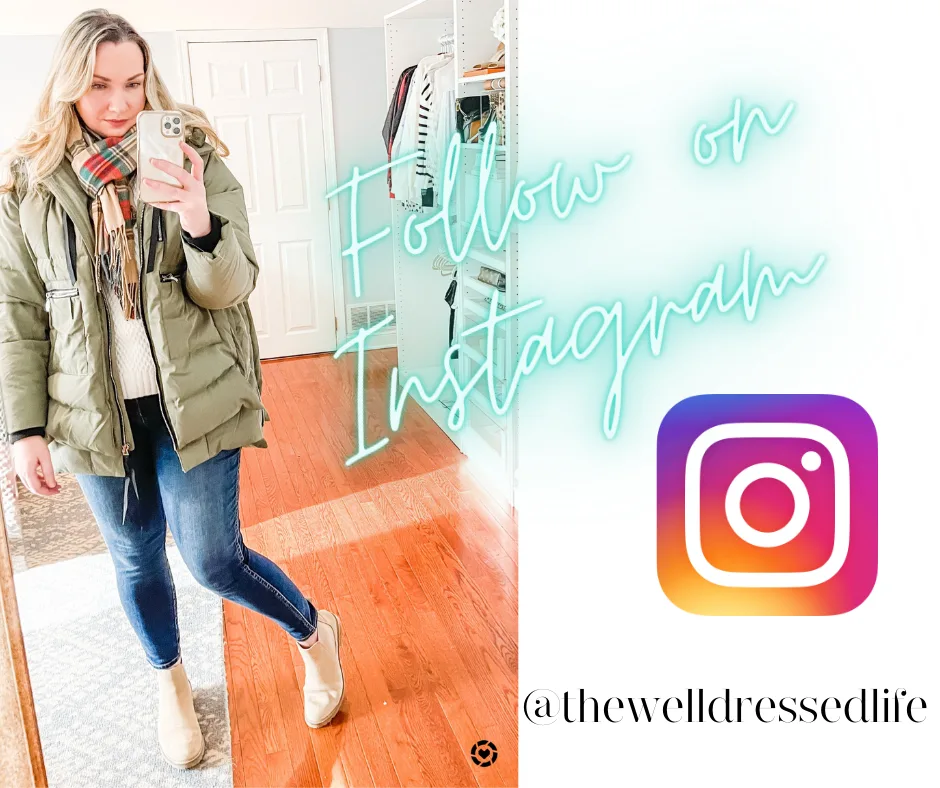 Follow The Well Dressed Life on Instagram for Realistic Style Advice, Fun Behind the Scenes, and Tons of Exclusive Tips and Content.
Our Style Content is Inspired by Our Readers
Our readership inspires all of our posts and is not sponsored or paid for by brands or retailers.
Recommendations are based on my experience as a personal stylist and wardrobe consultant for over a decade. I worked with busy, down-to-earth women who wanted to look chic and feel confident but were often confused by so much of retail.
Some links are affiliate links, which means if you purchase via our site, we receive a small commission.

If you enjoy our content and would like to help us grow, please follow on Instagram and join our Private Facebook Group to access more advice and exclusive in-depth conversations with other like-minded women.
Learn about our mission to help women look and feel their very best, every day, here.
Sign Up for Daily Content and Receive Our Free Classic Wardrobe Checklist