Historically, February isn't a great month. Stuck in between the never-ending dreariness of January and the beginning of spring, I often struggle with content and product recommendations.
But this February was fantastic!
I'm starting to find my stride with our publishing schedule, and delighted retail offered up pieces worth featuring.
So let's wrap up winter here on the blog and move into spring by rounding up your top picks from last month.
Your February Favorites are a wonderfully wearable mix of wardrobe staples and interesting pieces perfect to zhush up what you already have hanging in your closet.
Reader Favorites from February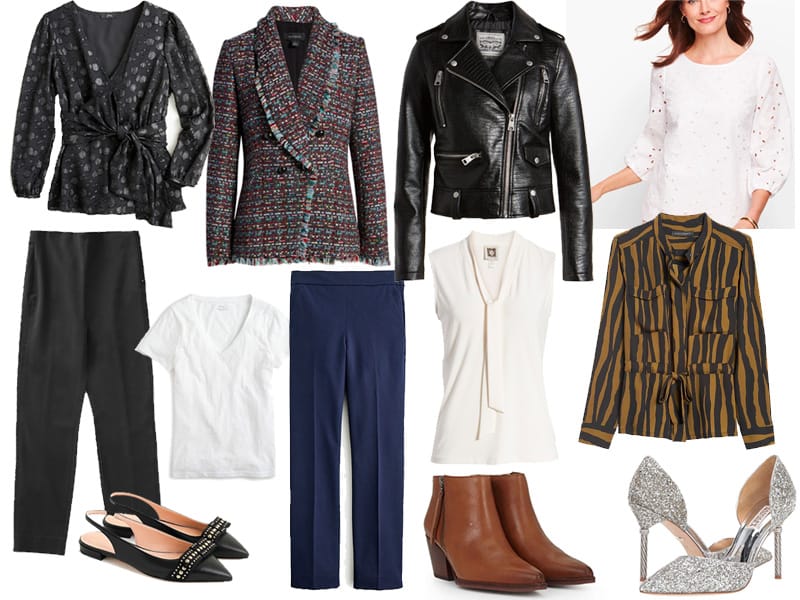 Booties, $60 | Zebra Blouse, $85 | Tweed Blazer, $139 | Glitter Pump, $195 | Tie Neck Blouse, $37 | Metallic Tie-Waist Top, $50 | Faux Leather Jacket, $88 | Slingbacks, $99 | T-shirt, $29 | Navy Pants, $89 | Black Pants, $50 | Eyelet Top, $109
Please scroll through for all available size options. Inventory is limited on some pieces due to popularity.
Sam Edelman Booties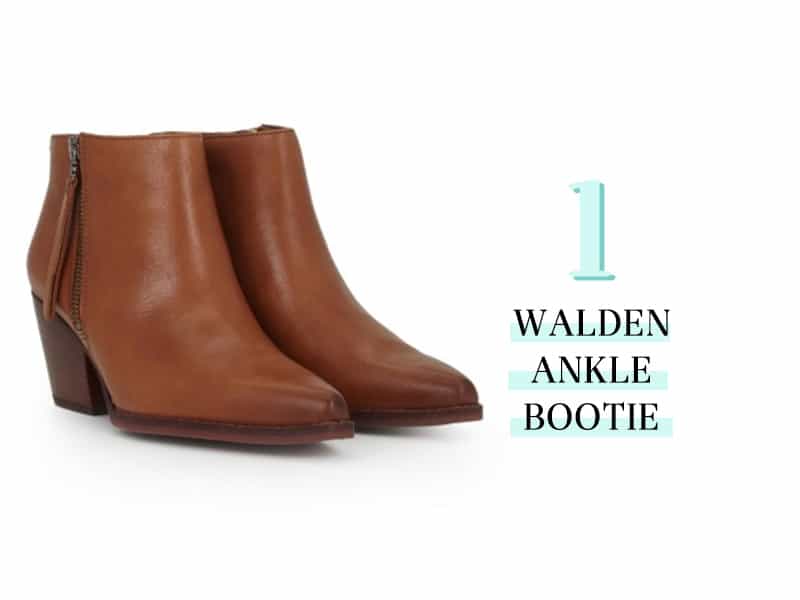 Booties, $60 (on sale!)
You might be sick of me talking about these, but not since this Old Navy Dress has an item been so popular. Simply put, these boots are the best. Pick them up now while they are still on sale and you'll wear them right up to sandal season and again in the fall.
Banana Republic Blouse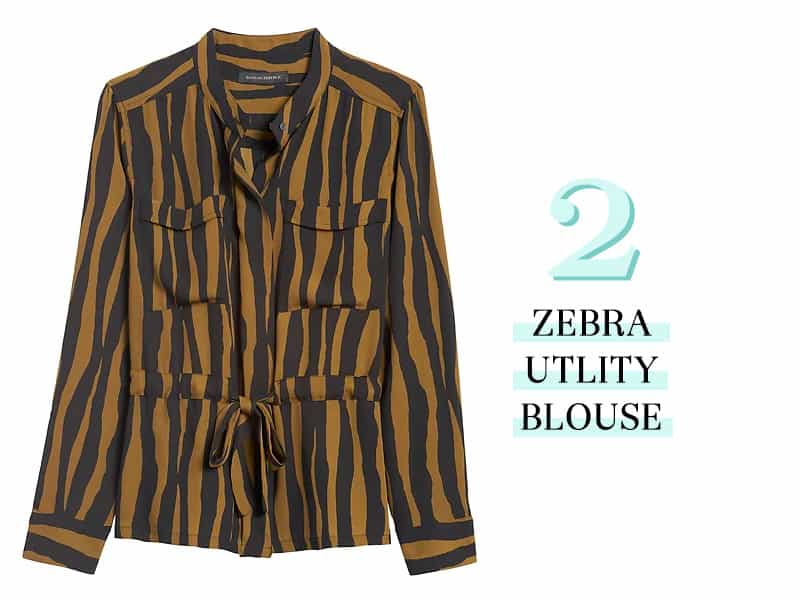 Zebra Blouse, $85 (Lots of other colors and prints)
Just a simple blouse to wear with your favorite pants or jeans is often all we need to make getting dressed in the morning easy-peasy. This blouse, from Banana Republic comes in all sizes and if you're not wild about the zebra print (see what I did there?) you can pick it up in black, white, or a more subtle cheetah print.
Halogen Tweed Blazer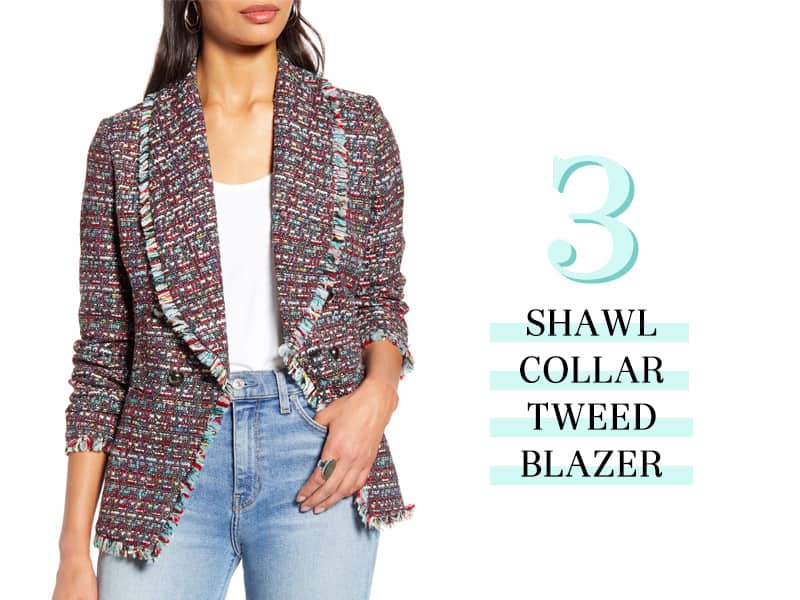 Tweed Blazer, $139 (Available in all sizes)
The cornerstone of our Workwear Wardrobe Capsule this tweed blazer is a stunner. It's available in petite and missy here, and in plus size here. It looks great with jeans, navy bottoms or, if you're brave, a crisp pair of white pants.
Badgley Mischka Pumps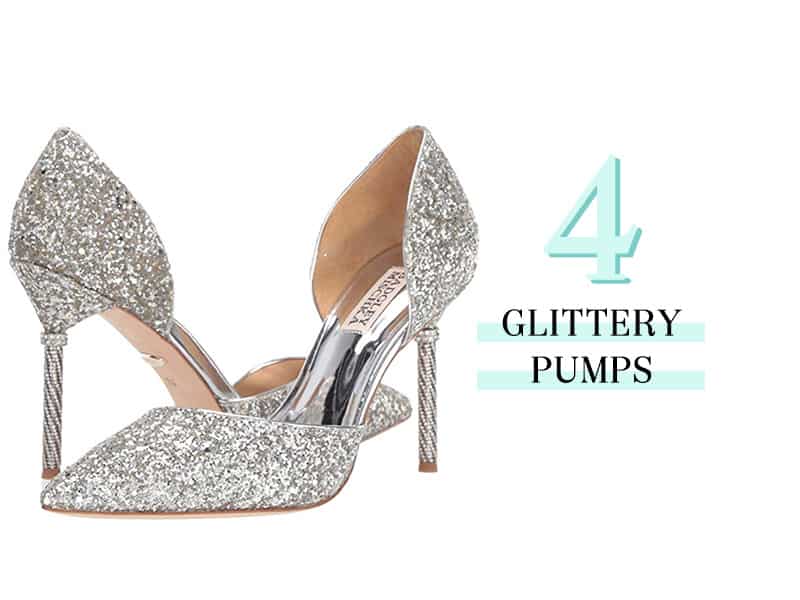 Glitter Pump, $195
I mentioned how beautiful I thought these glitter pumps were in February's Ten List and was both shocked and delighted to see how many of you bought such a show stopping shoe. They are expensive and completely impractical, which makes them even more fun.
Anne Klein Blouse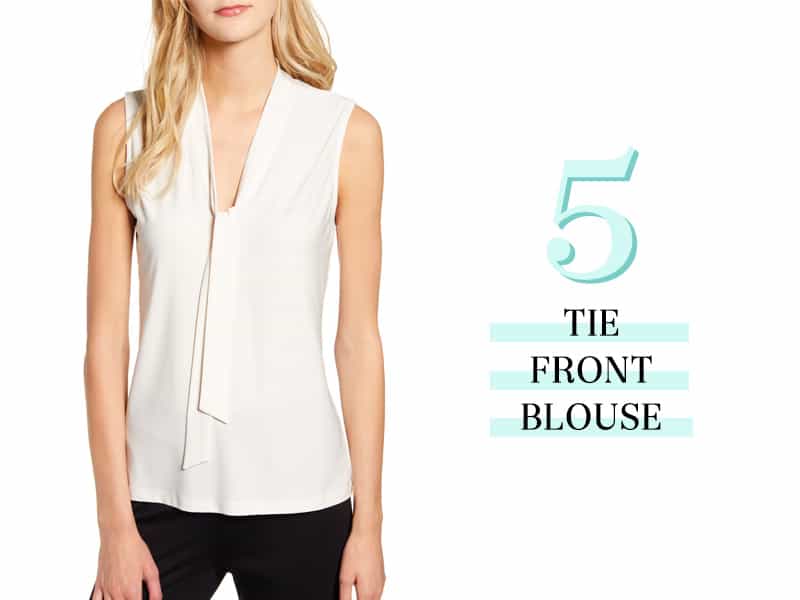 Tie Neck Blouse, $37
Need a layer for under blazers or cardigans? This is it. Originally featured in our Workwear Capsule, it's simple, chic and has the perfect tie neck. It's available in XXS- XL in white here, and a fresh black and white polka dot print here, both on sale for under $40.
J.Crew Blouse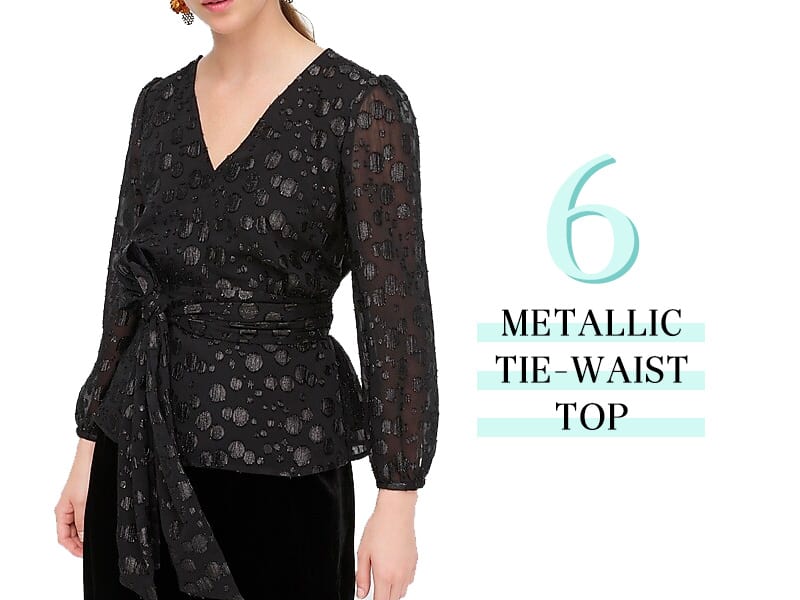 This lovely lady is making her second straight appearance on our Readers Favorite list. She's a stunning date night top from J.Crew on sale for under $50. I love it with black pants, skirts, or jeans. It has just the right amount of shimmer to make it feel special without feeling over the top.
Levi's Moto Jacket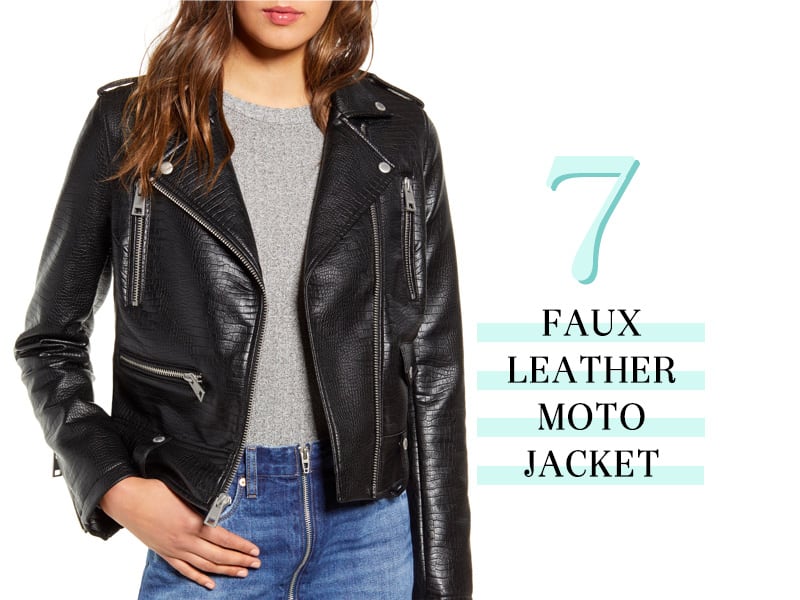 Faux Leather Jacket, $88
In my attempt to be more cool, I picked this faux leather moto up for myself. I love it and so did you! It's just an easy piece to throw on with your jeans, a casual dress or even leggings or joggers, to give your look some edge. The price ($88) can't be beat for the the quality. Pick it up in missy sizes here and plus size here.
J. Crew Flats
Slingbacks, $99
These slingback flats elevate a basic look with their subtle wink to rocker chic. I own these and regularly wear them with slim ankle pants and jeans. They are currently on sale for under $100 with limited sizes.
J. Crew Tee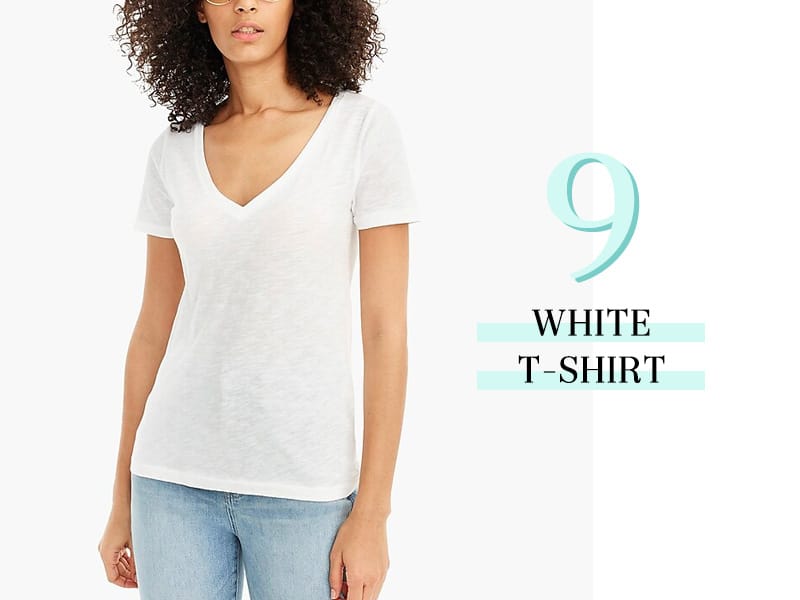 T-shirt, $29
I wear these AND my almost 13 year old daughter wears these, so that's where I am in life. This is a solid basic tee, available in over a dozen colors, though black and white are my go-to's. Consider going up if you're in between sizes. They don't cling to your body but are cut slim enough to show your shape, but I appreciate the extra room the next size up gives me.
J.Crew Pants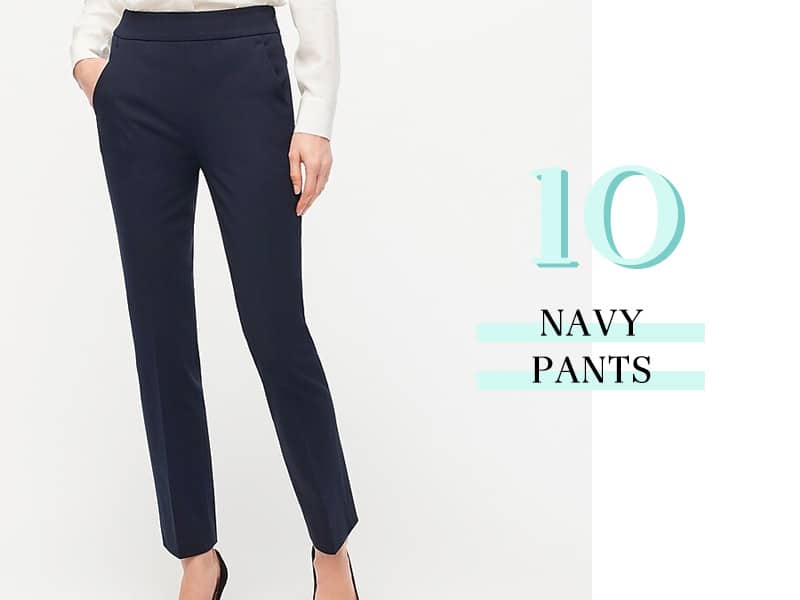 Navy Pants, $89
These slim cut ankle pants with a side-zip from J.Crew are what I call a "good navy." The blue can't be confused with black. It still reads blue but has depth too it. These come in classic, petite and tall up to a size 16 available in navy and six other colors.
Side-zips are a flattering option that helps minimize a midsection you might not be crazy about (raises hand). They are sliming and unfussy, making them an ideal spring bottom.
Everlane Pants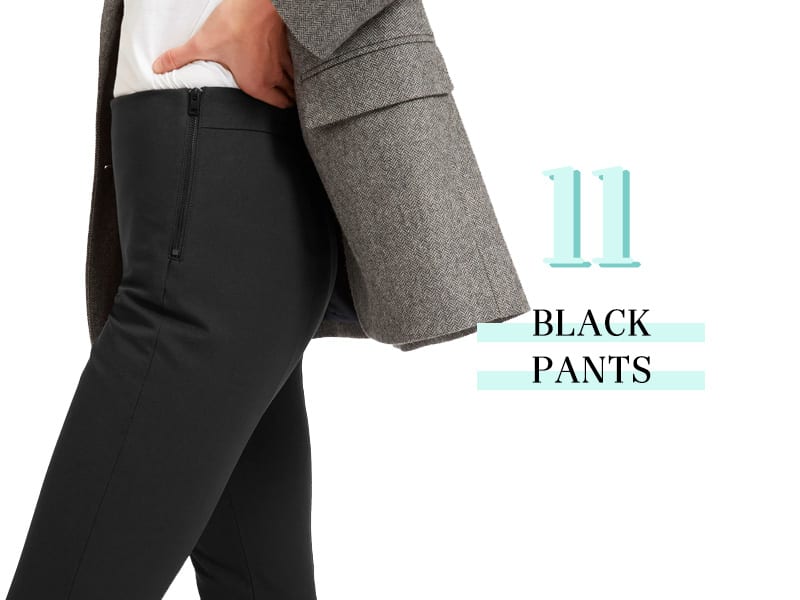 Black Pants, $50
Another fantastic side-zip pant, this time from Everlane. And they are not on sale, $50 is just the price! I appreciate Everlane as a brand. They focus on ethical manufacturing and transparency with extremely reasonable prices. Sizing could be better, these come in a 00 – 16, so it's not terrible either. Go up if in between sizes.
Talbots Top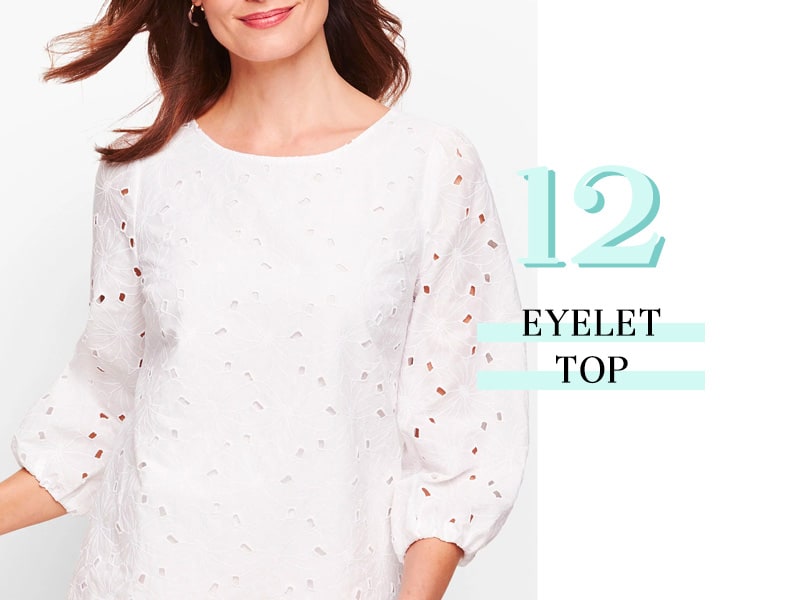 Eyelet Top, $109
Finally, our What to Buy at series continues to be a new favorite series and our Talbots feature received tons of positive feedback from surprised readers. Yes, some of Talbots pieces can look and feel frumpy, but their spring new arrivals offer a handful of better items that look like you picked them up at a special little boutique.
Like this eyelet top that will freshen up a pair of dark jeans instantly.
Another piece that almost made the favorites list was this plaid blazer, (you can see me in it here) that's also getting lots of love from readers.
---
Our Content is Inspired by Our Readers
Our readership inspires all of our posts and is not sponsored or paid for by brands or retailers.
Recommendations are based on my experience as a personal stylist and wardrobe consultant for over a decade. I worked with busy, down-to-earth women who wanted to look chic and feel confident but were often confused by so much of retail.
Some links are affiliate links, which means if you purchase via our site, we receive a small commission.
If you enjoy our content and would like to help us grow, please consider following on Instagram and join our Private Facebook Group to access more advice and exclusive in-depth conversations with other like-minded women.
---