Reader Favorites is a series that highlights the most popular items on the blog from the last month. Think of it as a round-up of highly recommended items from your friends. You'll see these incorporated different ways in upcoming style posts to help you get the most out of what you're buying and ideas on how and where to wear them.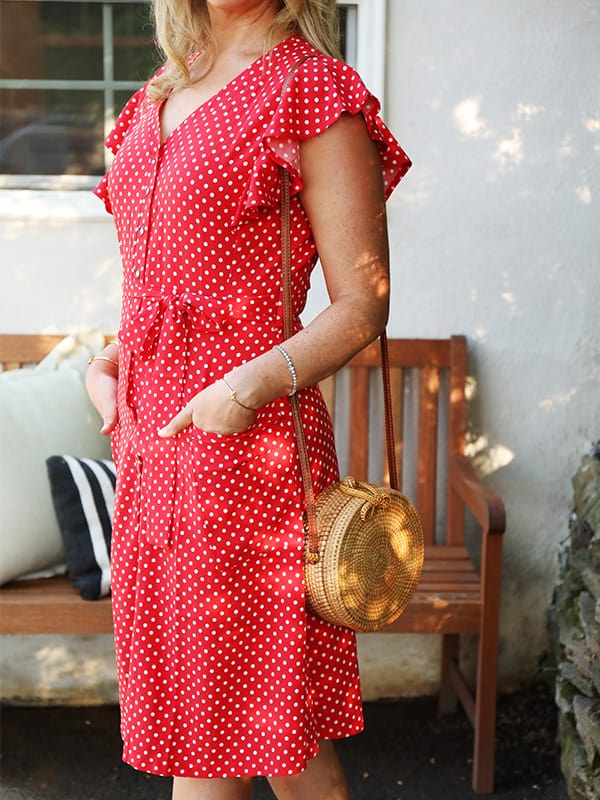 August is always a tricky month. Summer items are on sale but limited in inventory. And we're not quite ready to embrace fall. So we featured pieces that you could buy now, wear now and later.
For today's post, I rounded up your top picks that will seamlessly transition into the new season, and give some tips on how to style them so you can wear them well into the fall.
Scroll below to shop and discover some chilly weather outfit inspiration:
A Shirtdress
[affiliate_product id="26978″ align="left"]
When I found this dress at Target, I had no idea that it would become such a hit. It's a perfect transition dress. The fabric feels substantial, giving the dress beautiful structure and weight. It's available in XS-XXL here and plus size here.
You don't need much to make this fall-ready, just swap out your sandals for a pump with a block heel, like these in black suede for under $100.
Tip: If the skirt feels long, a simple hem will bring back your proportions. To maintain the integrity of the style, have it hit at the bottom of your knee.
Bold Print Skirt
[affiliate_product id="26992″ align="right"]
I found this skirt at the Anthropologie in New York (available in missy, petite and plus) and instantly loved it, which is odd since I don't wear many prints. But every now and then something speaks to you. In the summer it's perfect with a simple white tee shirt and neutral-to-you sandals.
Going into fall pair it with an ivory cashmere sweater, this one from Aqua at Bloomingdale's is lovely. For something more affordable, this sweater from LOFT (featured in yesterday's post) would pair nicely. It's available in missy, petite and plus.
For a shoe, these simple but gorgeous suede heels from Banana Republic (readers rave about their "12-Hour Madison pump) in "Biscotti Suede" will balance out the delicateness of the skirt.
Classic Jumpsuit
[affiliate_product id="27003″ align="left"]
This jumpsuit was a big hit (you can see me in it here). It's a zip-and-go piece that only requires a heel and a clutch for night out. Similar style available in plus size here.
But don't tuck it away until next spring. Keep it in rotation all year long by either adding a denim jacket for a casual look or zhushing it up with a statement earring, I'm in love with these, and a velvet blazer for a cocktail or holiday party.
Tie Waist Pants
[affiliate_product id="27019″ align="right"]
If you're looking to elevate your style a bit this fall, but want to stay true to your timeless aesthetic, give these pants a try. They are available in missy and petite, and plus size here.
What's great about them is that they will slip right into the outfits you already have hanging in your closet. By swapping out your go-to black ankle pants for these you will instantly and easily elevate any outfit.
Tip: You have to at least be able to half-tuck your top into your waistband so you can show off the tie detail.
Blazer
[affiliate_product id="27031″ align="left"]
Is there anything better than the morning you wake up in September and realize you can wear jeans and a blazer?
This wardrobe staple is available in seven colors in missy and petite here and plus size here. Pair it with a pencil skirt for the office, and your favorite jeans for the weekend. For under $100 you'll get more than your money's worth.
Tip: Runs small so size up.
Office Dress
[affiliate_product id="27047″ align="right"]
It's hard to find a dress for work that doesn't require a jacket, so when we come across one I sometimes upend our content calendar to feature it.
I am a dress girl, especially for the office. They are so easy. You look like you put in lots of effort without having to do much at all.
This Tahari sheath is the epitome of workplace chic. You get a sleeve (!) and a flattering tucked waistline. All you need is your favorite comfortable heels and you'll be set for the day and season.
Polka Dot Surprise
[affiliate_product id="27055″ align="left"]
My attempt at shopping Amazon for fashion left a lot to be desired. Except for a few things, most of what I ordered went back. However, this dress was a happy surprise. It fits so well. It's light but doesn't feel cheap. And every time I wear it, I get tons of compliments. I was thrilled to see so many of you ordered and loved it too.
I have lots of school/kid-focused events on the calendar this month, so I need comfortable outfits that still look cute. I plan to wear this to one of those events with crisp white sneakers and my denim jacket – it will likely turn into a go-to early fall outfit.