Every December I round up the 12 most popular items on the blog from the year. No surprise here, 2020's best selling items focused on casual comfort, and polished pieces to dress from the waist up 😉
As we finally put a bow on this ridiculous year, below are the dozen pieces our community loved the most, still in stock with size ranges for all.
Reader Favorite Style Buys of 2020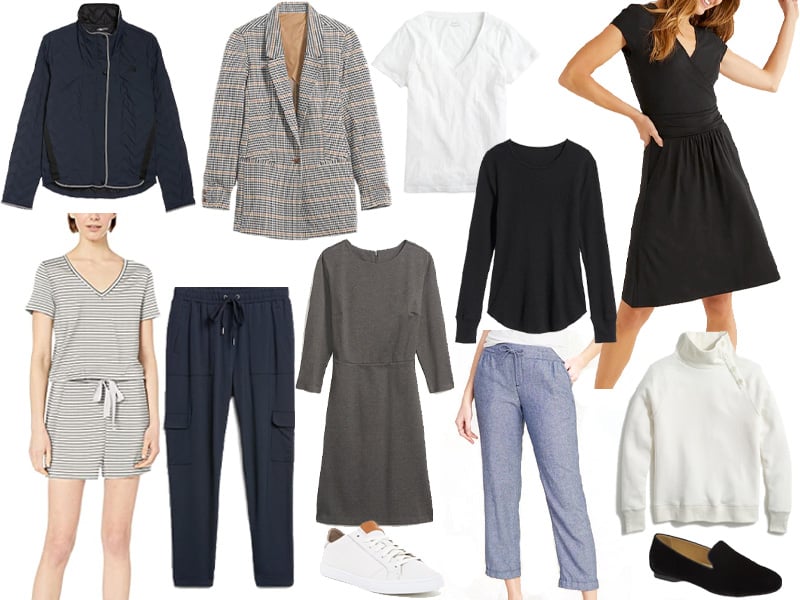 Stay-at-Home Loafers
1. The Starling Loafer, $95
Designed for at home entertaining these loafers are chic and feel heavenly.
Layer Building Tee
2. Thermal Tee, $12
Ideal for wearing with anything from jeans to leggings to pajama bottoms, available in nine colors in all sizes.
Shorts Alternative
3. Cropped Linen Pants, $30
If you are in a warm weather climate you can still pick up these lightweight pants in regular, tall and petite sizes in an array of colors and patterns.
Sweatshirt with Style
4. Button Collar Sweatshirt, $29.50
We all scooped up this Button Collar Sweatshirt for long days at home doing all the things. This is getting limited in size but still available up to a 3X.
Under $30 Dress
5. Sheath Dress, $27
Right now this dress is about $25 (with the additional 20% off at checkout), available in all sizes including petite and tall. It's a no brainer if you need a comfortable dress to wear as we slowly go back to "normal." (See how to wear it here.)
Romper for Grown-Ups
6. Terry Romper, $29
I LIVED in this terry romper all summer, in olive and stripe (above). Think of this like pajamas you can leave the house in, it would be great to pack if you are spending the holidays some place warm.
Designer Sneakers on Sale
7. White Sneakers, $90
Elevate your casual outfits with these sophisticated, comfortable and year-round sneakers on sale for $100.
Quilted Jacket
8. Quilted Jacket, $139
If you are looking for a jacket that is lightweight AND will keep you warm consider this option from North Face. It comes in black and navy, runs true to size and acts as the perfect layer for running errands in and out of the car.
Simple Jersey Dress
9. Jersey Dress, $85
This Boden Dress gets dozens of FIVE Star reviews for comfort and style. It's an easy piece to dress up or down and will pack like a dream.
Pant of the Year
10. Cargo Jogger, $69.50
2020 introduced us the beauty of the jogger, a polished alternative to sweatpants and leggings. This pair from Banana Republic is the hands down favorite. Your best color choices are navy (above), black, and olive.
Basic Building Tee
11. Cotton T-Shirt, $14.50
This basic building tee comes in seven colors, but stick to neutrals like black, navy and white (above) in sizes up to 3X.
Oversized Blazer
12. Oversized Blazer, $45
Finally, this oversized "boyfriend" style blazer from Old Navy is available in regular, tall and petite. Readers loved the versatility of wear, from light washed jeans to pull on black pants, you can wear this to the office or on the weekends almost all year long. See outfit options here.
---
Our Style Content is Inspired by Our Readers
Our readership inspires all of our posts and is not sponsored or paid for by brands or retailers.
Recommendations are based on my experience as a personal stylist and wardrobe consultant for over a decade. I worked with busy, down-to-earth women who wanted to look chic and feel confident but were often confused by so much of retail.
Some links are affiliate links, which means if you purchase via our site, we receive a small commission.
If you enjoy our content and would like to help us grow, please consider following on Instagram and join our Private Facebook Group to access more advice and exclusive in-depth conversations with other like-minded women.