Long time readers know I have a not so secret obsession with skincare and makeup, but only share the products I absolutely love. It's why there are so few beauty posts on the blog, once I discover a product that works I stick with it.
A few years ago, I shared my nighttime skincare routine and it quickly became one of my most read and shared posts. Since then I've highlighted what I would call "hero" products, the ones the make the biggest difference, the ones I never want to be without.
And as it turns out, many of those products are your favorites too. So today, as we continue to tie a bow on the year, I'm rounding up your favorite, top selling products from 2020.
Buy these for yourself and indulge in some much deserved self-care or pick them up as a gift for someone you love this holiday.
Reader Favorite Beauty Buys of 2020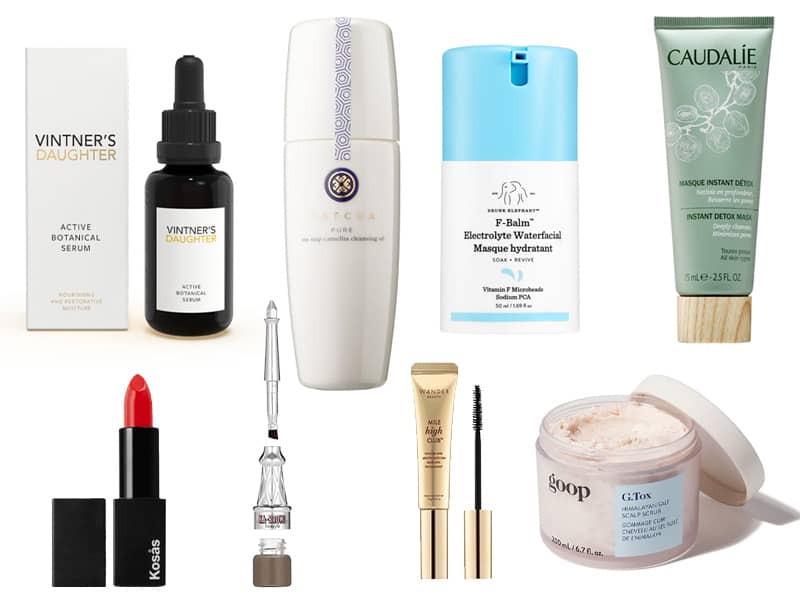 Around the time I turned 37, I started to take extra good care of my skin. I began to invest in better products, most of which are clean, and diligently use them every day (or as directed).
I lived for years with adult cystic acne, and it all but destroyed the little self-esteem I had. It's why for years, I never posted pictures of myself here on the blog.
But now, at 41, my skin is the best it ever looked. I'm able to wear less makeup and really let my skin show, freckles and all.
It's incredible what it's done for my confidence levels.
Below are the top-selling products from 2020, with a short description of why I love it. If you have a product you love, be sure to share it in the comments.
Vintner's Daughter
Vintner's Daughter, $185
Vintner's Daughter was my first big beauty splurge and, to this day, is the product I am never without. It absolutely changed my skin, healing redness, acne scars, and uneven skin tone. You only need a tiny amount, so a bottle can last about three months. Apply morning and night after you wash your face and give it a few minutes to soak in before you layer on anything else.
Caudalie Instant Detox Mask
Caudalie Instant Detox Mask, $39
Every Sunday night, I use the Caudalie Instant Detox Mask to draw impurities and toxins out of my skin. It's an uncomplicated process that takes about 10 minutes but really works. Priced at under $40, it's an affordable indulgence that would make a great gift or stocking stuffer.
Goop Himalayan Salt Scalp Scrub
Goop Himalayan Salt Scalp Scrub, $42
My FAVORITE personal care indulgence is the Goop Himalayan Salt Scalp Scrub. Use once a week instead of your traditional shampoo to rid your scalp of buildup. It smells incredible, like an effervescent spa experience. And your hair and scalp feel so fresh and clean. Also makes a great gift.
Drunk Elephant Waterfacial Mask
Drunk Elephant Waterfacial Mask, $52
I became a big fan of Drunk Elephant this year and have heard from so many readers who love this "mask" too. But it's not really a mask. Instead, it's the last step in your nighttime routine to lock in moisture. It's beneficial this time of year when it's cold out, and we're cooped up inside with the heat on – a recipe to dry out our skin. To use, layer this on a few minutes after you apply your night cream, and it acts as a layer to keep your skin hydrated overnight.
Tatcha Oil Cleanser
Tatcha Oil Cleanser, $48
I do a double cleanse every night, which simply means I was my face twice, first with an oil-based cleanser, and then I follow up with a gel cleanser. The Tatcha Oil Cleanser is incredibly gentle yet effective. It removes makeup, including stubborn mascara, and leaves no residue on your skin. I've been using it for years and love it so much I won't even consider trying a different brand.
Wander Beauty Mascara
I searched high and low for a mascara that created thick, long lashes without looking like spiders were growing out of my eyes, and Wander is my winner. I don't want a dramatic eye; I don't want to look like I'm wearing lash extensions. I just want to look like myself but a little better. This is a straightforward formula that kicks your lashes up a level – no more, no less.
Benefit Ka-Brow
If I had to pick only one product to use forever, JUST ONE, it would be Benefit Ka-BROW. Your eyebrows give your face structure, they highlight all your other features, so defining them will help bring life to your face. This product is a game changer for your brows, allowing you quickly fill them so you look natural, youthful and polished.
Kosas Lipstick
Kosas Lipstick, $28
Finally, I'm the biggest fan of Kosas lipsticks because their formula is clean, AND the pigment is on point. It's rich and creamy like a traditional lipstick without any of the toxins. I regularly wear their red, called "Electra" and have heard how much our readers love it too. A close second is their pink called "Rosewater" which is a pretty wear-with-everything neutral.
---
Our Style Content is Inspired by Our Readers
Our readership inspires all of our posts and is not sponsored or paid for by brands or retailers.
Recommendations are based on my experience as a personal stylist and wardrobe consultant for over a decade. I worked with busy, down-to-earth women who wanted to look chic and feel confident but were often confused by so much of retail.
Some links are affiliate links, which means if you purchase via our site, we receive a small commission.
If you enjoy our content and would like to help us grow, please consider following on Instagram and join our Private Facebook Group to access more advice and exclusive in-depth conversations with other like-minded women.