Prime Days always have the best deals on beauty. Use this as an opportunity to stock up or try something new.
I have a dozen of my favorites below, but you can see all of our beauty finds in our Amazon Storefront here.
And stay tuned tomorrow for more finds, including fashion, gifts and more 🙂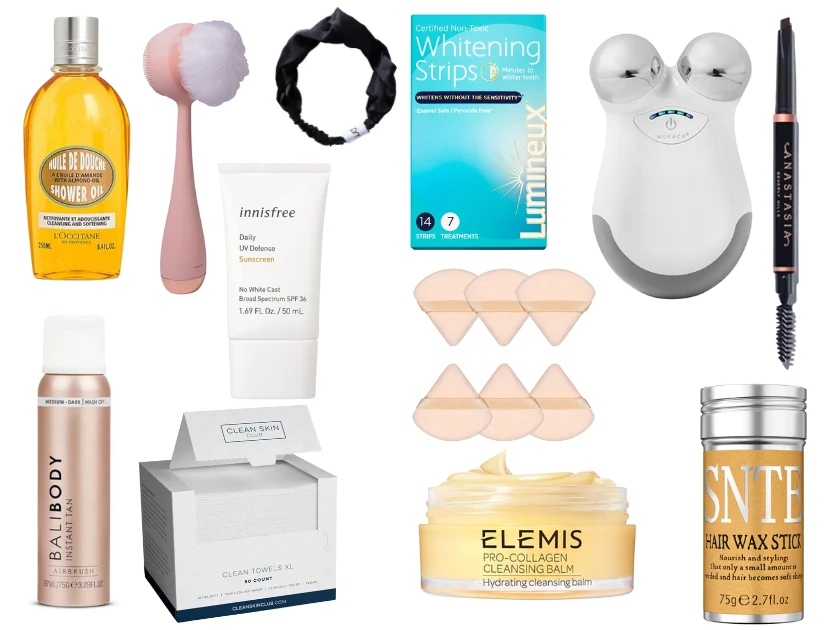 BALI BODY Instant Tan – Prime Day Deal – $17.46: Long-time readers know I get regular spray tans, but a lot of math is involved. You have to figure out when to exfoliate, time your workouts, figure out when you shower – it's ridiculous. So I found this Instant Tan by Bali Body, and it's great for this time of year when you might want to hit part of your legs and arms and decollete. And it's under $20 on Prime Day Deal.
Anastasia Beverly Hills – Brow Definer –Prime Day Deal- $18.20: I recently bought this at Sephora and really like it, the pencil has an angle that lets you create a natural brow easily with several color options.
PMD silversilk Headband – Prime Day Deal – $23.00: I scooped this up for my skincare and to keep hair off my face while I'm sleeping. Would make wonderful gift or stocking stuffer.
ELEMIS Pro-Collagen Cleansing Balm – Prime Day Deal – $51.00: Last Prime Day I finally decided to try the Elemis Pro-Collagen Cleansing Balm. I used it us and ordered several more. It's replaced my Tatcha Oil Cleanser as the first part in my skincare routine.
Clean Skin Club Clean Towels – Prime Day Deal – $14.36: A staple in my routine, I use these biodegradable towels from the Clean Skin Club every morning and night. I have them on autodelivery.
Samnyte Hair Wax Stick – Prime Day Deal – $7.49: Great for slicked back hair style, this wax stick keeps fly aways down.
NuFACE Mini Starter Kit – Prime Day Deal – $154.00:I bought a NuFace during the last Nordstrom Anniversary sale and have been using it several times a week. If you've been intrigued by this, there is no reason to pay retail – they go on sale a few times a year. Today and tomorrow, you can buy the mini (above) for $154 OR their starter kit (this is what I have) for $245. I'll do a post to detail the benefits and results.
Lumineux Teeth Whitening Strips 7 Treatments – Prime Day Deal – $13.79: If you have sensitive teeth like me, and like a whitening option, I like these by Lumineux. Give yourself a full 12 hours before an event, these leave your teeth a little spotty but they go away.
L'Occitane Cleansing & Softening Almond Shower Oil – Prime Day Deal – $23.30: For your everything shower, I adore this oil. It smells lovely and leaves your skin baby soft.
PMD Clean Body – Smart Body Cleansing Device – Prime Day Deal – $95: And if you are really into a luxurious shower, splurge on the PMD Clean Body Cleansing Device. It's just under $100 and makes your shower feel like a spa. Also a fantastic under $100 gift.
Innisfree Daily UV Defense Broad Spectrum SPF 36 invisible sunscreen – Prime Day Deal – $11.20 : I have read about this Innisfree sunscreen and am excited to try it out. It gets rave reviews for its lightweight feel that protects and moisturizes your skin.
6 Pieces Triangle Face Puff – Prime Day Deal – $5.94: Finally, these triangle puffs are a make up bag must. Use for loose powder and to help blend out your contour.