The other night, after one of those days that just gets away from you, and you discover an empty fridge at 5:00, I gathered up the kids and went out to dinner. It had been a day, and I was honestly looking like a hot mess.
We grabbed a table at a local spot that has an outside area with a popular happy hour. As I sat there with my two girls, falling asleep in my salad, I watched as the bar crowd gathered, meeting up with friends after work. I noticed one woman, in particular, meeting who I assume was her husband, sitting at the bar – just having a casual drink at the end of the workday, and she looked lovely.
She was wearing a floral dress, with subtle accessories. Her look was simple and chic, and while her outfit was ladylike, she balanced it with a slightly messy updo. I think it was designer Cynthia Rowley who said, always balance something proper with something messy.
I've taken that style philosophy to heart. I never wear anything too precious, it's why I like white tennis shoes with skirts, distressed jeans with structured blazers and beach waves with a formal dress. Creating contrast makes your look more interesting. It's like the idea of designing a room in your home that feels polished, but lived in.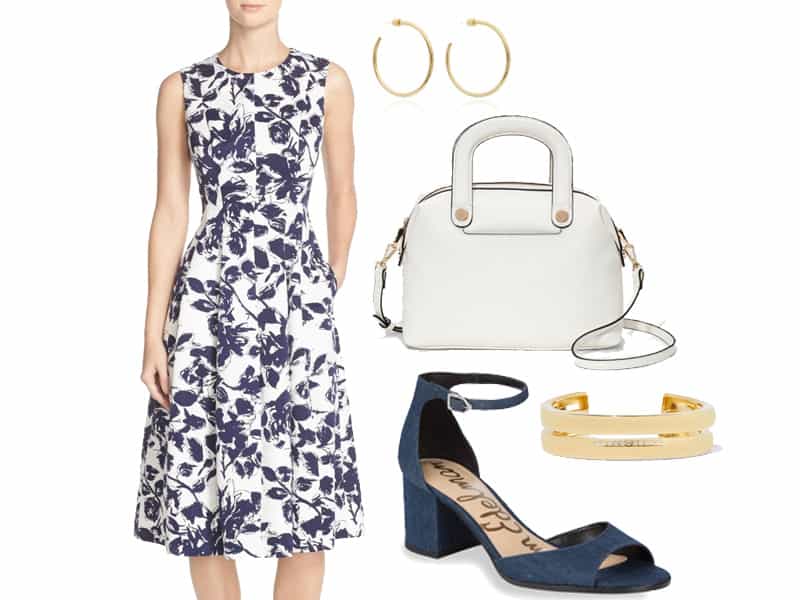 Dress, $178 | Sandals, $65 | Bag, $30 | Cuff, $97 | Hoops, $195
I wanted to recreate the ideal outfit for a summer day in the office to a mid week summer date night inspired by that perfectly put together woman at the bar. The dress is key to the look. So many dresses these days are epically inappropriate for work. You can't show side boob at your Tuesday morning sales meeting. You can't show any of your boobs anyway, but side boob I find most offensive.
Happily, Eliza J. makes beautiful casual/work appropriate dresses that are also comfortable and easy to wear. I love this sleeveless navy and white floral style, with an A line skirt and high neckline. The waist is nipped and the deep pleat of the skirt is surprisingly flattering. It's a great dress to transition from day to night in the warm weather.
Instead of my usual neutral-to-you shoe, I went with a navy sandal. Living on the edge, I know. It's an alternative if the nude pump is feeling redundant. I also appreciate the shape and height of the heel, you can likely manage in them for 12 hours.
By now, you know a white bag makes my heart sing, but I refuse to spend on one. So this $30 bag from Target is JUST the thing. It's sleek and sophisticated, but at a price that lets you get your money's worth for a season and toss it. For the accessories, I wanted to keep them in line with the hardware of the bag. You want something clean and modern here. I found this Elizabeth and James bracelet on super sale at The Outnet. It's divine, and for under $100 it's a great find. For earrings, I picked small and thin gold hoops. They'll add just the right amount of movement in shine.
Shop this Post