Sometimes, when it comes to work, you have to socialize outside the office. This, shockingly, was never my favorite thing to do. I just found the whole process exhausting. Does anyone enjoy it? After a long day at work, I barely had the energy to go out and see my friends, so the last thing I wanted to do was pretend to get along with my passive aggressive boss. Even now, though I don't mind client dinners and functions as much anymore, they are still so very draining.
So what do you do when you're technically working, just in a more casual environment, where you have to balance schmoozing with cocktails and still keep your poise?
When I'm out with friends, I am usually the first to show up and the last to leave. What if I miss out on some fun? I'm 38, and my FOMO is still very real. But I learned early on in my career that nothing good happens after 10pm when it comes to work parties. Nothing. That's why I set a time limit and dip in and out. I'll arrive within a few minutes of the event starting, and set a curfew with a firm stop a few hours later. If I'm traveling, I'll let the host know I have an early meeting or flight. If I'm local, and I feel like I have to give a reason for leaving early, I'll say I have a sitter with a curfew. Often, I'll just find the host, thank them and head out; you don't always have to give a reason.
In the summer, there is the added detail of what to wear. For some reason, the warm weather creates a landmine of inappropriateness. When I'm not sure what to wear, I always turn to a dress. This polka dot dress, is the perfect choice for a warn weather function that's an easy going take on a classic wrap dress.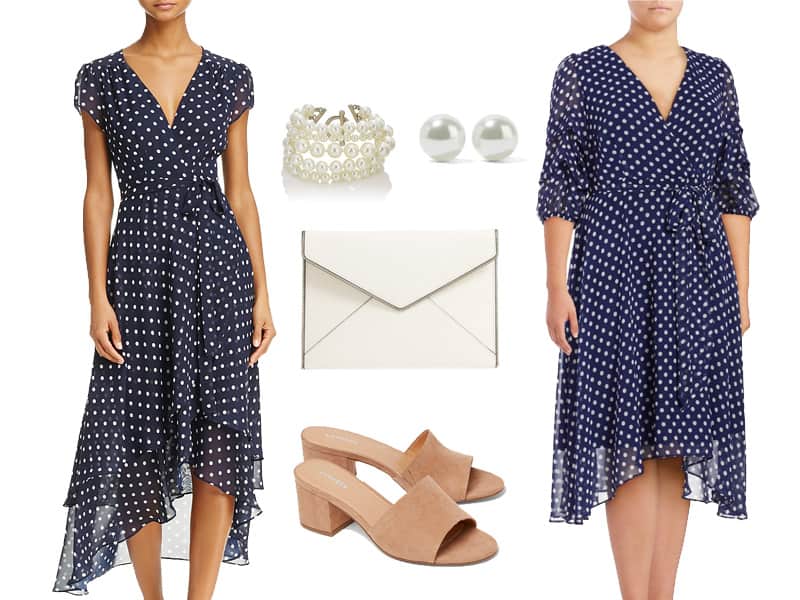 Misses Dress, $128 | Plus Dress, $35 | Heel, $42 | Clutch, $95 | Bracelet, $49 | Earrings, $36
I get excited when I find a dress in missy and plus sizes. It's not often that two dresses look so similar. Both have a gorgeous v-neckline, and trend-right, high-low hem. Polka dots are quintessentially summer. Inspired by the dress, I wanted to create a look that is a modern take on a classic combination.
The dress has enough going on to let it stand on it's own. All you need are a few well placed accessories and a shoe that disappears on the leg. What's better than pearls with navy and white polka dot?
This stacked pearl bracelet has the right style and proportion to work with the movement of the dress. Kenneth Jay Lane has a beautiful line of costume jewelry, and when you find it on sale, it's even better. To keep the pearl theme going, I used a small pair of studs. Avoid anything oversized, or you'll teeter in Pretty Woman territory, and the look will feel too retro.
To keep a modern edge, I used this popular Rebecca Minkoff envelope clutch with a zipper detail trim. It adds some much-needed contrast to balance the femininity of the dress. Finally, for the shoes, you can wear any neutral to you shoe, like a sandal or a slide with a heel. The dress needs some height to show off the movement of the skirt. I used these block heel slides. They are different from a lot of the shoe options we've featured recently but work well, and the suede adds another layer of texture.