Sometimes, an outfit that looks simple actually requires more effort than you would think, especially warm weather looks because you are using fewer core pieces.
Today for Pinterest in Real Life, I'm using an image I've seen on many of our readers boards. You may have similar pieces hanging in your closet, but before you pull them together, today is a lesson in FIT.
How to Wear Wide Leg White Pants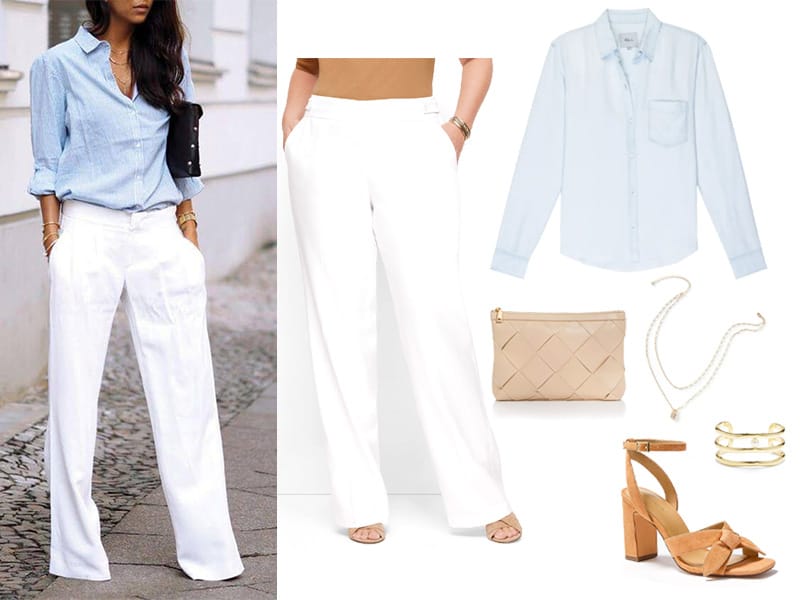 Palazzo Pants, $119| Chambray Shirt, $158| Woven Clutch, $58 | Necklace, $18 | Cuff Bracelet, $23 | Suede Bow Block Heel Sandals, $138
This time of year, a white bottom becomes a workhorse for me because it quickly brings a freshness to any outfit. Currently, white pants specifically are a challenge to find. There are more options than lean super casual, like a linen drawstring bottom than a more formal trouser.
For this look, you want the latter.
I did find these palazzo-style pants from Talbots. They are a linen blend with a lovely drape that will mimic the look of our inspiration image. If you want something similar but less full, these traditional Newport pants, also from Talbots, are an excellent alternative and on sale for under $60.
Talbots has an incredible range of sizes, they run full but fit well once you nail down your size.
The most important element of this entire outfit are the pants. They have to be (1) wide legged and (2) altered to fit you body perfectly. We have to get the length right to achieve this sort of effortless chic vibe. So have them tailored to cover your shoe and slightly break at the top of your foot. This creates a long clean line, making your legs look a mile long and gives you some height.
Then, a lightweight chambray shirt. I love button-down shirts by Rails. They are pricey, but if you have the budget, well worth it. The drape is perfect, and they are deliciously soft and wash well. I picked this one up at Nordstrom; they run true to size.
Alternatively, if you picked up this Tencel high-low shirt from Banana Republic (now an extra 50% off), you can use it here too.
No matter what shirt you use, roll the sleeves and tuck it in, so it blouses.
Our model is carrying a black oversized envelope clutch in the photo, which isn't my favorite. I recommend swapping it for a beige or light tan clutch, like this best-selling woven bag from Aqua (under $60 at Bloomingdales). It's been on our reader favorites lists for a month now.
Next, let's talk about shoes because these will make or break the look. You need a block heel with this outfit for a few reasons.
First, with the length of the pants, you need a heel to get an elegant drape. And, because the pants are wide, a block heel will help balance the width of the pant leg. The amount of fabric will drown out any other kind of shoe.
For this look, I went with these adorable Ann Taylor sandals. The color is gorgeous, and they are versatile enough to wear with anything from pants to dresses.
Lightweight jewelry is the final layer. I grabbed this inexpensive double-layer necklace at Urban Outfitters for under $20. It layered under collars nicely and priced so you can try a look without committing to it.
Be sure to keep your eye out for
Then, this bracelet is only $22 at Nordstrom Rack, and it is gorgeous. So easy to throw on to get a layered looked.
Shop this Post
Our Style Content is Inspired by Our Readers
Our readership inspires all of our posts and is not sponsored or paid for by brands or retailers.
Recommendations are based on my experience as a personal stylist and wardrobe consultant for over a decade. I worked with busy, down-to-earth women who wanted to look chic and feel confident but were often confused by so much of retail.
Some links are affiliate links, which means if you purchase via our site, we receive a small commission.
If you enjoy our content and would like to help us grow, please follow on Instagram and join our Private Facebook Group to access more advice and exclusive in-depth conversations with other like-minded women.
Learn about our mission to help women look and feel their very best, every day, here.
Sign Up for Daily Content and Receive Our Free Classic Wardrobe Checklist