This content has been archived. It may no longer be relevant
Are you thinking about trying culottes? Or maybe you have a pair and you're not sure what to do with them?
Good! Let's talk about how to wear them in the most flattering way.
Culottes are an excellent alternative to shorts and, when styled well, a more flattering option than capris.
Of course, if you want to create a well-balanced and proportional look, there are a few tricks to follow. And that's where we come in with our series Pinterest in Real Life.
In our weekly series, Pinterest in Real Life, I break down style inspiration looks show you how to wear them in your daily life. I take some of our community's most popular inspiration pictures shared in our Private Facebook Group and recreate looks using affordable, accessible items that many readers already have.
These posts are designed to be both educational and filled with practical shopping recommendations. I encourage you to check your closet before you make a purchase. But, if you need something, I also highly recommend our featured pieces. As always, our content is not sponsored.
How to Wear Culottes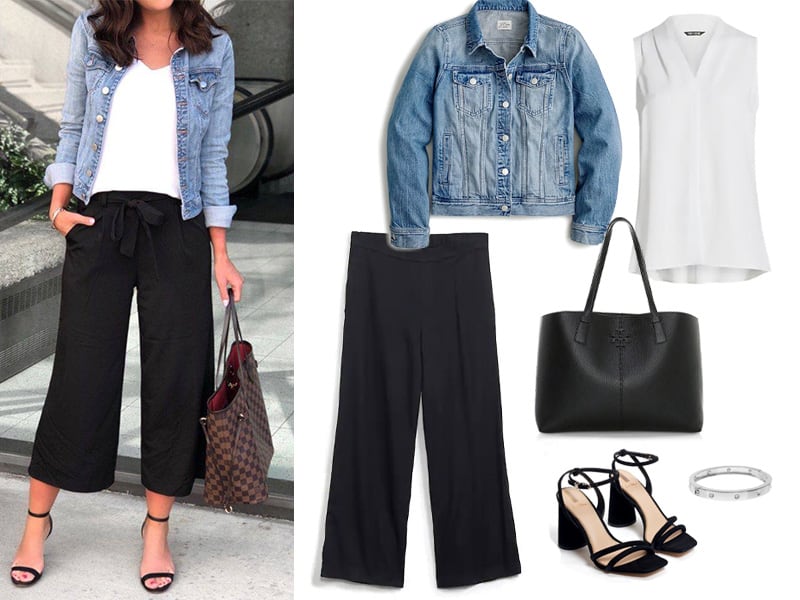 Culotte Pants, $30 | White Tank Top, $98 | Denim Jacket, $110 Block Heel Sandal, $140 | Bracelet, $50 | Tote, $398
First, the inspiration picture is lovely. It's simple and easy, ideal for a chilly spring afternoon. The pants stop at a flattering length, extending the line of her leg without chopping it off. To replicate this yourself, be sure your pants stop right below your calf.
The tie waist is a fun detail, but it may be limiting if you carry your weight in your mid-section. I'm not saying you can't wear the tie belt. You absolutely can. Personally, the tie doesn't work for me, and I feel like I am always fussing with it. It's one of those things I think looks adorable on others but weird on me.
Here I used these inexpensive culottes from Old Navy. They are made of a linen blend, ideal for warm weather, and available in regular, tall, and petite up to a size 20. The flat front is a more flattering option for any shape or size.
Another essential element is the heels. It's helpful to wear a heel with pants in this shape, so you get a fluid drape. In the inspiration picture, she's wearing what looks to me like a stiletto sandal. I'm replacing them with a more practical block heel in a similar strappy style.
When you wear a wide-leg bottom, a good rule of thumb is to pair them with a block heel to balance out your bottom half. It helps to ground the outfit. This is especially helpful if you are top-heavy or shorter since the block heel will keep the pants from feeling too much.
Next, let's go to the top. You can see in the inspiration picture that the tank and denim jacket hit right at her waist. This is ideal. You do not want to wear anything long with culottes, or you'll look overwhelmed by all the fabric. Instead, keep the top well-tailored and straightforward.
A crisp white tank is easy. I'm using the Nic + Zoe white tank that many of you picked up earlier this month. You could also use the Spanx tank we featured in our What to Buy at Nordstrom post.
Then grab your denim jacket. I'm featuring a classic style from J.Crew available in an XXS – 3X.
Finally, accessories are simple. In the inspiration picture, she's carrying a Louis Vuitton. If you have one, carry it, the pattern is elegant and neutral. I like this Tory Burch tote for yea-round use if you need a similar but less expensive bag.
Because the buttons on the denim jacket are silver, I used a stackable, sterling bangle that has major designer style for under $50.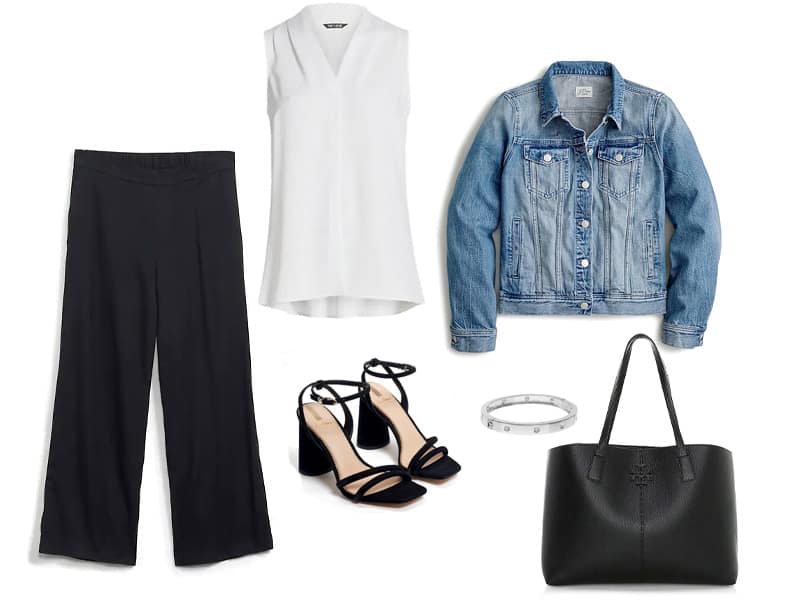 Culotte Pants, $30 | White Tank Top, $98 | Denim Jacket, $110 Block Heel Sandal, $140 | Bracelet, $50 | Tote, $398
Our Style Content is Inspired by Our Readers
Our readership inspires all of our posts and is not sponsored or paid for by brands or retailers.
Recommendations are based on my experience as a personal stylist and wardrobe consultant for over a decade. I worked with busy, down-to-earth women who wanted to look chic and feel confident but were often confused by so much of retail.
Some links are affiliate links, which means if you purchase via our site, we receive a small commission.

If you enjoy our content and would like to help us grow, please follow on Instagram and join our Private Facebook Group to access more advice and exclusive in-depth conversations with other like-minded women.
Learn about our mission to help women look and feel their very best, every day, here.
Sign Up for Daily Content and Receive Our Free Classic Wardrobe Checklist