This content has been archived. It may no longer be relevant
For today's Pinterest in Real Life post, we're getting a little funky. Graphic tees are a big right now and are easier than you may think to incorporate into your classic leaning wardrobe.
Don't let the rocker-girl vide scare you, playing with trends and trying new things are part of what keeps us feeling young and modern. With a few adjustments and swaps you can easily make this look work for you.
So keep reading, because today's post is FULL of tips and recommendations.
Pinterest in Real Life: How to Wear a Graphic Tee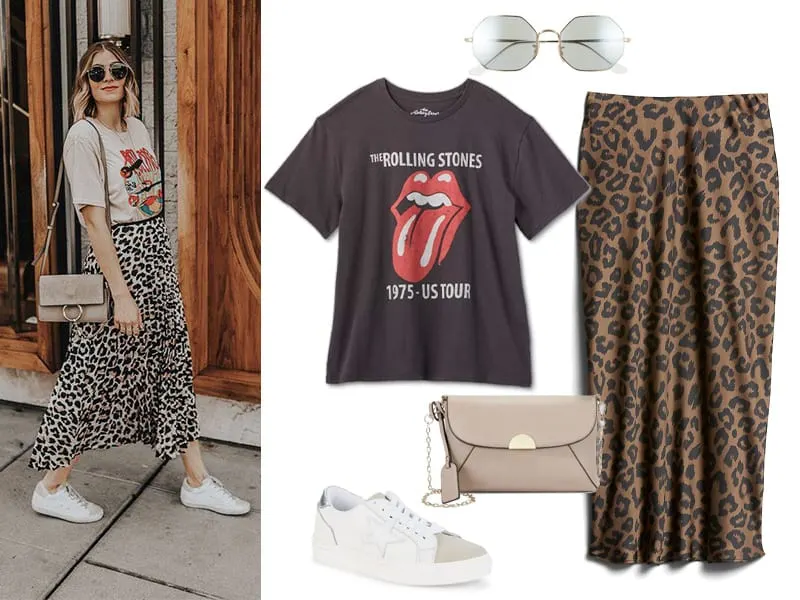 Graphic Tee, $13 | Leopard Skirt, $55 | Sneakers, $70 | Clutch, $25 | Octagonal Sunglasses, $80
Our inspiration picture is from Navy Grace, in a post dating back to 2019, so girlfriend was super early on this trend. She is adorable and looks fabulous. I have to admit, though, she made me chuckle when she mentions that this would be a great "new mom look."
This is about as far off from what I wore when I was a new mom as you can get, BUT it's a perfect look for a daytime date or a long missed brunch with girlfriends, especially if you're sick of lounge wear and ready to try something new.
We non-style-influencers-with-budgets will face a few challenges with this outfit, and with many outfits on Pinterest, the first being the total cost. This look is north of $2500.
Now, you will never hear me judging anyone on what they spend. I say, thank goodness someone can pump that kind of money into the economy.
However, my money comes in and goes right out the door to tuition. So. Much. Tuition.
Happily, I was able to easily recreate the look for under $250.
Let's start with the tee. To make this work, it needs to have some edge. Don't take my word for it; this comes from my 14-year-old daughter, who is cooler than all of us. I was given very specific guidance not to wear or promote shirts that say things like "Blessed" or "Wine O'Clock."
Instead, look for a band tee, preferably a band you like. There are so many options right now at affordable prices. I went with this Rolling Stone tee, available at Target in regular and plus size for $13. Be sure to check out their selection in store, they have tons of variety.
Nordstrom has a fun and affordable selection, too, like this Guns 'n' Roses one for under $30, Blondie fans will love this option, and if you're curious as to just how dorky I am, this Wham tee is currently sitting in my cart.
The point is to be authentic and wear what you love.
The next challenge is the skirt. The inspiration picture features a gorgeous, flowy, pleated piece. It looks great in the photo, but in my experience, long pleated skirts look terrible on most people. Instead, look for something cut on the bias, like this leopard skirt at Banana Republic on sale for $55. I also found this under $30 option on Amazon, size up, always size up when shopping at Amazon.
Remember, leopard print can act like a neutral, as long as the pattern is done in neutrals. So you can really pair the skirt with any tee.
If mixing prints is not your thing and would rather keep your bottom half simple, pair this with a black version of the skirt, like this one by Karen Kane. Or with your favorite black or light washed boyfriend jean that hits at your ankles while keeping all the other elements in place.
Next, let's talk accessories. The majority of the cost of the inspiration outfit is due to the bag (Chloe: $1700) and the sneakers (Golden Goose: $500+). I have very strong opinions about this.
First, you've heard me talk about investing in your bags and shoes because they elevate other, less expensive pieces in your wardrobe. This is very true, so if you have the budget and need a better designer bag, I say go for it. Just be sure you'll use it enough to get your price per wear low.
These days, there are many options to buy slightly used bags from reputable sites like The Real Real. Again, this is up to you. I have my share of designer bags, and I have just as many that are inexpensive. I wear whichever one works best for my outfit.
For the sake of today's post, I found this pretty clutch from Sole Society on sale at Nordstrom Rack for only $25. They are calling it "washed pink," but it reads more like a taupe. I like how slim it is and the gold chain detail.
The sneakers are where I get in a tizzy. Golden Goose is known for being outrageously expensive. They retail at over $500, and they come looking dirty on purpose. I openly spend too much on distressed jeans, but I can't wrap my head around this.
Instead, I found this sweet version with a similar design in crisp, bright, clean white for $70 at Off Fifth. If you want a simple, classic white sneaker, I can't say enough good things about these Cole Haan Tennis shoes on sale for $80. I picked them up for the summer, and so did many of our INSIDERS.
Finally, sunglasses. The inspiration picture features a chic pair of Ray-Bans. I happen to love them and think spending on sunnies makes sense, as long as you're not prone to lose them. I found a similar pair of Ray-Bans on sale at Nordstrom Rack for $80. Also at Rack are these classic black Ray-Bans, also under $80.
My favorite pair is their iconic Aviator. I've had them for many years, and wore them every day until they suddenly went missing and were only recently found in the cool 14-going-on-40 year old's school bag. 😉
Have a pin you want me to recreate? Share it in our Private Facebook Group and I'll add it to our schedule.
Shop this Post
---
Our Style Content is Inspired by Our Readers
Our readership inspires all of our posts and is not sponsored or paid for by brands or retailers.
Recommendations are based on my experience as a personal stylist and wardrobe consultant for over a decade. I worked with busy, down-to-earth women who wanted to look chic and feel confident but were often confused by so much of retail.
Some links are affiliate links, which means if you purchase via our site, we receive a small commission.

If you enjoy our content and would like to help us grow, please follow on Instagram and join our Private Facebook Group to access more advice and exclusive in-depth conversations with other like-minded women.
Learn about our mission to help women look and feel their very best, every day, here.
Sign Up for Daily Content and Receive Our Free Classic Wardrobe Checklist