The last few weeks have been overwhelming, in a good way. We always have a lot going on and the next six months are sure to be the craziest, fastest moving and most memorable we've had in a very long time (more on that next week).  As we ended the school year, I was ready for a break, so when my husband had a conference in Las Vegas, it was the perfect excuse to fly out to meet him for a few days of quiet.
Vegas may seem like an odd choice for a low key weekend, but the thing with Sin City is you can really have whatever kind of experience you want.  You can walk the strip with a yard full of daiquiri, gamble all day, and party hard all night.  Or, you can do what I do:  sleep in, order room service for breakfast, sit by a pool with a book, take a nap, go to the gym, have a beautiful dinner, people watch and then slip into the most luxurious bed in the world by 10pm.
We stay at the Mandarin Oriental, one of my most favorite hotels. It's like a little oasis of serenity in the middle of the craziness. There is no casino and no smoking. The service is out of this world, the food is incredible, and the adult only pool is every mom's dream come true. (By the way, when did people start bringing their kids to Vegas? I swear our flight home had more little ones than our last flight home from Disney.)
All moms know that corralling everyone with everything they need to have a few days away almost doesn't feel worth the effort. But if you keep your eyes on the prize, and push through, there's no better feeling than getting on the plane and finally exhaling. Something that surprisingly helped me get out the door were these packing cubes. I travel all the time and I thought I knew every trick in the book to fit an obscene amount of items into my overhead. Then I discovered these bright and cheerful cubes and my already efficient travel game changed.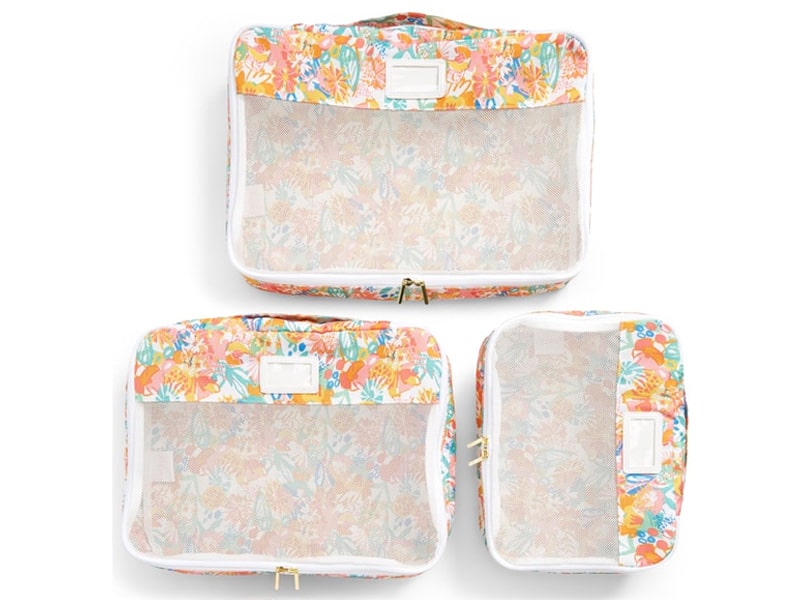 Packing Cubes, $48
You can fit almost double the number of items in your suitcase. I just fold my clothes and place them in the cube. Stack as much as you can inside each pouch, and zip it up. When you zip the cube, you basically compress the items together, pushing out the air so it takes up as little space as possible. Once you have everything in a cube, you place them in your suitcase like a puzzle piece. Not only is your suitcase unbelievably organized, you also have more room for the extras I usually shove in and pray will fit, like my make up bag, curling iron and shoes.  Instead, everything is stacked neatly together, without me having to use my body weight to zip the suitcase up. Packing up to head home was just as easy.
And just so we're clear,  while my weekend was downright indulgent, I was quickly brought back to earth. We landed late on Sunday, and within an hour of getting home, a quick but brutal rainstorm took out trees in our neighborhood, leaving us without power. We went to bed thinking it would turn on in the middle of the night but ended up without power for almost 24 hours. By Monday morning, our 14-year-old lab was utterly out of sorts and pooped ALL OVER THE HOUSE. Because there was no light, my husband stepped right in it, on our dining room rug, which is a recent and expensive splurge that I love, proving I should just stick to furnishing my house at IKEA.
We managed to get the girls off to camp. Around 3pm we got a call that Ava took her expander out at lunch (which she isn't supposed to do but she's a bugger), and it was accidentally thrown out. The trash from the day had already been collected and taken to the back dumpster. If your kids have any kind of braces you know how insanely expensive these things are, so off we went to try to find it. Only the Kristels would have to dumpster dive at our country club looking for a retainer. Clearly, we don't belong here either. God bless my husband for finding it, but it was quite the 180 from our weekend of being waited on.
So, to say the universe quickly knocked us down a few pegs and brought us back to reality is an understatement! 🙂