There's a reason the wrap dress is iconic. By design, it flatters every body type. The v-neck and the wrap style waist (whether real or faux) pulls the eye in and creates a feminine silhouette. I've worn them at every weight and version of my body, from my youthful flat belly days to my current curvier, postpartum frame and I always feel confident.
This time of year, when the weather dips between summer and fall, it's the ideal piece to have in your closet.
Dresses are so easy. You can zip, or in this case, wrap them around your waist and go. But I realized as I was organizing this post, that there are a lot of bad, and inappropriate for the office, options in stores. Many are too short, too low cut and too informal to wear in a business setting. What I saw being recommended for grown women to wear to work would be more appropriate for a high school dance.
So today we are rounding up the best wrap dresses currently available for fall, in a range of prices and in all sizes perfect if your work is creative, if you have your own practice or you want to feel a little more pulled together in a casual business environment.
Our Favorite Wrap Dresses for Early Fall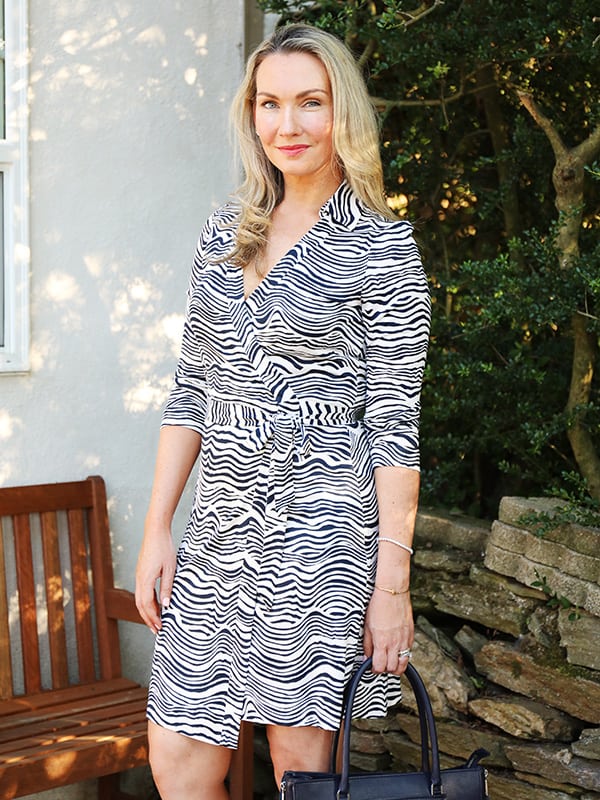 DVF Jersey Wrap (old) similar style here.
In this photo, I am about seven months postpartum. I'm still working on getting my core strength back (I have a long ways to go) and generally feel self-conscious about my midsection. But a wrap dress, in a busy print, helps hid all that and helps me feel like my old self. Whether I have a meeting, a dinner, or date night, they tend to be my go-to.
Longtime readers know, despite my aversion to most prints, I love DVF. I wear her pieces to death, and when I'm ready to retire them, I put them aside in hopes that one of my three daughters will wear them when they are older. Because I don't have to spend on formal business clothes, this is one of my seasonal splurges.
Splurge-Worthy
[affiliate_product id="27119″ align="left"]
My splurge-worthy pick for this season is this shirt-wrap-dress-hybrid. The length, if you are tall like me, is conservative but fresh. It definitely requires a heel, so the dress doesn't overwhelm you. Wear it if you want to make a statement or feel like tapping into your more fashiony self.
All Time Great
[affiliate_product id="26849″ align="right"]
When I was a stylist, this dress was one of our favorites. By the time I stopped working with clients, almost everyone had it. It just works. It effortlessly goes from the office, to a work dinner. Or you can dress it up even more with a better heel, and a clutch and take it to a cocktail event.
Being a faux wrap, it's comfortable to wear. You don't have to worry about it coming undone, the v-neck, while flattering, isn't too low, and it doesn't require hiding a safety inside to keep it in place. 🙂
For a similar dress in plus, this Adrianna Papell is a show stopper.
Best Value
[affiliate_product id="26865″ align="left"]
A classic wrap style, this Ann Taylor dress is similar to DVF but at a much more reasonable price. You can pair this with a pump, or a pointed toe flat. Between the comfortable stretch fabric, and not having to wear a heel, I can' think of a better casual office outfit.
Available in missy and petite up to a size XXL.
Best Printed Plus
[affiliate_product id="27139″ align="right"]
Plus size clothing has come a long way since I first started in this business, but it still leaves a lot to be desired. If you wear plus, you still have a shape, but many designers and brands think you should wear a sack. Makes me crazy. So I wanted to back flips when I discovered this printed wrap in sizes 1 – 3X. Wear it to work, wear it brunch, doesn't matter – you'll look amazing.