Over the last few years, there has been much buzz about capsule wardrobes, to the point that the definition has become muddied. So before we jump into today's post, let's clear up some things.
What is a Capsule Wardrobe ?
Capsule wardrobes are not merely a roundup of seasonal pieces. Instead, they are a thoughtful grouping of garments meant to mix and match within a set. It's a system of dressing that focuses on a few key pieces and builds out outfit options by staying with a specific color and pattern profile.
Wardrobes ideally are a collection of capsules, with one capsule subtly moving into the next. When I worked with clients, one of my favorite tasks was building out capsules. It often took several seasons, but when we were able to get to a place of real closet cohesiveness, clients were always thrilled.
But not everyone wants such a structured system, and frankly, capsule dressing takes a lot of discipline. Buying random items, or spontaneously shopping, doesn't really work here.
Because I take a more practical approach to getting dressed (and life in general), I always focused on creating micro-capsules with a smaller grouping of items with the same mix and match goal. Think of it like Garanimals for adults.
These kind of groupings are ideal for business and business casual dressing, and super helpful if you frequently travel for work.
Today, that's just what we created, a simple summer capsule wardrobe for work, using many items we featured throughout the spring.
2019 Summer Capsule Wardrobe for Work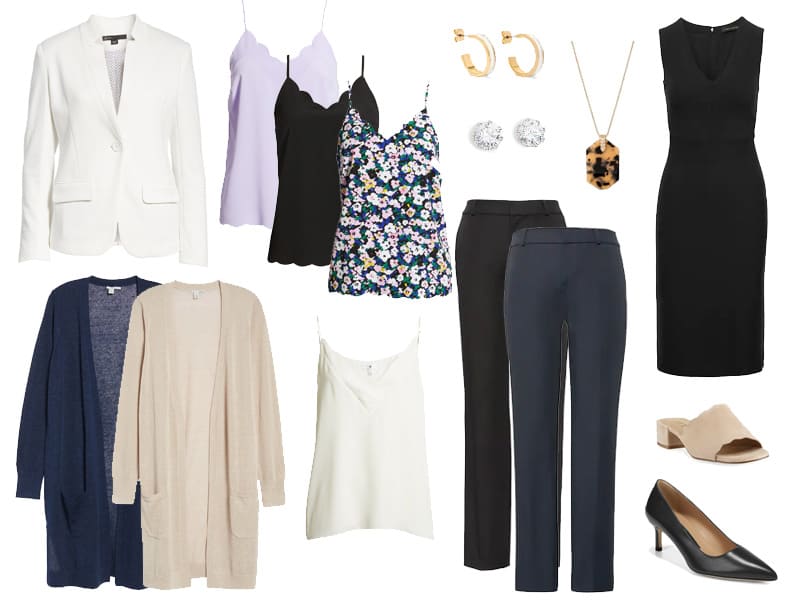 Blazer, $98 | Dress, $119 | Pants, $90 | Camisoles, $42 | Slides, $97 | Ivory Camisole, $35 | Cardigans, $41 | Pump, $195 | Hoops, $50 | Studs, $69 | Necklace, $17
All of our posts are created based on my experiences as a personal stylist for over a decade. Within the content, you'll find our top picks, and additional recommendations, including as many size inclusive options as possible.
Because it's the summer, inventory levels are already low so if you see something you like I encourage you to act on it. Unlike the fall, the summer is a quick season with little replenishment happening.
Of course, if you have similar items hanging in your closet I want you to use them. These posts are both a shopping guide and inspiration for how to recreate looks with pieces you already own, that is one of the reasons we reuse items we've featured in the past. Our goal here is to help you build out a wearable, versatile wardrobe.
Key Items
There are a few items I want to specifically call out before we get into the mix and match. This blazer is ideal for the summer months. I appreciate its updated styling that seems modern while remaining classic. It comes in five colors, including white (featured), black and red, also in petite. And in plus size in black and white here. I posted about it in our private facebook group, and members are already reporting back about how much they like it.
This timeless sheath by Banana Republic comes in sizes 0 – 20 and includes specific tall and petite options. Right now it's on sale for $69.
Same for the pants we featured (in black and navy). They are also on sale for $69, 0 – 20 in regular, petite and long. We've been featuring more and more BR because they are truly size inclusive, I like their quality for their price point, and their design feels ageless.
We featured these Via Spiga heels in our Most Comfortable Heels for Work post and they have been a popular pick amongst our readership. They are also available in a medium beige tone.
Finally, I recently ordered the featured camis from Nordstrom and love them. They don't feel as bare as they may look and are the ideal weight for layering in the summer months. Of course, you can wear any cami or tank you prefer.
Within this capsule you'll find dozen of outfit combinations. We are showing a few below along with some tips and best practices.
White Blazer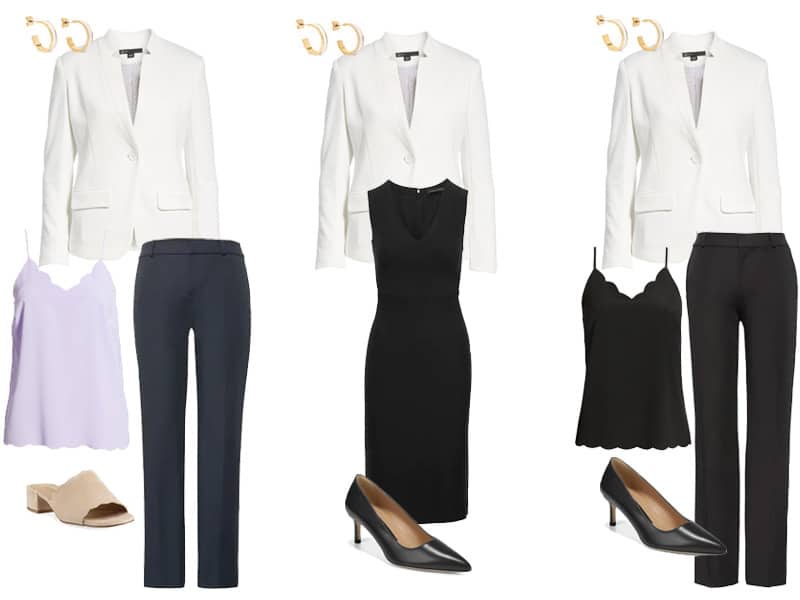 One: Blazer, $98 | Hoops, $50 | Camisole, $42 | Navy Pants, $90 | Slides, $97; Two: Blazer, $98 | Hoops, $50 | Dress, $119 | Pump, $195; Three: Blazer, $98 | Hoops, $50 | Camisole, $42 | Black Pants, $90 | Pump, $195
A white blazer (this is actually more of an ivory) instantly freshens up an outfit. For under $100 it's a great buy. Use it in place of a cardigan to bring structure to your outfit and don't limit its use to these pieces.
Print Cami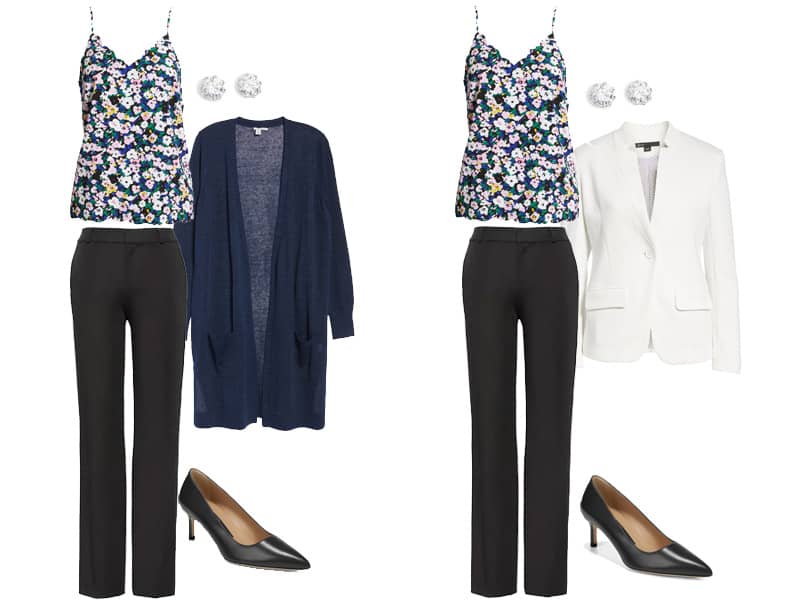 One: Camisole, $42 | Studs, $69 | Pants, $90 | Cardigan, $41 | Pump, $195; Two: Camisole, $42 | Studs, $69 | Pants, $90 | Blazer, $98 | Pump, $195
An easy way to start a capsule is by focusing on one pattern that you will use as an accent and then pull supporting colors out of it. Here, I used this sweet floral, and let that be my guide for the color palette. This is an easy way to know that the colors you are working with complement each other.
Long Cardigan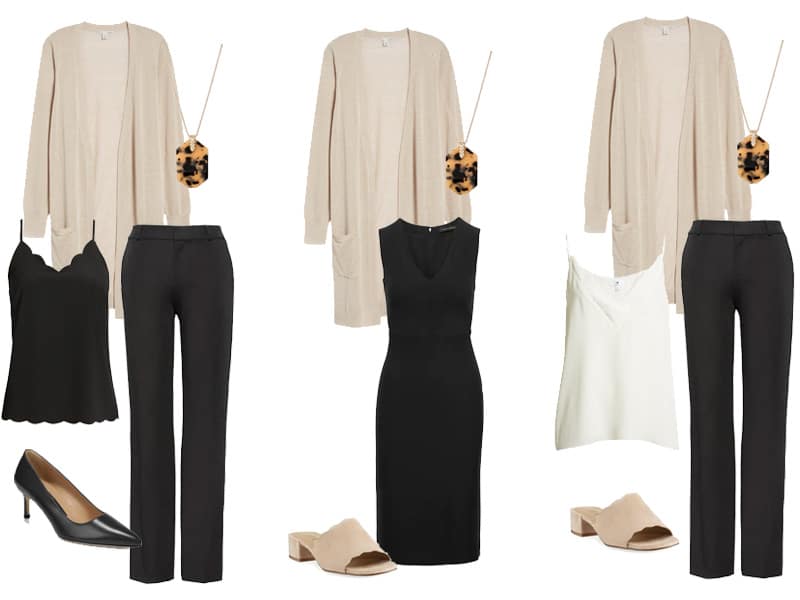 One: Cardigan, $41 | Necklace, $17 | Camisole, $42 | Black Pants, $90 | Pump, $195; Two: Cardigan, $41 | Necklace, $17 | Dress, $119 | Slides, $97; Three: Cardigan, $41 | Necklace, $17 | Ivory Camisole, $35 | Black Pants, $90 | Slides, $97
Finally, a long cardigan can make a more formal piece feel casual, which is a nice alternative in the summer months. I especially love the combination of neutrals above.