Does Christmas feel like it is rolling in at lightening speed?
It took me a solid week to decorate the house between kids and work. I have the inside done, completed my shopping and am almost finished with the outside.
Even though this is the earliest I've ever been ready, I feel massively behind schedule. I just want to hurry up and relax. lol
I look forward to the holidays all year. As I've gotten older, I find myself wanted to trade in the big parties and late nights for quality time with family and friend and holiday movies in jammies at home.
So let's officially start December by wrapping up the Best Sellers from November. These are all still in stock, with sizes, and many are on sale.
Reader Five Faves: November 2021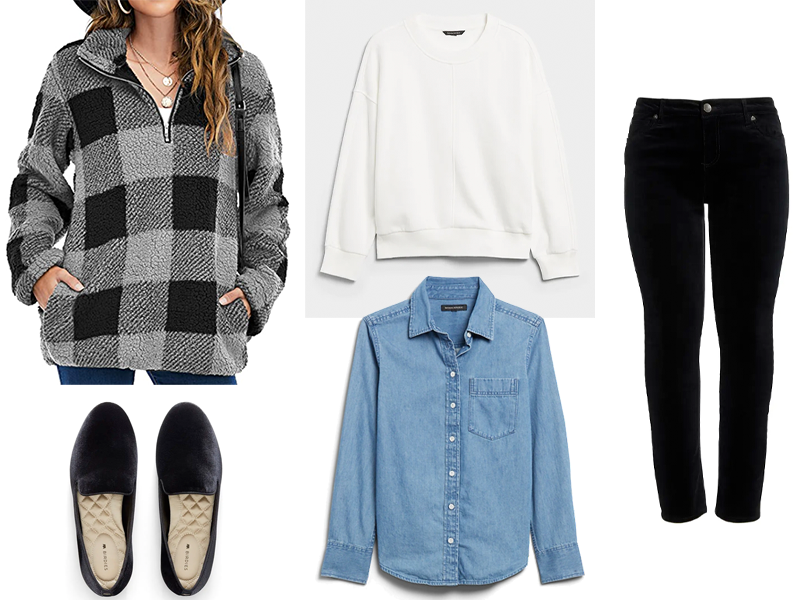 To determine our monthly reader faves I look at our analytics and listen to your feedback to share the best sellers that our community loved.
Last month that included a variety of items, from the coziest sherpa "sweatshirt, a classic denim shirt and the perfect shoe for at home entertaining.
Keep scrolling for the full list.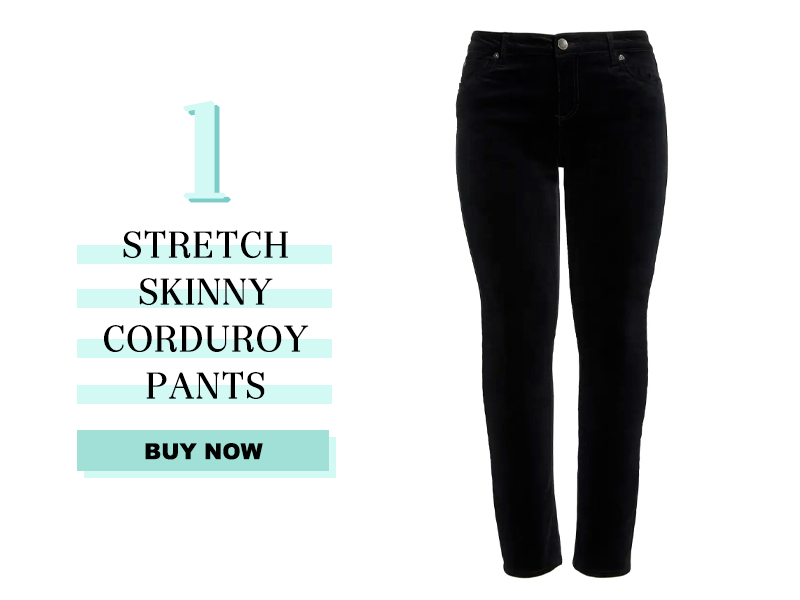 Stretch Corduroy Skinny Pants, $50
A fantastic, jeans alternative basic to build your more casual holiday looks. On sale for $50. Available in regular and petite, in a variety of sizes from 0 – 18.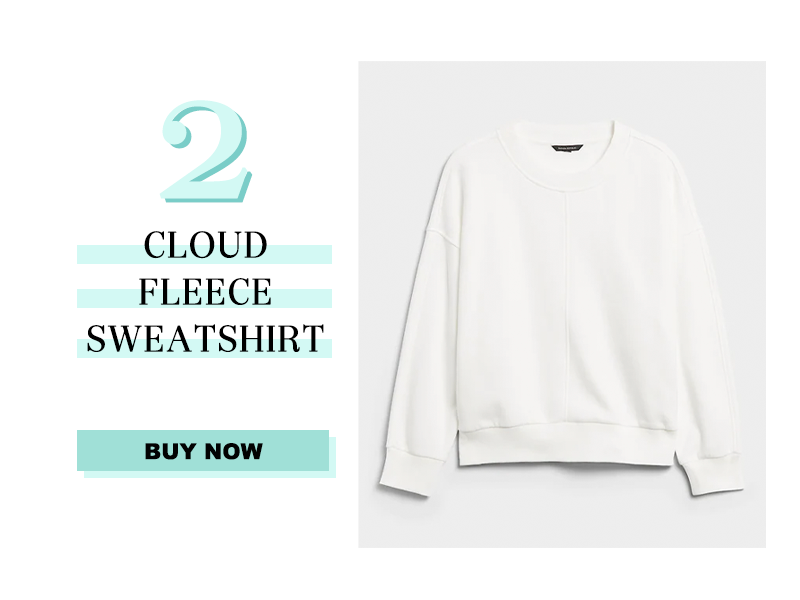 At this point, the only good thing that has come out of the last two year is the universal acceptance of "better" sweats.
This best seller is on sale for $45 and it really is versatile. Wear it with a pair of fleece lined joggers or layer is over a button down with a pair of jeans. Choose from seven colors in regular and petite from XXS -XXL.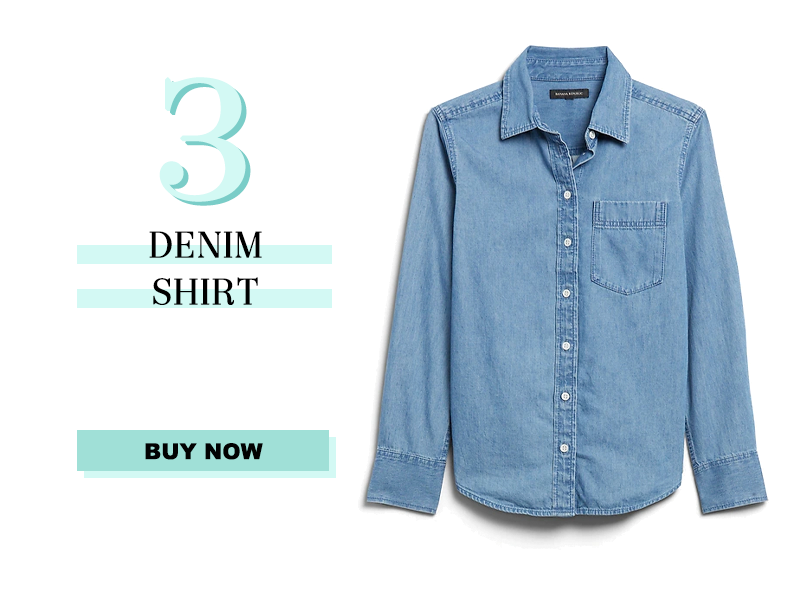 Denim Shirt, $79.50
Another BR pick, this classic denim shirt is a year-round go-to. I wear it with dark jeans, black pants, and coated jeans. If you're a skirt person, you can replace your white button down with this. And don't hesitate to layer on a blazer for an extra polished look. All sizes in stock, including petite and tall.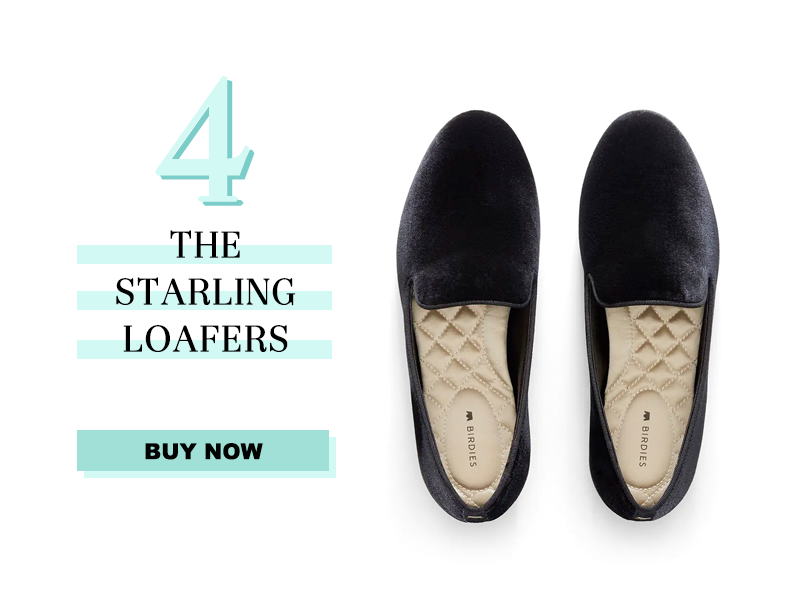 The Starling Loafers, $98
Our community loves the Starling Loafers. So much so that they are almost sold out. There are a handful of sizes and color combinations still available. If you picked these up, I'd love to see how you wear them this season – don't be shy and post a picture in our Private Facebook Group;)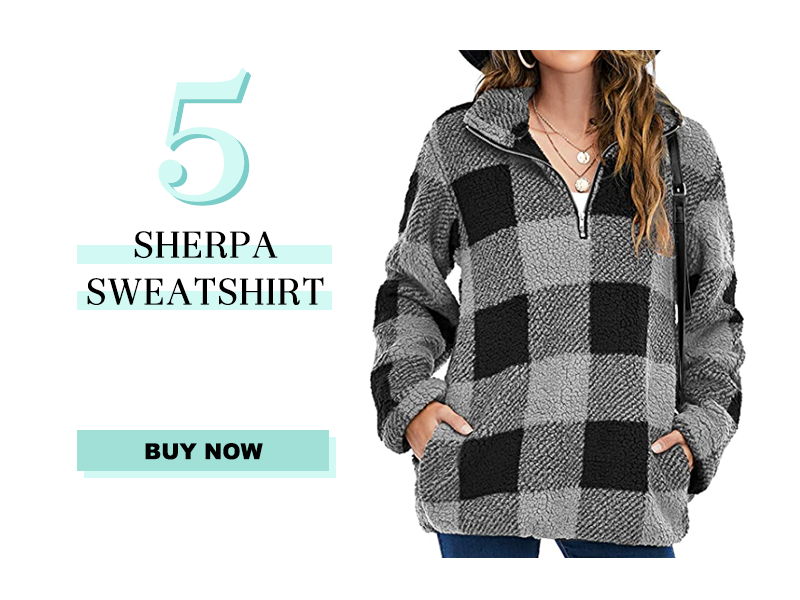 Sherpa Sweatshirt, $23
I feature it back in October and it's been a top seller since then. So many of you reached out to let me know how much you are enjoying it – which I love. This runs true to size (I bought a medium) and comes in a range of colors.
I have the red, black and green plaid.
Shop Your Favorites
Our Style Content is Inspired by Our Readers
Our readership inspires all of our posts and this post is not sponsored or paid for by the brands or retailers featured.
Recommendations are based on my experience as a personal stylist and wardrobe consultant for over a decade. I worked with busy, down-to-earth women who wanted to look chic and feel confident but were often confused by so much of retail.
Some links are affiliate links, which means if you purchase via our site, we receive a small commission.
If you enjoy our content and would like to help us grow, please follow on Instagram and join our Private Facebook Group to access more advice and exclusive in-depth conversations with other like-minded women.
Learn about our mission to help women look and feel their very best, every day, here.
Sign Up for Daily Content and Receive Our Free Classic Wardrobe Checklist