Our monthly series, Reader Favorites, is a round-up of the best selling items from the blog. At the end of each month, I run several reports; one is analytics on all the items we featured to see the most popular.
This helps me a few ways. First, I can map out future content and build off of pieces I know you already have.
It also helps me visualize our collective style, so I stay on track with what I recommend. From day one, I've focused on classic and modern style with a bit of a twist, so I'm always so thrilled to see that you love what I love.
Once I have a report of top sellers, I then go through comments and emails with your feedback. So these items are not only top sellers, but the most loved.
My goal for 2020 is to organize our site so you come here first if are looking for something: a dress, pair of shoes for work, a great fitting pair of jeans. I'm currently spending hours figuring out how to create a user friendly navigation. (More on all this soon!)
This month, our Reader Favorites are really the best of the best. From an incredible $40 dress you can wear pretty much anywhere, and hard to find knee high boots, to the pair of leggings three of us wore to my birthday party, be sure to check out the entire list, with many items on sale, in an inclusive size range.
November 2019 Reader Favorites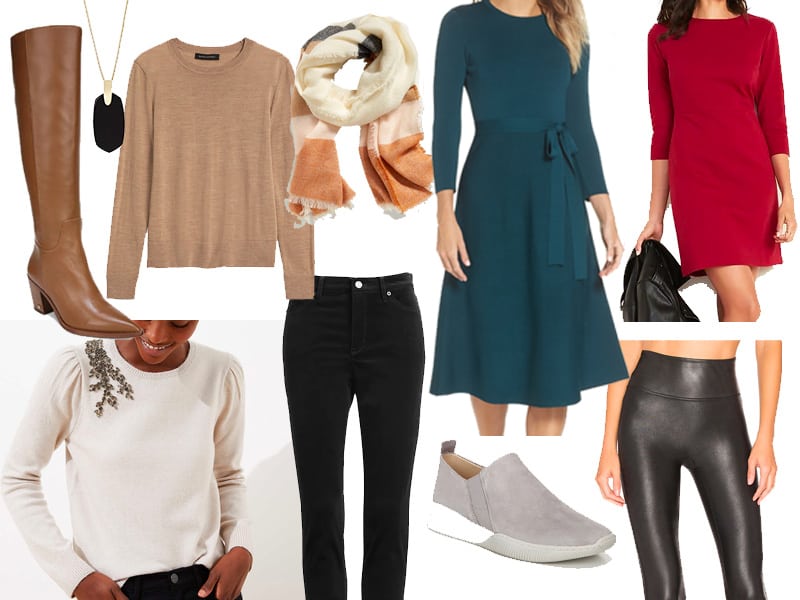 Sheath Dress Misses and Plus, On sale $35 | Brown Boots, $135 | Sweater Dress, $118 | Slip On Sneaker, $50 | Pendant Necklace, $80 | Faux Leather Leggings, $80 | Crystal Flower Sweater, $69 | Velvet Pant, $98 | Flannel Scarf, $20 | Merino Sweater, $69
Dress
This dress is fabulous and currently on sale at Old Navy for $35 in all sizes. You can wear it all year (maybe skip the super hot weather) with everything from block heel sandals to tights and boots. The ponte knit makes it a dream to pack or travel in as well. For this time of year, the festive red would make it the ideal piece for an office holiday party or casual afternoon event.
Shop: Missy / Petite / Tall / Plus
Boots

Finding classic, sleek pair of knee-high boots, without distracting buckles or cheesy logos, is tough, so I was delighted to stumble on these beauties from Sam Edelman on sale for up to 40% off. They have the perfect pointed toe that helps elongate your leg and make our outfit look elegant, and the heel is totally manageable. Wear them over leggings, skinny jeans or with tights and a dress or skirt.
Sweater Dress

Here's the thing with sweater dresses, they are not for everyone. They have to fit just right or you'll look like the before picture of a Spanx ad. When they do fit well, like this one by Eliza J. , they are lovely providing texture and a bit of warmth. This dress was a hit in the "spruce" color – another wonderful seasonal color.
For inspiration check out our Wear to Work post where we paired it here with the Sam Edelman boots.
Slip on Sneakers

I love, love, love these sneakers. For under $40 you can have a sleek and most important, comfortable casual shoe that isn't your gym sneaker. If you live in your black leggings during the week or on the weekends, pick them up on black.
Necklace

Kendra Scott is by far the most popular jewelry brand on the blog this year. Her pieces are modern and versatile, like this long pendant necklace.
We paired it last month with the $40 Old Navy Dress for an easy outfit to wear to the office.
Shop: Black and Gold
Faux Leather Leggings

I know the image looks severe, but before you dismiss them, hear me out. There were three (3!) of us at my birthday party last weekend wearing these. I wore them with a sparkly sweater, my sister-in-law wore them with a silky blouse, and another friend wore it with a tank and blazer.
They are one of my most favorite purchases of the year (that list is coming out next week) so it's nice to see that so many of you are giving them a try. They are a great way to add a little texture to your look with all the comfort of wearing a pair of leggings and the extra bonus of them being Spanx. I plan on wearing them all month long. Give them a try, I promise you won't be disappointed.
Embellished Sweater

Sizes are limited in the gorgeous sweater and for good reason. It's so pretty, especially for this time of year when you want something special but still casual. You can wear it with jeans, a pair of black ankle pants, a simple black pencil skirt – anything. Right now it's an additional 40% off.
Shop: Limited Sizes
Velvet Pant

One of the things I love about holiday dressing is the excuse to add formal fabric to otherwise simple outfits, like these velvet skinny pants from Banana Republic. They are another great option if you are looking to create some outfits for holiday entertaining at home, or more low key functions. The key to incorporating them is to pair them with your better basics, like a classic white silk blouse or a thin knit sweater so the specialness of the fabric stands out.
Scarf

This scarf, another gem from Old Navy, is only $10 (available in ten color options). I featured it here last month, and I could not believe how many of you scooped it up. It would also make a wonderful, affordable gift for the holidays.
Shop: Assorted Patterns
Sweater

Finally, this lightweight merino wool sweater from Banana Republic is under $70 and washable. Not like it says dry clean only but you wash it anyway, this is made to be washed at home.
It's the ideal piece that you can wear on it's own or layer under a jacket or blazer. Available in eight super wearable colors, in sizes xxs – xxl. My top color picks are the black (wear it with everything), camel, and if you feel a little preppy, grab the kelly green.
Shop: Assorted Colors xxs – xxl