We interrupt our regularly scheduled content to bring you our top picks from the Nordstrom Anniversary Sale. I went back and forth about covering the sale since it's starting to feel like gratuitous consumerism rather than the special occasion so many of us remember it as. BUT I asked over on Instagram who is planning on shopping and enough readers raised their hands.
From experience, the sale can be overwhelming. So we are breaking this post into five parts, starting today with pieces for work. Tomorrow we will focus on casual, Wednesday accessories and Thursday our beauty picks. We'll wrap up the week on Friday with whatever is left, like coats, and splurges.
Before we start, it's important to know that this post is not sponsored but if you click and purchase something from our links we may receive a very (very, very) small commission.
Nordstrom Anniversary Sale: Workwear Picks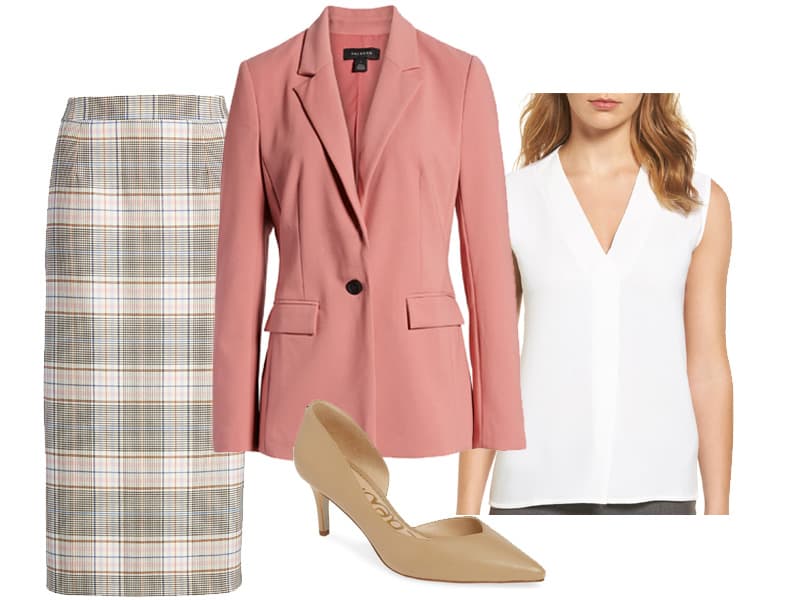 Jacket, $85.90 | Skirt, $49.90 | Tank, $99.90 | Heels, $79.90
From July 12th – 18th the sale is limited to cardholders only. I am NOT a person with a dozen store credit cards, but I do have the Nordstrom card, and the benefits are decent. Basically, you receive points that turn into "Notes" which are just credits for future purchases. They frequently have double or triple point days designed to help you earn more.
I should be better at leveraging those days considering how much I spend every year, but I drove to spin class in my flip flops on Friday and flat out forgot my sneakers, so I have to get other things in order before I can micromanage my shopping strategy.
Is the sale worth it? Yes if you know what you need. I have done well over the years because I know the brands that work for me, and have spent on a few better designer pieces included in the sale.
Will I be doing dressing room selfies? That's a hard no.
Today's post is not about me. To come up with our recommendations, I searched the sale for pieces you've let me know you are always on the lookout for, and reviewed our reader's purchase history, to create a curated list of options.
As always, we're including plus and petite within our roundups. Keep in mind just because the item is shown in a missy sizes, they still may have extended sizes within the size scale.
Because they order limited quantities, items sell out fast so they can create a sense of urgency. Most items are not restocked. When they are restocked it's later in the season.
Blazers
Blazers for work are a no brainer. I ordered this Halogen double-breasted blazer for its playful, casual plaid. I'll wear it with boyfriend or dark wash skinny jeans and booties in the fall since work is casual for me. But you can dress it up with your favorite trousers and either a heel or a loafer.
If a single button blazer is more, your speed try this check pattern for under $90. Both options are available in missy, petite, and plus.
Looking for a classic, wear-with-everything basic? Pick up this traditional single-breasted blazer available in five colors. Size range is XS- XXL.
Pants
There are some great deals on pants, especially for the office. I rounded up all the reader favorites I could find. A special call-out on these Vince Camuto ankle pants that are under $50, and these high rise ankles in four colors in plus size for under $60. They are both fantastic staples.
Scroll below to see a few more, well-tailored bottoms that have a subtle pattern that helps add some visual interest to otherwise flat looks. And if you are feeling like shaking things up, these tie waist bottoms are available in a feminine pink that works as an unexpected neutral.
Skirts
In the skirt category, if you need a basic skirt, don't miss this knit option in missy and plus for under $40. But I'm really loving this plaid midi skirt (featured above) to wear with anything from fitted sweaters or a basic white tee. Be sure to alter it to hit at the most flattering spot on your leg.
Dresses
Surprisingly, there are too many fantastic dresses. I picked up this Vince Camuto dress to get me through some end of summer meetings and this burgundy Tahari dress I can wear now and well into the fall.
For my sleeve loving readers, have no fear, you have tons of options too. Consider this Tahari for under $90, also available in plus, and the always easy to wear and comfortable Eliza J made a lovely bateau neck dress that you can dress up or down.
Suit Collections
Back when I was a stylist, I always enjoyed working with our handful of clients who needed proper suiting. I love the look of a well-tailored suit and how powerful it makes women look and feel.
As a loyal Theory fan, they are my go-to when I need to be suited. This gorgeous suit (jacket/pant) is classic and modern. It would work in the spring, summer and early fall on the east coast and all year long on the west coast. (Their sizing is all over the place, so be sure to try on and don't worry if you have to size up – I do.)
If you need to replace your traditional black suit, this Boss pantsuit (jacket/pant) is a show stopper. It's made with tropical wool, which means you can wear it all year long, in any season.
But the real knock-your-socks off suit is this stunning emerald capsule that includes a jacket, pant, dress, and coordinating tank.
Layers
Simple tops and layering pieces for work are always a challenge. The sale is offering some options but nothing with a WOW factor. There are, however, a few basics to freshen up what you already have, like these Vince Camuto and Boss sleeveless tops.
Most of the items below are under $50, are available in plus size and will work under a blazer, sweater or paired with your favorite bottoms.
Shoes and Boots
I found the shoe department the most underwhelming of the sale. There are, however, two shoes I'm excited to share. First, our Reader Favorite Sam Edelman Half d'Orsay pump is under $80 and available in four classic colors.
Second, perhaps the best deal of this entire post are the Aquatalia Water-Resistant Booties. If you walk to work in the elements or spend anytime outside when the weather is wet and miserable, these booties are a game-changer. They are an investment but one you will be happy to make if your budget allows.