Yesterday we did a full round-up of the best workwear from the Nordstrom Anniversary Sale. Today, we are focusing on casual pieces that you can pick up now, so you are ready for the chilly season.
I didn't go too deep for this post. Yes, there are a lot of tees and sweaters on sale and super trendy tops and jackets. But none of them are so exciting that I think you have to have them right now!!!
Instead of going overboard and inundating you with links, I picked the pieces I think will have the most impact on your wardrobe in the fall. We have featured many similar pieces in the past and will likely work with these in upcoming posts come September.
So with your wardrobes and budgets in mind, here are a few of our top picks.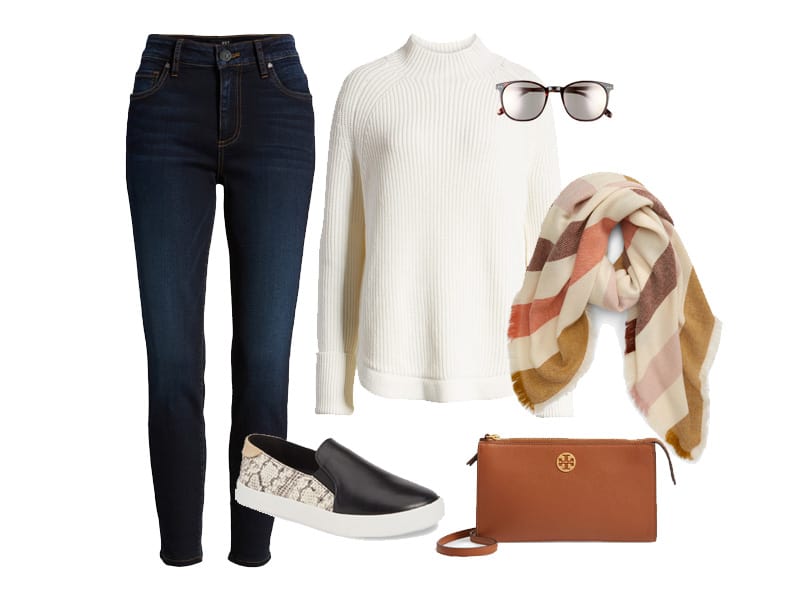 Jeans, $59.90 | Sweater, $59.90 | Sneakers, $84.90 | Crossbody, $165.90 | Sunglasses, $35.90 | Scarf, $42.90
The outfit above is in my shopping cart. It's my ideal look for October and November. While I don't want to wish away summer, these pieces are stirring up a longing for fall.
Every anniversary sale I spring for a new bag. For this go around I'm updating my crossbody bag with this slim Tory Burch option in light tan.
Boots
For a splurge, these Vince Booties in "light straw" will work with everything from jeans to sweater dresses. If you'd like something under $100, Sam Edelman always delivers. These ankle booties are a staple in black or caramel. Need a knee high boot? Consider these.
Jackets
We always feature motto jackets, and this one from BLANKNYC is a regular on our Reader Favorites list. I would pick up the tan, but the grey is just a versatile.
Sweaters
There are so many sweater options on sale, it's hard to narrow them down. This Chelsea 28 V-neck sweater is an awesome option with jeans or leggings for work-from-home days or on the weekends. I'm partial to the brown and burgundy option. I also adore the sweater above which I ordered in ivory. Both are under $50.
Jeans
If you could use a new pair or two of jeans some of our go-to's are on sale. Wit & Wisdom makes a fabulous classic straight leg jean that tend to sell out quickly. They look great with slide on sneakers, or flats and are currently $44. For a few dollars more, the KUT jeans above have a slightly frayed hem but still look and feel polished. They are on sale for under $60.
And I know we don't want to give the Kardashians any more money, but these Good American Skinnies are pretty killer and just over $100.
Accessories
Other items worth considering: this Sole Society Tote that holds everything is $32, these huggie earrings come in gold and silver (grab both if you can they are under $40) and are the perfect every day size for work or play.
If I had to pick one blanket scarf it would be this one from above. You can wear it with jeans, boots and a long sleeve white tee, or pair it with leggings, a long top and denim jacket.