We are wrapping up our Nordstrom Anniversary Sale coverage with a quick beauty post. As long-time readers know, I am incredibly loyal to my products and beauty tools. It took me a long time to find a skincare routine that works for me. It's extensive but effective, so why mess with it? That's why we don't feature a ton of beauty content.
Anyway, I'd also like to move on and talk about other things, so this is our last post about the sale. I'll update our Facebook Private Page with some specific deals over the next few days, so if you'd like to join just click here and answer our three membership questions.
But back to the sale. Many of the beauty items in the event are fragrance related, be it perfume, candles or diffusers so check and see if your favorite is on sale. There are also a lot of gadgets and tools, some are helpful, but many aren't necessary (more on that below). And if you love luxury brand makeup, there are a few that are a decent value.
My advice, though, is to make sure you're not paying for something you don't need. For example, most of the perfume exclusives come in a gorgeous box, with an extra body wash or cream. I don't ever use them, so I don't find much value in the set.
Today, I sorted through all the options and narrowed our list down the products I love and use, that are worth the spend or splurge.
Once again, this post is not sponsored but if you make a purchase from one of our links we may receive a very small commission.
Top Beauty Picks from the Nordstrom Anniversary Sale 2019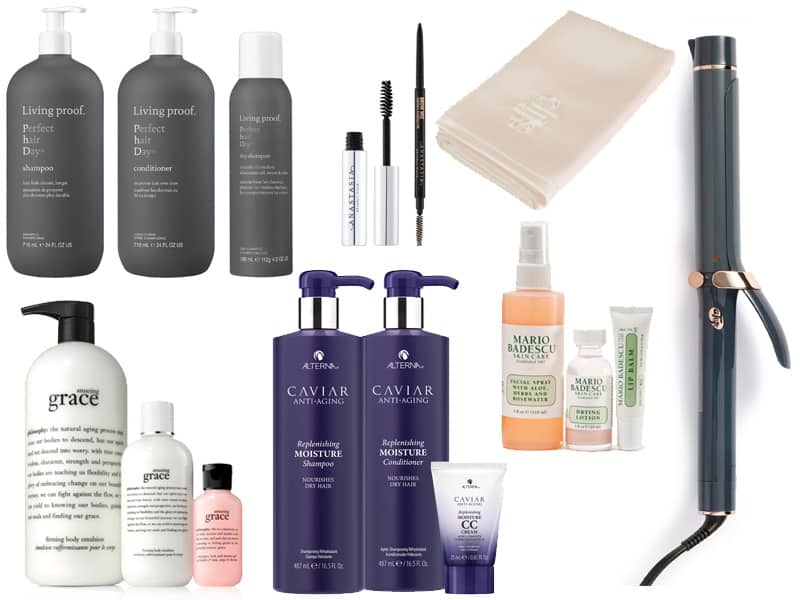 Living Proof Trio, $84 | Mario Badescu Set, $23 | Alterna Caviar Set, $72 | Philosophy Set, $55 | T3 Curling Iron, $107 | Anastasia Beverly Hills Brow Duo, $25 | Slip Pillowcases, $119
Haircare
Two haircare sets made my list. First, I have loved Living Proof for a long time. This full-size set featuring the brand's hero products is a nice value. Their dry shampoo is the best on the market, and their shampoo and conditioner make my hair look full and shiny after one use.
I also included Alterna Caviar Replenishing Moisture Shampoo and Conditioner, another brand I've been loyal to for years. Between aging and processing my hair to an inch of its life, this set helps bring it back to life and gives it the surge of moisture it is desperately lacking.
They both have a steep price point but they last a while since my kids aren't allowed near them. I alternate between the two depending on what my hair needs.
Hair Tools
Part of the reason I need a powerful conditioner is due to the heat I use to style my hair most days. I bought this T3 Curling Iron to replace my old T3. The first one lasted a little over 2 years, with lots of daily use so I feel ok replacing it now. It cuts my styling time in half and the curls last longer than with a drugstore brand curling irons.
If you are in the market for a new hair dryer, I also highly recommend T3. Their Cura Dryer is part of the sale for $155.
Little Luxuries and Gifts
I've been sleeping on a silk pillowcase for a few years, and guess what? It's still one of my all-time favorite, most-used purchases. There are lots of benefits, from helping to keep hair from breaking to preventing wrinkles. But I just like that it feels a little indulgent. After working all day, wrangling three kids, and running our home, I think I deserve every little luxury I can get. Pick one up for yourself, or save one to give to your mom, sister, or favorite friend this holiday.
This Philosophy Amazing Grace set for $55 is another stock up for the holiday's option. I picked one up to put under the tree for my oldest. (And yes, I am super impressed that I am already planning Christmas gifts.)
Skincare
In the skincare category, Mario Badescu's drying lotion destroys breakouts. I use to have terrible cystic acne for years, and a few drops of this right on the inflamed part of the pimple would remove it in a day or two. Next, his aloe and rosewater spray would help with inflammation, reduce redness, and cool down my skin. I keep them both on hand still and will be happy I have them if and when my girls start to experience their first breakouts.
Makeup Must Have
Next, who doesn't love a good eyebrow? When I really want to kick up my look, I use the Anastasia Beverly Hills eyebrow duo. It helps you create a strong brow in minutes and gives your whole face more definition.
Finally, a few honorable mentions in makeup. Nars has a pretty blush/bronzer/highlighter kit for $42. Laura Mercier's Lip Duo in rose is a lovely neutral for every day. And for fun, I picked up this Trish McEvoy Brighten and Define Eye Duo – I'll report back my findings if it's worth it.