Today we kick off a new Friday series: Pinterest in Real Life.
In our Wardrobe Challenge, I encouraged you to spend some time reviewing Pinterest and "pinning" looks you love. This exercise helps you narrow down your personal style, so you make better choices when editing your closet and when shopping because you'll never be able to build a wardrobe you love if you don't know what you like.
The idea here is that you pin all the images you love, ignoring the outfit's price point or practicality. We're simply trying to establish your aesthetic. I promise you; we can translate ANY look you love to work for your specific needs.
After wrapping up our Spring Wardrobe Challenge, I thought it would be fun and helpful to highlight popular, seasonal pins our community shared and show you how to take it from a highly stylized image to a real-life outfit.
I reviewed dozens boards posted in our Private Facebook Group. Since collectively, we aim to create a chic and modern style, it's no surprise that many "pins" show up across all of our boards.
This post is full of tips and lessons, so be sure to follow to the end.
Pinterest Inspiration
Today, I'm starting with a simple, Parisian-inspired style that is effortless and chic. In "real life," it's easier than you may think to recreate with affordable, readily available pieces.
The Challenge with Pinterest Looks
The general challenge with Pinterest images is that most of the models are tall, thin, with little to no curves, which is all fine. Heck, I used to look like that (note I said 'used to'). However, there is little variety of shapes and sizes, so we have to look beyond that to translate outfits that work for our individual needs.
At first glance, you're probably not loving how low the blouse is cut. So we need to find a piece that mimics the blouse's style, with a more practical neckline. Here, we just need a traditional v-neck – which is universally flattering on every shape, size, and body type.
Below, I pulled some more practical pieces to recreate this look that you can now take to the office, or to date night.
Real Life
Polka Dot Blouse, $44 | Ankle Pant, $59 | Heel Sandal, $120 | Lipstick, $34
The brand CeCe at Nordstrom offers easy-to-wear tops that can work day or night. Each top usually has something special about it, so it feels unique like you found it at a boutique, but their prices are fantastic.
I picked this v-neck black and white polka dot blouse that is on sale for $44 in sizes XS-XL (an XL is equivalent to a 14). It's the perfect alternative to the inspiration top's plunging neckline, which I'm assuming has a much higher price tag.
Plus size? Try this Ralph Lauren wrap style jersey top in 1X – 3X.
Then, you probably already have a pair of black ankle pants you love.
You can pair this blouse with a skinny, straight, or wide-leg bottom; tuck it in at least halfway to give yourself a proper proportion. I'm featuring the Avery Straight-Leg Ankle pant from Banana Republic. They are just solid, work-horse pants, great for work or dress up, and on sale for under $60. They come in all sizes, including petite, and tall up to a size 20.
Side note: If you need a suit, you can grab the matching blazer here.
Next up, shoes. The other challenge with Pinterest pictures is that everyone is in sky-high heels and doesn't always work. I know I need to schedule some time to practice in heels again after a year in flats. Lol.
To replicate the look, I went with the block heels sandals by one of our favorites, Sam Edelman. They are about an inch lower than the inspiration look and, again, likely more affordable. You can pick them up in black (above) or 20, yes, 20 other colors.
Don't love heels? No problem, a pointed flat is an easy swap. Something as simple as these from Naturalizer with a bit of texture, would work wonderfully.
Finally, pay attention to your inspiration pins' styling because what you are attracted to is the overall feel of the look.
Today's look is minimal, with a focus on fit and proportion instead of lots of accessories. The one accessory here that you might miss is the smudgy red lip, so go ahead and try that out.
Nars makes one of my favorite red lipsticks. Instead of swiping it across your lips, dab a little in the center and blend it in with your fingertip. This will give you that bitten lip look that feels fresh and not so perfect.
Our Style Content is Inspired by Our Readers
Our readership inspires all of our posts and is not sponsored or paid for by brands or retailers.
Recommendations are based on my experience as a personal stylist and wardrobe consultant for over a decade. I worked with busy, down-to-earth women who wanted to look chic and feel confident but were often confused by so much of retail.
Some links are affiliate links, which means if you purchase via our site, we receive a small commission.
If you enjoy our content and would like to help us grow, please follow on Instagram and join our Private Facebook Group to access more advice and exclusive in-depth conversations with other like-minded women.
Learn about our mission to help women look and feel their very best, every day, here.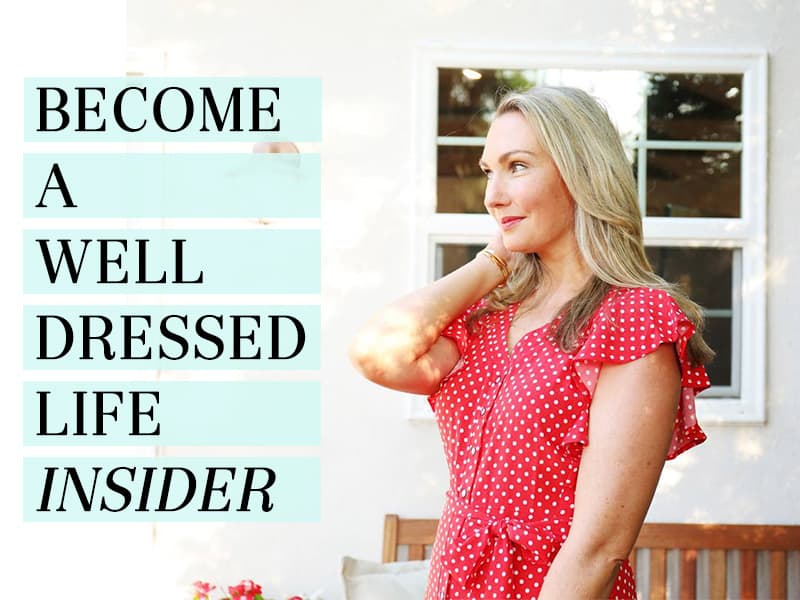 Sign Up for Daily Content and Receive Our Free Classic Wardrobe Checklist