Ankle boots are moving to the front of the line when it comes must haves. They're great for all body types and heights. Tall boots can be limiting if you are petite, and challenging to find proper fit f you have fuller calves.
Ankle boots, however, are just right.
Last month, I picked up these by Sam Edelman, to round out some outfits for a girls weekend in Austin. Of course, I paid full price, but happily, because after wearing them for three straight days I wondered how I ever dressed without them.
Today, they are on sale for only $60, so I am interrupting our scheduled content to share with all of you.
My Go-To Ankle Boots ON SALE!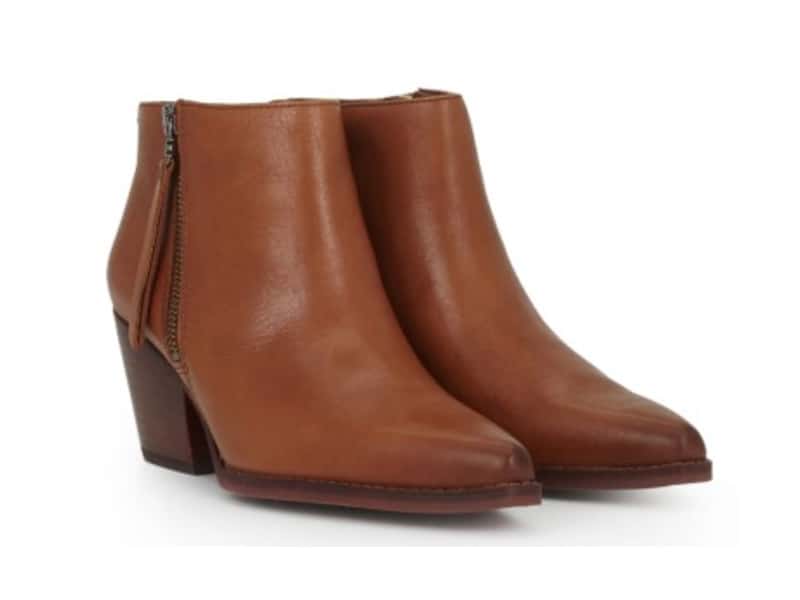 Boots, $60 ON SALE (originally $150)
The color I purchased is called "Whiskey Leather" it's a lovely, rich neutral. As of this post, they are $60, and available in all sizes and an array of colors and finishes (leather, or suede). They run true to size and are incredibly comfortable.
I've been wearing them non stop, with ankle skimming jeans in dark blue or black, and sweaters for an easy causal outfit.
What's extra nice about them is their design. The toe box has an elegant point, which is a must have if you want a casual look to feel elevated. Most of the time, when a boot has a pointed toe, the heel is unmanageable. But here, it's a block heel – so you will have all the support and comfort you need.
Win – Win
Related: The Best Jeans in Every Shape and Size at All Price Points
So what are some of the rules for wearing ankle boots with jeans?
I'm planning a more in depth post about this in March, but for now, here are a few tips.
You can absolutely wear these under bootcut or straight leg jeans.
But go ahead and show them off with an ankle length pair!
The bottom of the jean should sit just above the top of the boot. It might feel a little funny at first, but trust me, it 's a more modern, and still flattering way to work them into your outfit.
Because they have a slim profile they help the line of your leg look longer and leaner.
I picked them up in whisky because they go with everything. Today I'm ordering the black leather because the price is too good to pass up!
Be sure to let me know if you grab a pair for yourself. You can wear them right now and all the way through spring!
________________________________________________________
Our content is not sponsored or paid for by brands or retailers in any way.
Recommendations are based on personal experience and my time working with women as a stylist and wardrobe consultant for over a decade. Some links are affiliate links, which means if you purchase via our site, we receive a small commission.
If you enjoy our content and would like to help us grow, please consider following on Instagram and join our Private Facebook Group to access more advice and exclusive in-depth conversations with other like-minded women.
_________________________________________________________