This content has been archived. It may no longer be relevant
Last month I shared my nighttime skin routine, an extensive, but effective system I use to keep my skin clear and healthy. I use a mix of luxury and drugstore products, and for whatever reason, this specific combination has provided me with impressive results.
The point of the post was to share what I learned about how to properly layer skincare to get the best outcome, regardless of the products you're using.
Of all the products I use, there are two I won't live without: Vintner's Daughter Serum, and Goop's Instant Exfoliating Facial. Today, we're talking about Goop's Facial, and because I love it so much, I'm giving one away.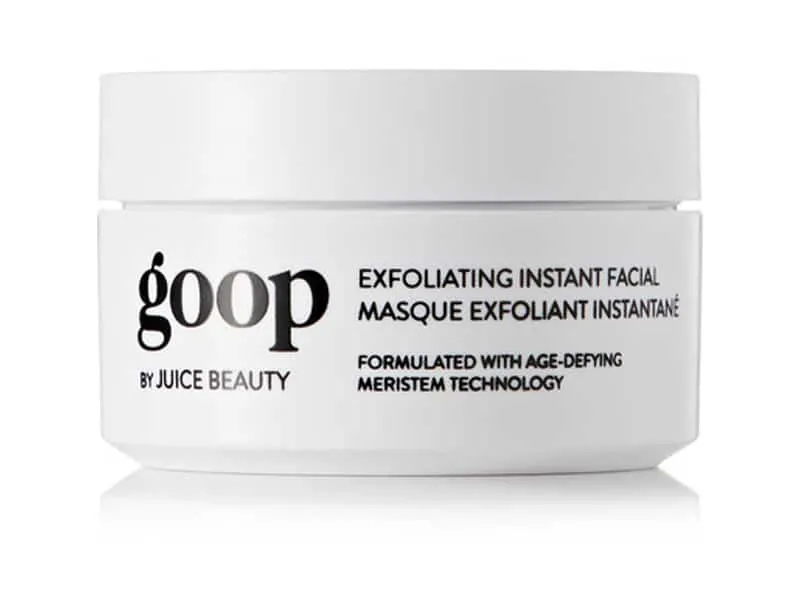 Instant Facial, $125
I ordered a jar of Instant Facial when it was first released after reading some positive initial reviews. I was in the midst of cleaning up my skincare, trying to focus on more organic, good for you ingredients. For the price and the buzz I had high expectations, and because my skin is extremely sensitive, I was prepared for this to be a total bust.
It didn't disappoint. After just a few uses my skin was noticeably softer and brighter, after a month it was the clearest it has ever been. This is how the goop website describes it:
The Exfoliating Instant Facial instantly brightens and softens skin to reveal a glowing, smoother-looking complexion. Natural alpha and beta hydroxy acids sweep away dead skin cells; plant-based cellulose beads exfoliate further, while releasing soothing vitamin B5, leaving skin supple, soft, and utterly revitalized. The Exfoliating Instant Facial is formulated with USDA-certified organic ingredients and contains approximately 86 percent total organic content.
There are so many products at all price points that make incredible claims. This is one of the few that has actually delivered for me. I use it 3 -4 times a week as part of my regular maintenance. I also travel with it because nothing feels better after a long flight than washing the airplane off your face.
There's no denying it's a splurge, but much like building a wardrobe, I'd rather use a few highly effective products than fill my medicine cabinet with a lot of junk. I'm 39 years old, I work hard and at the phase in life, I'm cool spending on keeping my skin looking it's best for as long as possible.
Each jar lasts me about three months so for $40 I'm month I get a lot of value.
Since it's spring, and our site has been growing like crazy, I thought it would be fun to host a giveaway. One lucky reader will win a full size jar of Goop's Exfoliating Instant Facial. This is not at all sponsored by Goop, I'm buying the product myself and having it shipped directly to the winner.
To enter:
Head over to our Facebook Page
Find this post pinned to the top of the page
In the comments ON FACEBOOK tell us the one beauty product you can't live without.
That's it! You can like our page to get updates and share the post with friends so they can enter too.
A winner will be randomly drawn and announced on Thursday, April 4th.
Here's the deal ladies, building our Facebook following will help us grow and expand our community, and this seems like a fun way to do it. But Facebook has a funky algorithm, so just because you "like" our page, doesn't mean you see what we post. Growing a following on FB the right way is excruciatingly slow.
It's super frustrating. The good news is the more engagement we have on the page, the more we'll be able to use the platform to communicate directly with readers. I don't love that social media has to be such a big part of our marketing plan, but it's the world I'm operating in.
If you don't have Facebook, don't worry, we have other giveaways planned for the rest of the year that won't require it. Facebook is, however, a great platform for us to use that allows more interaction than I'm able to do on the blog, especially in our private group.
Things you should know:
This promotion is in no way sponsored, endorsed or administered by or associated with Facebook.
The Well Dressed Life and Megan Kristel LLC, is paying for the prize.
This is not a sponsored post.
US Residents Only must be 18 years old to enter. The prize is nontransferable, void where prohibited.
Contest ends Thursday, April 4th at 9 am EST. One winner will be selected at random and announced on Facebook.