This content has been archived. It may no longer be relevant
I've had my head in a self-help book for as long as I can remember. Ever since I was introduced to the concept of bettering oneself, I've been hooked. Perhaps it's because I grew up part of the generation that religiously turned on The Oprah Show at 4 pm every weekday, eagerly waiting to be told how to "live our best lives." I've grown up loving the concept that with some knowledge and self-awareness you can always do and be a little better.
In college I remember reading Men are From Mars; Women are From Venus when Bri and I started dating. When he did something similar to a behavior discussed in the book, I would start to tell him what the book said about why he was doing certain things.
Can you imagine? The poor guy had no idea he was signing up for a lifetime of feedback. Thank goodness he found it endearing because these days I think that would be considered some kind of red flag.
The Problem with Most Self Help Books
Often self-help books read like an article from Seventeen magazine. A lot of navel gazing, not a lot of substance. Part of the problem is that many if not most of these books focus too much on positive thinking and not enough on changing your habits. You can't simply will yourself into a better day, year, or life.
It takes a tremendous amount of self-discipline. You have to understand why you have certain behaviors, recognize your triggers, and accept yourself for who you are and learn to rewire your patterns of thought.
But there are a few special ones that have introduced groundbreaking research, created global communities, giving voice to many of us who feel alone and have offered actual strategies to live more fulfilling, happy, content lives.
Today I'm sharing the books that have made the most significant impact for me, that I regularly refer back to and recommend to friends. I say these are ideal for women over 35 because I think you need some life under your belt for them to resonate and a bit of the maturity that only comes with age, but of course, anyone could benefit from them.
The Best Self-Help Books for Women Over 35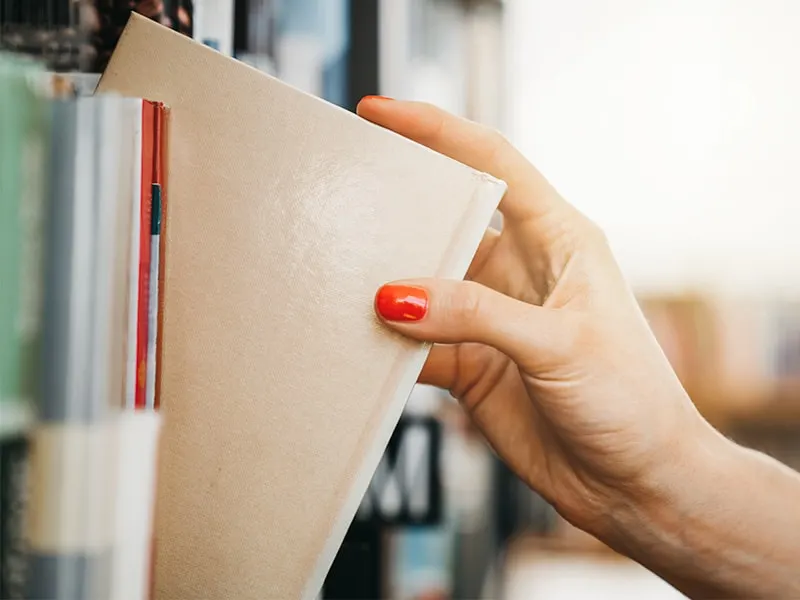 The 7 Books that Improved My Life, Including My All Time Favorite
In my humble opinion, these are the only books you need.
It's no surprise that Shonda Rhimes would write an incredibly moving book you can digest in one sitting, and then want to read over again, and again. What is surprising is that someone as gifted and celebrated as she would struggle with letting go of fear.
A Year of Yes
is a memoir with some beautiful nuggets of wisdom. If you ever felt like you needed to shake things up and get out of your comfort zone, Shonda Rhimes will make you feel like if she can do it, so can you, and the results will be incredible.
I've never considered myself a creative, despite having an unconventional career. Over the years, though, I've learned that I can be creative and analytical, impulsive, and strategic, and I thrive in an environment where I can write my own rules.
The problem was that I carried a judgment against myself. I didn't put any value on what I did because it wasn't a traditional job, I didn't follow a prescribed road after graduation, so I somehow felt less than.
This thought process lead me to either dumbing down what I did or never speaking about my work. Either one is pretty much a recipe to stunt any creativity from flowing to you. In Big Magic, Elizabeth Gilbert, with her stunning use of language, creates a conversation about the need to create art of any kind and helps us to explore that part of ourselves.
The paperback version of this book sits on my bookshelf with dog-eared pages and passages covered in highlighter. This classic, timeless guide to professional success is heavy and complicated (at least for me). It took me a while to get through, but that's the intention. You should slowly work through the book, read chapters, and then reread them, so you can absorb the content. My big takeaway was the importance of shifting our thought process, and for me, that means I need to create margin in my life so I can control my thoughts and emotions better.
Want a full breakdown of the book's takeaways? Read this fantastic synopsis here.
I believe that one of the keys to a healthy and happy life is feeling like you are making a contribution, and for me, that leads to a conversation about being productive. The 5 AM Club is filled with tips and strategies to help get up early in the morning and create a routine that helps set you up for success.
Worried about how I was going to manage all of our family responsibilities with a full-time job and a new baby, I read this at the end of last year right after Vivian was born. It's a remarkable book that reads like a compelling novel but is filled with science-based research and advice. If it can get this snooze-button-loving girl out of bed early, it can get anyone moving before the sun comes up.
Gretchen Rubin's sweet and simple book,
The Happiness Project
, changed a lot of lives. In it, she shares her year-long journey of practicing happiness, whether it was making time to play, or clean out her closet, she discovered that small daily habits make a significant impact in our lives.
I like the book because it focuses on being present and grateful. In our fast-paced lives, it's all too easy for our daily life to fly by. It's a great lesson and reminder that happiness is not a destination. Her experience inspired me to create my own happiness project, and I've kept it up for years now.
I listened to this as an audiobook on a flight (this is one of the ways I'm able to get through so many books) and it is startling, raw, and funny all at once. Journalist Dan Harris suffered a panic attack on national television, was self-medicating and spiraling out of control. As a long time skeptic of wellness practices, he found himself with no other option if he wanted to heal and regain his life and career, so he began meditating.
Meditation can feel overwhelming, especially when you are starting out. You think you need a shrine in your house or you need to go away to a weeklong silent retreat. Thankfully, you don't need any of that. 10% Happier is the best book about meditation and wellness I've ever read. It's a vulnerable and inspiring account of his internal struggles, how he took baby steps to regain his mental health, and how we can do the same.
All Time Favorite
Longtime readers know I am a Brene Brown super fan. Her book, The Gifts of Imperfection, is my all time favorite. It came into my life at the right time and absolutely changed it for the better. I use to feel consent self-inflicted pressure to be perfect. I thought if I were the best, most ideal version of myself, I would be praised for it, and that praise would translate into love, acceptance, and security.
Of course, I had that all wrong. I was a perfectionist because I was terrified of losing control over the narrative of my life, I wanted to avoid having to be vulnerable, and I never wanted to disappoint people.
It's been through Brene's work that I've been able to come into myself, learn skills to travel through life as a highly sensitive person, and embrace my vulnerability and buckets of empathy as assets, not liabilities.