I have been looking for a longer leopard print cardigan for a few weeks. After ordering a few from various retailers in a range of prices, I finally landed on a perfect one, from Amazon of all places.
Now, I've purchased a few others in my search that were recommended by some "influencers" I follow on Instagram. Unfortunately, they were either cheaply made, looked like bathrobes, or both, so they all went back. So I didn't have high expectations for this one.
Holy cow, I love it. Every season I pick up with an item or two that I end up wearing into the ground, and this is already one of them. It somehow is trendy, but subtle, is well made, but affordable and just works with everything.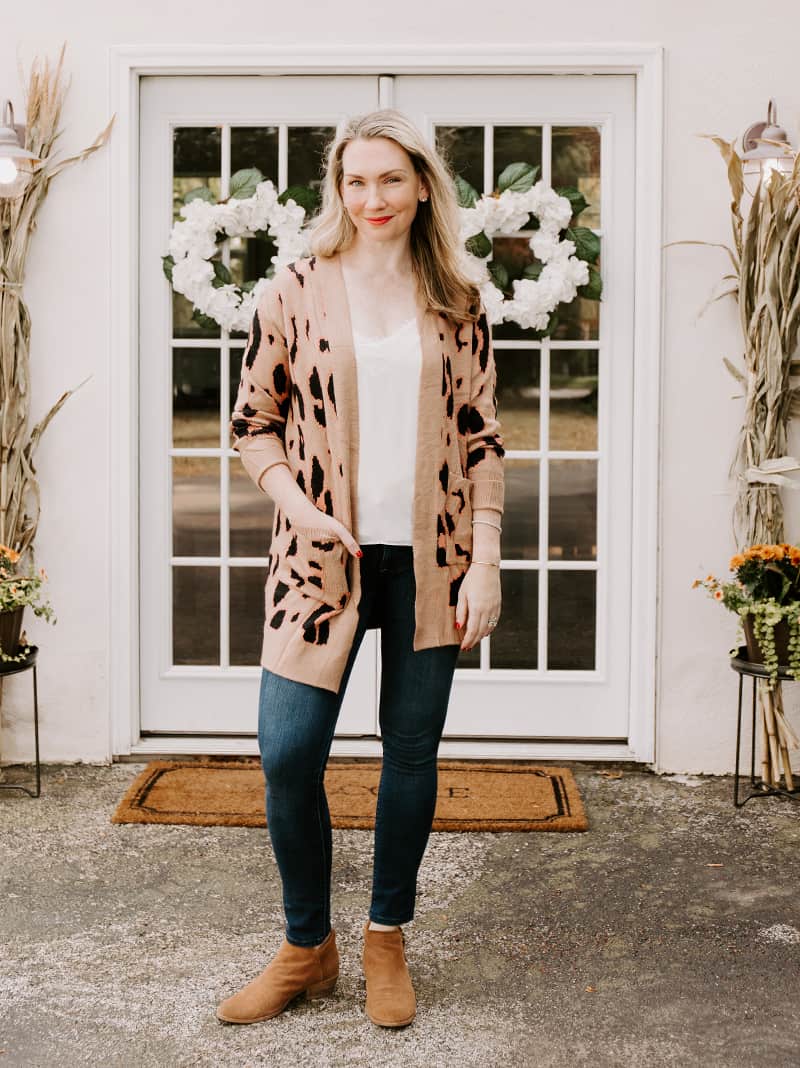 Cardigan, $35 | Tank, $22 | Jeans,$178 | Booties, $60
I've already worn it a dozen times since it arrived a few weeks ago. This is how I wear it most of the time: a simple white tank, skinny jeans, and booties. It's comfortable and not precious, which is helpful since I have a baby on my hip most of the time.
You can also dress it up by swapping out the booties for a heel or a sweet black flat. One night on the weekends, Bri and I sneak out to get a glass of wine and some apps; it's our way of trying to carve out some time for each other amid our crazy schedules. But the key to getting out the door in the small window we have is to be able to get ready in 5 minutes.
I can grab these pieces and be ready to go in no time and not be embarrassed when we inevitably run into people we know.
There are so many other ways to use it: pair it with leggings and chic sneakers, throw it over a black knit dress, or simply keep it on hand to layer over loungewear for days working at home, or a cozy night watching a movie on the sofa.
I'm even thinking of wearing it on Thanksgiving with comfy jeans and riding boots. Easy peasy.
Shopping Details
This is not a sponsored post; I purchase these items with my own money.
The cardigan runs true to size, I am wearing the medium, in the color option A-Khaki.
[affiliate_product id="28497″ align="right"]
The cami is by Socialite, I bought it during the Nordstrom Anniversary sale. I wear it on its own in the heat of the summer, and it makes a lovely layer with a little lace detail for extra style.
[affiliate_product id="28502″ align="left"]
For years I've sung the praises of DL 1961 jeans. They are worth every penny and are ridiculously comfortable. They are my go-to for busy "mom" days or travel.
[affiliate_product id="28509″ align="right"]
Finally, pairing booties with skinny jeans couldn't be easier. The cut and proportions play well together. I found these Steve Maddens at DSW a few years back, linking to a similar style and price point.
[affiliate_product id="28516″ align="left"]