For many of us who are moms, after having our kids at home for three months and attempting (poorly in my case) to educate them, news that pools are reopening is a moment to rejoice.
I can't tell you how many times over the last few weeks I received or sent a text that read, "the pools just need to open." These kids need to get out of the basement, off their devices and into the sunshine.
And you know what, so do we.
It's amazing what a few hours in the sun can do for your soul.
So today, I thought it would be helpful to rounded up some of my favorite coverups that are both chic and practical. There are so many options out there, many seem as revealing as the bathing suit itself.
But I really like a simple, lightweight fabric, cut like a tunic or dress that actually, you know, covers you up a bit!
My Favorite Chic Swim Cover Ups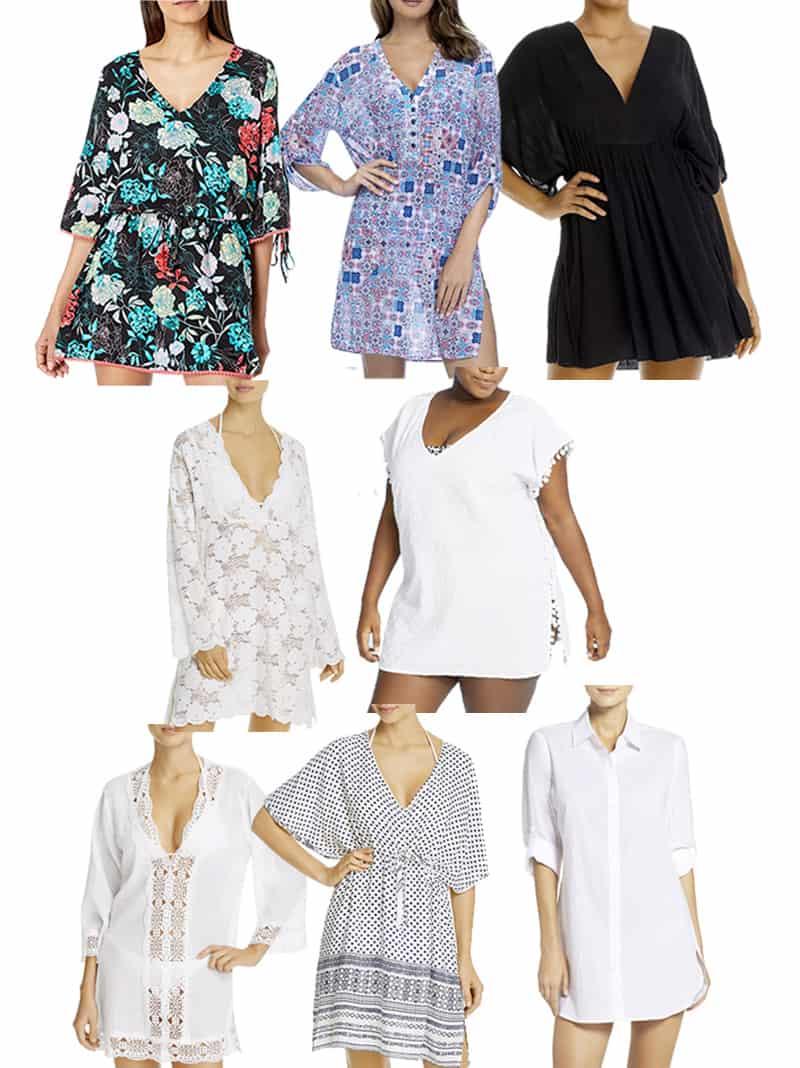 First, let's talk about price points. By now, you know I am a proponent of quality of quantity and buying the best you can afford.
But it feels like things these days are becoming expensive for the sake of being expensive.
For example, the average price of a cover-up that I found while organizing this post was $125. That's stupid.
So for today's post I kept the price under $70, in many cases, well under $70.
I find that if you buy one or two cover ups a year, that are nice quality you'll have them for many, many seasons.
V-Neck Caftan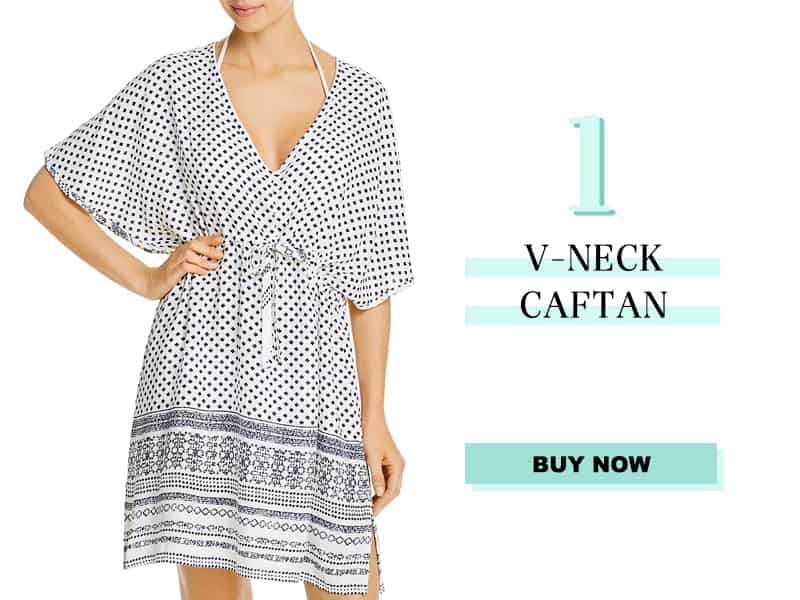 V-Neck Caftan, $58
This deep V-Neck Caftan in a timeless black and white print comes in sizes XS – XL. It's also available in a tank dress style here.
Lace Tunic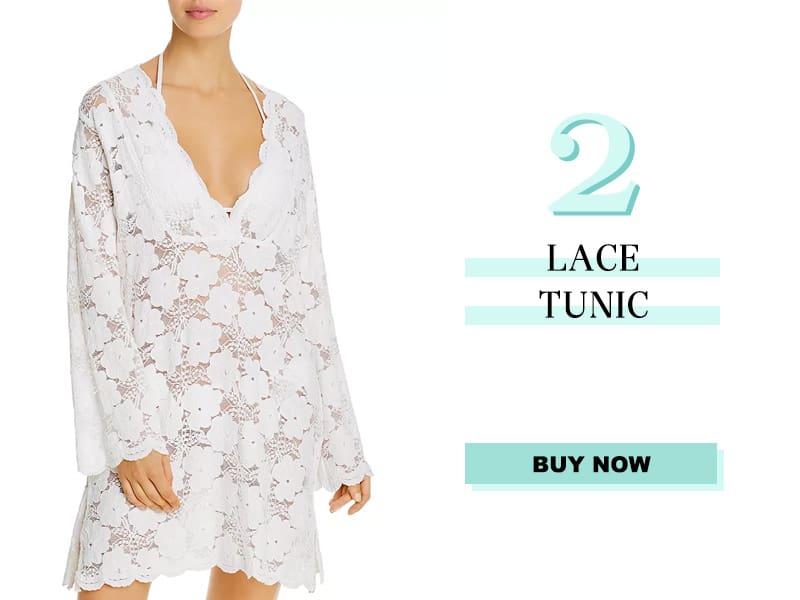 Lace Tunic, $68
I really love this lace tunic option with scalloped sleeves. It feels special, like you're getting dressed up for something. It's light and feminine, in sizes XS – XL.
Floral Tunic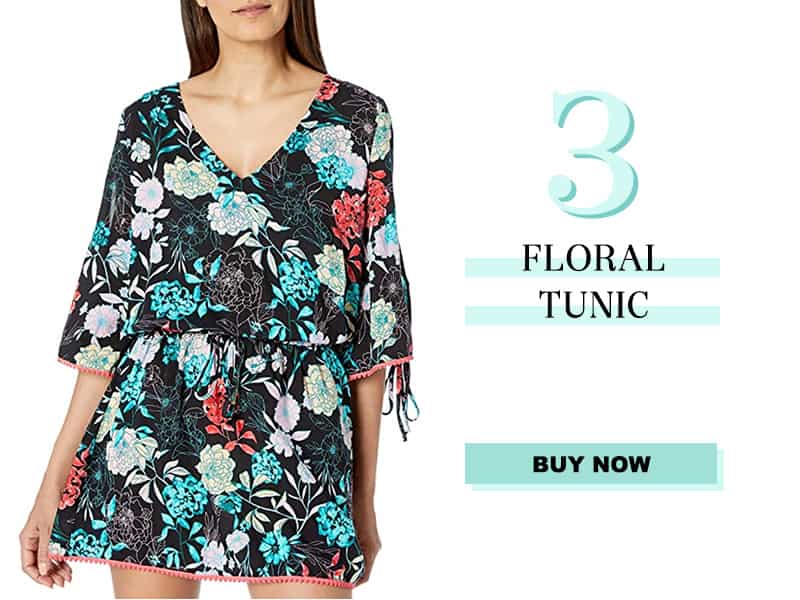 Floral Tunic, $20
This $20 floral tunic looks like romper, with its waisted defining gather detail. It will look best over a black suit. If you're feeling saucy, add a pair of bold earrings, like these star-fish shaped ones from Bauble Bar.
Boyfriend Shirt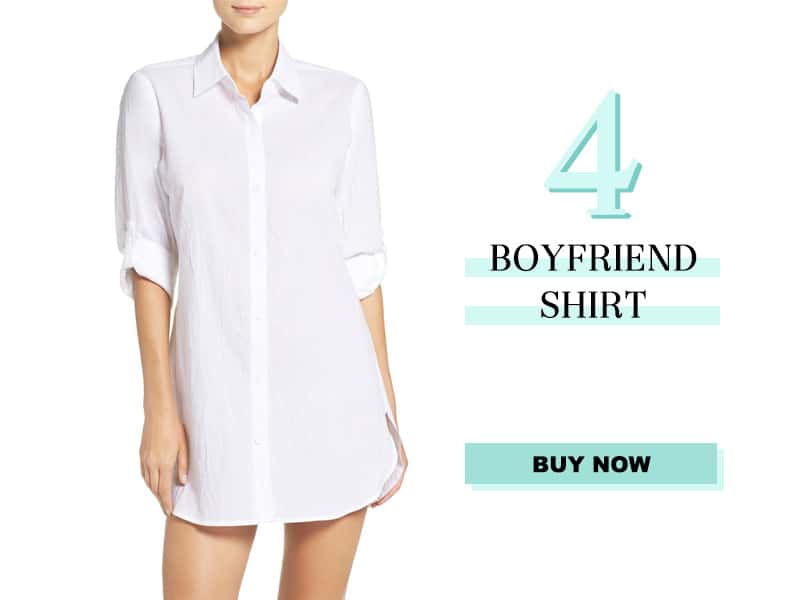 Boyfriend Shirt, $68
There is nothing more classic than an oversized shirt style cover up. This one, by Tommy Bahama is limited in sizes. I would throw a pair of denim shorts in my bag and half tuck the shirt when running to grab something to eat by the beach.
Mesh Dress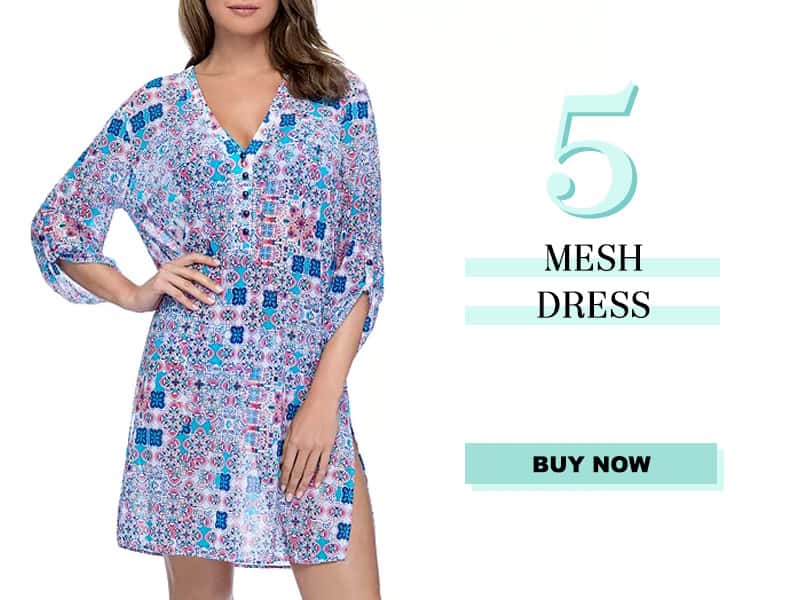 Mesh Dress, $68
I ordered this Moroccan-inspired tile print dress for myself. I love the pattern and fabric. It will be great to keep on while sitting in the baby pool with Vivi. It's currently on sale at Bloomingdales, in sizes S – XL.
Black Tunic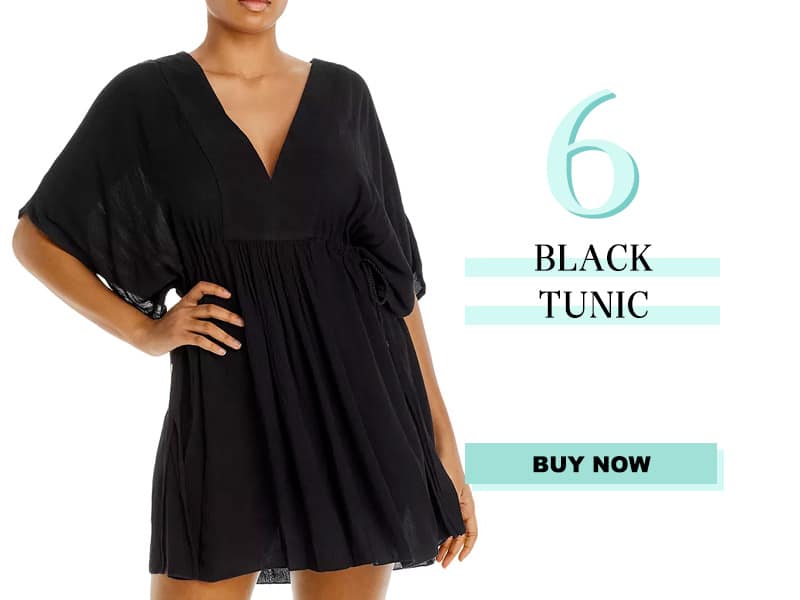 Black Tunic, $67
This tunic style cover up by Ralph Lauren is specifically for plus size, also on sale at Bloomingdales. I love the deep v-neck and cut of the sleeve. Add some oversized sunglasses to really lean into the glamour.
Pom Pom Trimmed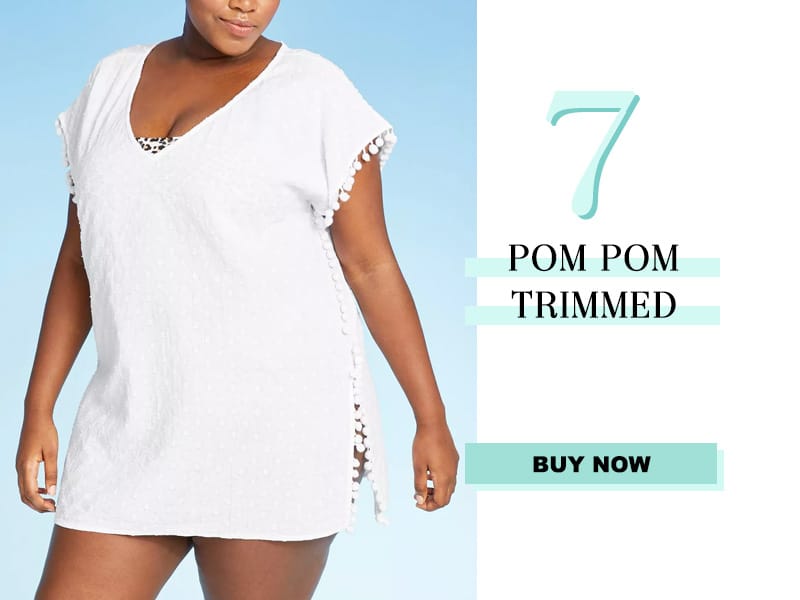 Pom Pom, $35
This adorable Target find is only $35. It's on the shorter side, but still gives nice coverage. This is specifically plus size, up to a size 3X. It's also available in XS – XL in white and navy here.
Lace Trimmed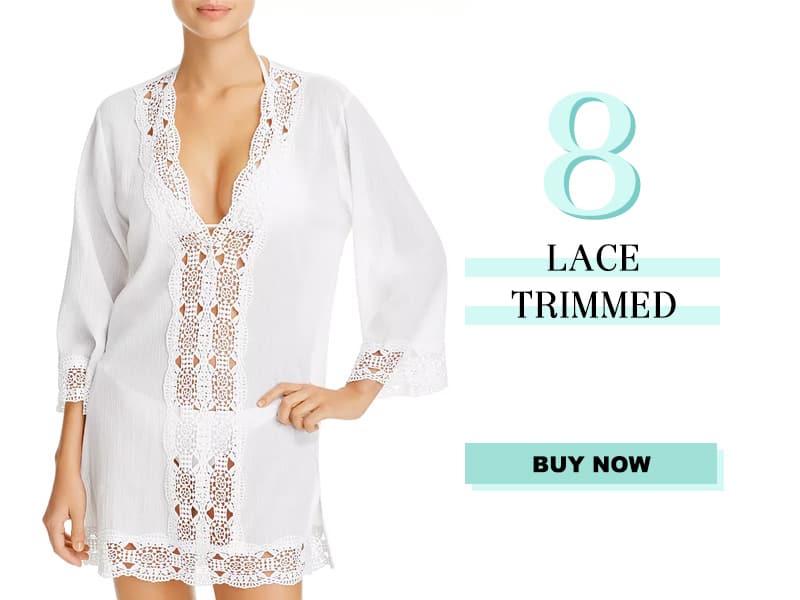 Lace Trimmed, $69
La Blanca is my favorite brand for coverups and swimwear. I've had them for years and am always happy when I pull them from the back of my closet. The quality is worth the price, but it's even better when you can grab them on sale here. Sizes range from XS – XL and plus size here.
---
Our Content is Inspired by Our Readers
Our readership inspires all of our posts and is not sponsored or paid for by brands or retailers.
Recommendations are based on my experience as a personal stylist View Post and wardrobe consultant for over a decade. I worked with busy, down-to-earth women who wanted to look chic and feel confident but were often confused by so much of retail.
Some links are affiliate links, which means if you purchase via our site, we receive a small commission.
If you enjoy our content and would like to help us grow, please consider following on Instagram and join our Private Facebook Group to access more advice and exclusive in-depth conversations with other like-minded women.
---