Every December, I look back over the past 12 months and round up the best things I purchased over the course of the year. Then, I separate them into two posts, today's Best Buys of 2019 and tomorrow's Best of Beauty.
This year, was a little bit different from years past. My daughter Vivian was born at the very end of December so for the first half of 2019 I focused on her, adjusting to life as a family of five and recovering from my third c-section.
It's only been since the fall that I've started to feel more like myself. But! I did manage to find some pretty awesome items that helped me feel good while recovering and made easing back into work more manageable.
Many of these are perfect for gifts, especially if you're still on the hunt for the woman in your life who has everything. Others will help you round out your wardrobe or create outfits for the holidays.
So, what makes these "the best"?
Well, these are the items I use on a daily basis, I reach for them constantly, and every time I use them, or wear them, I think – I'm so happy I bought this!
From my favorite morning gadget, to the clothes I added to my wardrobe and even the best buy I made for the baby, these are my top TEN purchases of 2019.
My Favorite Buys of 2019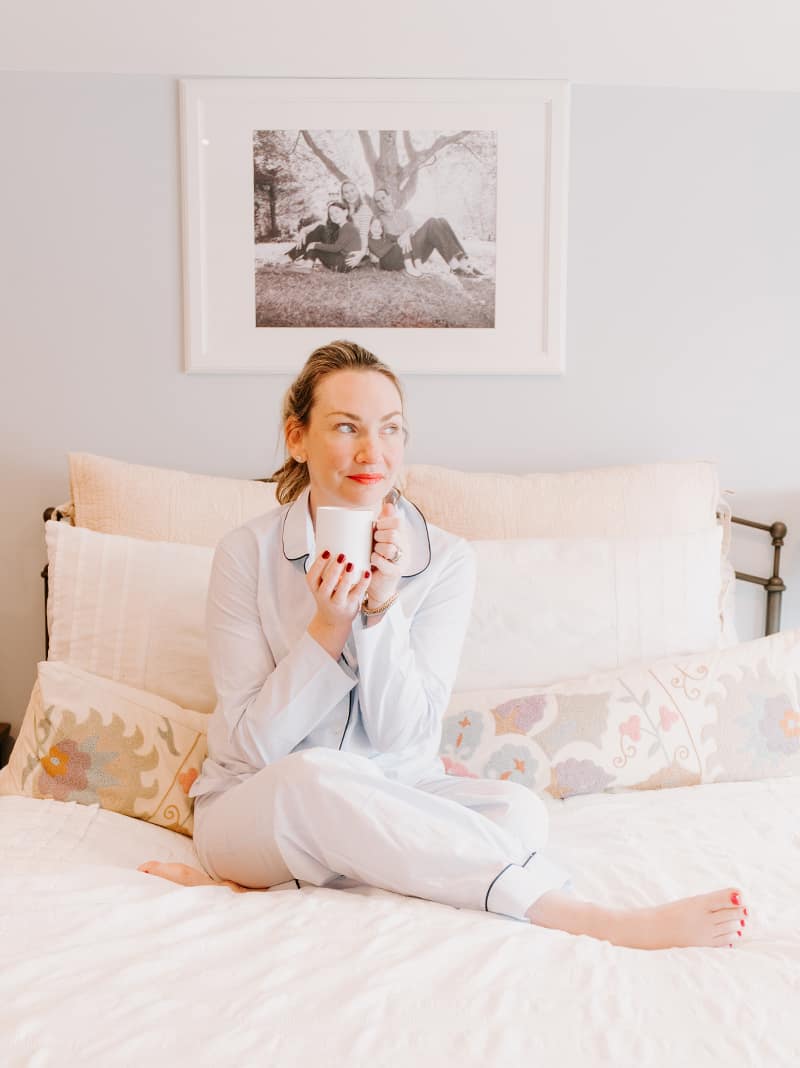 Ember Mug

I splurged on this in January, a few weeks after I had Vivian. It's an electronic mug that keeps your coffee (or tea, etc.) at your preferred temperature for 1.5 hours.
All moms know what it's like to pour your coffee, get distracted, and come back to an ice-cold mug. With this, you can enjoy your entire cup, at that freshly poured temp, no matter how many times you walk away from it. The mug doesn't get warm, but the coffee stays hot. How clever is that?
Shop: White or Black
J. Crew Pajamas

Pajamas feel like such an indulgence, especially when the price of one set could buy you an entire outfit for work. But J. Crew Factory has crisp, soft, perfectly preppy jammies at affordable prices and I love them.
Above is my favorite menswear inspired set on sale for $35. They would make a lovely under $40 gift this season. I'm wearing the medium.
Shop: Light Blue Menswear / Light Grey Knit
Barefoot Dreams Bathrobe

I spent the winter at home with a newborn, so for a while I was focused entirely on comfort. Early in the year, I went through my closet and realized I had no less than six robes, and I didn't like any of them.
So I decided to ditch them and pick up a beautiful one that I would enjoy wearing all year long. I bought this perfect piece from none other than Barefoot Dreams. It's indulgent, but it's just what I want to curl up in to transition from busy day to quiet night.
If you have an under $100 budget for a gift, pick this up (and if you order for Nordstrom get the gift box kit so you have a box the perfect size). I bought the ivory, but you have eight other neutral colors to choose from.
Shop: Assorted Colors
Spanx Faux Leather Leggings

After having Vivi last December, I started 2019 feeling detached and uncomfortable with my body. These faux leather leggings by Spanx were the first thing I put on postpartum, and they made me feel felt fabulous. I've worn them on repeat ever since. If you're still on the fence about them, stay tuned. I'm featuring them in How to Wear Three Ways later this week, just in time for full-on holiday dressing.
Suede Knee Boots

Now and then, I buy a shoe and wonder how I got dressed without them. Such is the case with these Nine West boots. I love them, and wear them so much, I just ordered a second pair so I have them for a long time.
If you need a pair of clean, dressy-ish knee high boots to wear with tights and dresses or skinny paints, these are it. They are amazingly comfortable and work with everything, from lighter weight wrap dresses, to a heavy sweater dress, over thick tights or even jeans and pants.
Shop: Black Suede
Oversized Knit Turtleneck Sweater

I know these kinds of bulky sweaters aren't for everyone (and I'm working on sourcing some alternatives!), but this sweater has been my favorite. I wear it all the time, and it's wildly versatile. I wear it with everything from my jeans and boots, or leggings (even the faux leather ones) and booties, to over my pajamas (my house is always freezing).
Shop: Three colors, I have the heather grey, runs true to size, size down if in between.
True & Co V Neck Wireless Bra

I live in True & Co's V Neck Bra. It's like an everyday tee shirt bra, but better. It's crazy comfortable, gives you just enough support and is seamless. You can't wear it under everything, because the cut is limiting. I wear it under sweaters, sweatshirts, long sleeve tees, etc. I even keep it on under pajamas while I'm walking around the house, and sometimes end up sleeping in it.
Shop: Assorted Neutral Colors ( I wear Dulce).
Black Jumpsuit

One of my most favorite pieces is this black jumpsuit by Vince Camuto (so many of you bought it too!). I wore it like crazy over the summer, and I am going to pair it later this month with a simple black blazer for a Christmas dinner at a restaurant with friends.
You can see me in it this past summer here.
Dress for Work

You know I love a dress for work because you can simply zip up and be ready in seconds. This one by Tahari was my favorite addition to my own collection this year. You look polished and professional, it's well tailored and you can throw it in your suitcase for quick business trips.
Shop: Missy / Plus (similar and in black)
Lovevery Play Mat and Box Subscription
Vivi is our third, so when it comes to buying her toys and baby gear, we take a quality over quantity approach. Right after she was born, I purchased this play mat and the additional box subscription by Lovevery.
Now that she is about to turn one, I am astounded by the quality and usefulness of these products.
Related: My Favorite Baby Products
These are her only toys. She is completely engrossed with them, never bores, and learns so much. They are also so beautifully designed and don't look like clutter in your home.
I purchased the play mat, which has grown with her. We now have it in our family room like a little tent where she plays peak a boo like a pro.
And every other month we receive a box containing about five age-appropriate, milestone focused toys. I can't recommend them enough. So if you have a new baby or grand baby on the way, this is the perfect gift for baby and parents. If you shop via this link you'll get $10 off your first purchase.