At the end of every year, I like to share some of my favorite beauty products. I try new things all year long and also stay loyal to the products that give me the best results. As I've gotten closer to 40, I've paid attention to quality products filled with good for you ingredients. For the most part, I tend to spend on skincare, and expect them to perform.
This year I discovered a few new products and gadgets that have earned a permanent spot in my medicine cabinet. Since I'm going to end the year a little bit early (we are a bit over three weeks away from my official maternity leave!) I'm sharing those products, and some old favorites, today.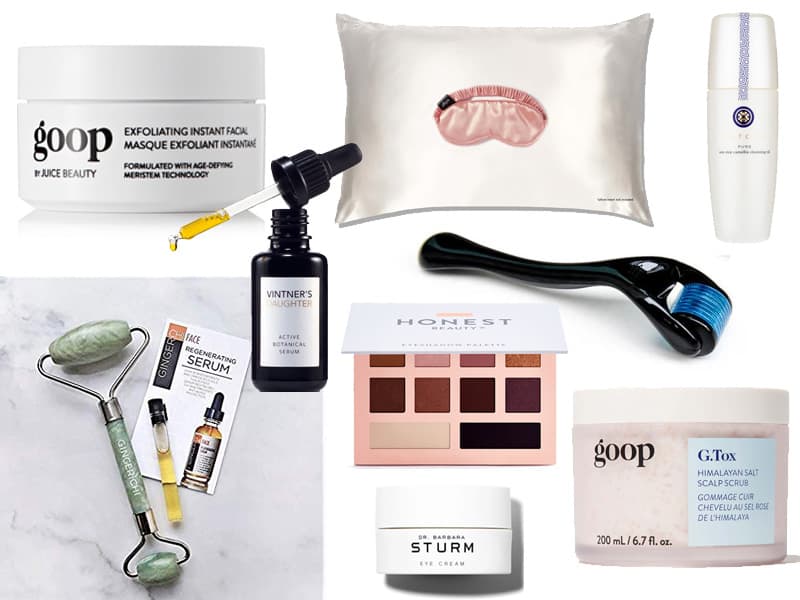 Exfoliating Instant Facial, $125 | Vinter's Daughter, $180 | Silk Pillowcase, $119 | Camellia Cleansing Oil, $48 | Jade Roller, $25 | Eye Shadow Palette, $20 | Micro Roller, $30 | Dr. Barbara Sturm Eye Cream, $140 | Salt Scalp Scrub, $42
1. & 2. Exfoliating Instant Facial, $125 and Vinter's Daughter, $180 are not new discoveries, I've been using them religiously for over a year. They are worth mentioning because I think they make the biggest difference in my skin.
The goop Instant Facial is a lovely, few times a week exfoliate that leaves your skin fresh and glowing. I see a noticeable difference in the texture of my skin after using it for close to two years.
Vinter's Daughter is the greatest face product I have every used, ever in my life. I use it twice a day, and panic if I start to run low. I once spilt a third of the bottle on the bathroom counter in an hotel room and screamed as I watched the liquid gold run down the drain.
It's changed my skin entirely. I don't have nearly as many breakouts, the redness I use to have around my nose and checks is gone, the wrinkles around my eyes have soften and my skin texture just looks more healthy.
3. Silk Pillowcase, $119. I though this was going to be a ridiculous purchase but I absolutely love it. The silk helps prevent wrinkles, keeps your hair healthy and is cooling at night – especially helpful since I've been running so warm this pregnancy.
Plus, it just feels luxurious, which is nice when your life is not luxurious at all. I like it so much I have a new one packed in my hospital bag.
4. Camellia Cleansing Oil, $48 was a middle of the night, QVC purchase that turned out to be delightful. I've been trying different cleansing oils since my skin is so sensitive but found many of them to be too drying.
Not this oil from Tatcha, it's rich and light at the same time. It removes even the most stubborn waterproof mascara with out any pulling and tugging and leaves your skin fresh and clean.
5. Jade Roller, $25. This inexpensive Jade Roller lives in my bedside drawer. I use it every night before I put on night cream to give my skin a soothing, quick massage. It helps cool your skin and helps keep the blood flowing to your face.
6. Eye Shadow Palette, $20. The Honest Company's $20 eye shadow palette is fabulous. You don't need to spend a fortune for clean make up. Each color has rich pigment and stays all day. I picked one up for my oldest who is getting super into playing with make up as a stocking stuffer too.
7. Micro Roller, $30. This little gizmo is a game changer. I use it twice a day to plump my skin and help it absorb product. First, I wash my face, then I take a few drops of Vintner's Daughter and apply it all over my skin, next take the roller and run it over your face, in sections going up and down, and then across.
Once you're done, apply some more oil and let it set. The only time I don't use it is if I applied the instant facial, since that is also exfoliating.
8. Dr. Barbara Sturm Eye Cream, $140. I've tried dozens of eye creams over the years and this one is the best. It's rich but absorbs quickly and doesn't feel tacky. I apply it morning and night and over the last few months have notice a difference in the puffiness around my eyes and general smoothness of my skin. It's expensive, but lasts since you only need a little at a time.
9. Salt Scalp Scrub, $42. Do you need this? No. Do I LOVE it? Yes. I just scrapped the bottom of my first jar for one last use and quickly reordered it. It takes some getting use to since it's not a traditional shampoo, and you don't use it everyday. I use it once or twice a week. You literally scrub your scalp with it and it helps remove all the build up from daily product and pollutants
When you get out of the shower, you feel so fresh and clean it's crazy. Like you just went to the spa. It's a lovely pick me up, or gift for your favorite girlfriend.