I get dozens of questions about the baby products I am using so I thought I would put together a post I can refer readers to, and update it from time to time. Before you hit "unsubscribe" because you don't care about baby topics, it's just one post. We'll be back to regular content tomorrow.
Vivian was born almost nine years after Ava. That's a lot of time. We didn't save anything from when the older girls were babies, so we had to start from scratch and at first it was overwhelming.
The advancements in products in less than a decade are amazing. At first, you feel like you need everything. There are so many options available and many are incredibly expensive. It was important for us to be smart about what we were spending. We wanted to keep safety in mind without being overly precious.
Going into this I kept a few things in mind: (1) this is definitely our last baby, (2) I wanted quality over quantity, and (3) we would buy what we needed when we needed it. Amazon Prime is a lifesaver. You can have whatever you need in 24 hours, no need to stock up on items she wouldn't be using for months.
Within a few days of telling Lauren I was expecting, she sent me a detailed spreadsheet of all of her must-have products. Can you see why we're friends? I was fortunate to have a girlfriend with a baby just a few months older than Viv. She is a research pro and took away a lot of the guesswork.
Below is a list of my favorite items, the ones that I'm thankful for every day, that make my life a little bit easier and provide the most value. Hopefully, you can use this now, file for the future or forward to a friend.
As usual, this is not a sponsored post.
My Favorite Baby Products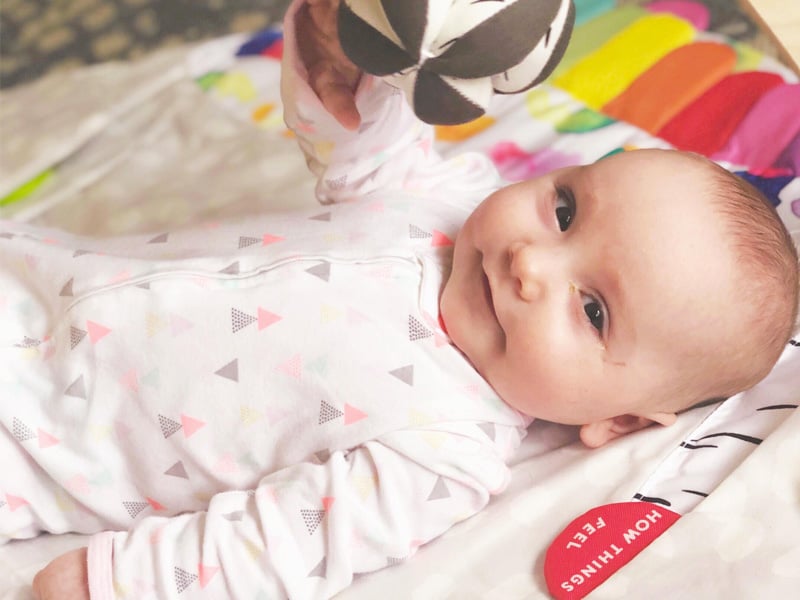 Lovevery Play Gym and Subscription Box
I can't say enough good things about this play gym.
Viv has spent hours on it starting at just a few weeks old. It is designed to grow with your baby up to 12 months and help them reach all of their developmental milestones.
You can also order a subscription box of age-appropriate toys that arrive every few months. If you buy the play gym, you don't need the first delivery because the toys are the same. Instead, start with the 3 -4 month box. Worth every penny.
Lovevery Play Gym, $140
Wipe Warmer and Dispenser
Bri teased me when I ordered a wipe warmer, considering we lived without one just fine when we had the big girls. But after a few weeks, we were on the same page; it's pretty great. It makes cleaning her up faster and easier, especially during night time changes, when a cold wipe could wake her up.
hiccapop Wipe Warmer and Dispenser, $35.00
Honest Soothing Bottom Wash
I wish I had this when the big girls were babies. It makes cleaning really dirty diapers a breeze. Once you spray it on their bottoms, it takes a way the smell, soothes their skin and helps wipe away everything.
I also prefer Honest diapers to other brands, I find they keep her drier longer, which is extra nice when trying to get her to sleep longer at night. That, and they are super cute.
Honest Soothing Bottom Wash, $8.00
Diaper Pail
I don't know why, but I spent hours looking for the best diaper pail. I ended up ordering the Ubbi Diaper Pail in gold. It has a small foot print, blends nicely with Viv's nursery decor, and does a good job controlling oder. The best feature is that it doesn't require special bags, you can use whatever you have, though I ordered a case of these liners that fit nicely.
Ubbie Diaper Pail, $90.00
Stroller, Car Seat and Base
Thanks to Lauren and her spreadsheet, picking out a stroller and car seat system was easy. These can run into the thousands, especially if you want something that is sleek and modern. The Chicco Brava Travel System includes your stroller, car seat and car seat base. Everything is simple to use, looks great, and most important, has a ton of safety features and positives reviews on Amazon.
Chicco Brava Travel System, $380.00
Swing
Bless this swing. We set up different "zones" in the house, so we have a place to put the little lady wherever we are. This one lives in the family room so she can swing and see all the commotion happening around her. It takes up a large footprint, so if space is an issue it might be too big. It's great because it swings forward and back and side to side. You can also detach the chair and use it as a rocker right next to you.
Graco Duetsmoothe Swing and Rocker, $140.00
Baby Carrier
Compared to other options, this is expensive. I ended up getting on a "deal of the day" sale on Amazon for under $75. Now that the weather is nice, I sometimes skip the stroller and put Viv in this to go for a walk. It's also what I use to take her to her sisters' ballgames and will use every day at the beach this summer. It's another grow-with-baby product that will last us a few years.
LÍLLÉbaby The Complete Original SIX-Position Baby & Child Carrier, $120
Sound Machine
If you need a gift for a new mom, get her this. Viv does not sleep during the day, no matter what I do, she's just up. She might take a catnap if I'm lucky. But at night, the kid is a champion sleeper (praise the Lord because I would be more of a disaster than I already am). Within days of starting to use this nightlight and sound machine, she began to sleep for 6 – 8 hours stretches.
Hatch Baby Rest Sound Machine, $60.00
Sleep Sacks
These are pretty much a requirement. Halo is my favorite, they wash well and are so cozy.
Halo Sleep Sacks, $20.00
Monitor
I gave Bri the task of researching monitors. After a few nights of reading hundreds of product reviews we landed on this video monitor. It works well with how our home is set up (our bedroom is on the other side of the house from the girls), so the range is excellent and the monitor image is super clear.
Infant Optics Video Baby Monitor, $165.00
Receiving Blankets
I don't know what I was thinking but I bought too many burp clothes and blankets. All I needed were these swaddles, which we use as receiving blankets, burp clothes, to keep her warm on walks, etc. They also wash up great, and get softer each time.
aden by aden + anais Swaddle Baby Blanket, 4 pack, $30.00