And just like that, it's November, which means the rest of the year is about to become a blur, and my front porch will be overflowing with deliveries (remember to take care of your UPS driver this holiday!).
Every month, I order a lot from Amazon, and most of it gets returned. For something to make this list, it has to be impressive. It has to combine quality with value.
As always, I purchase these items with my money – these posts are not sponsored. These are the things I bought for myself and regularly used or wear.
Let's round up my favorite purchases from Amazon in October.
Here we go …
My Favorite Amazon Purchases in October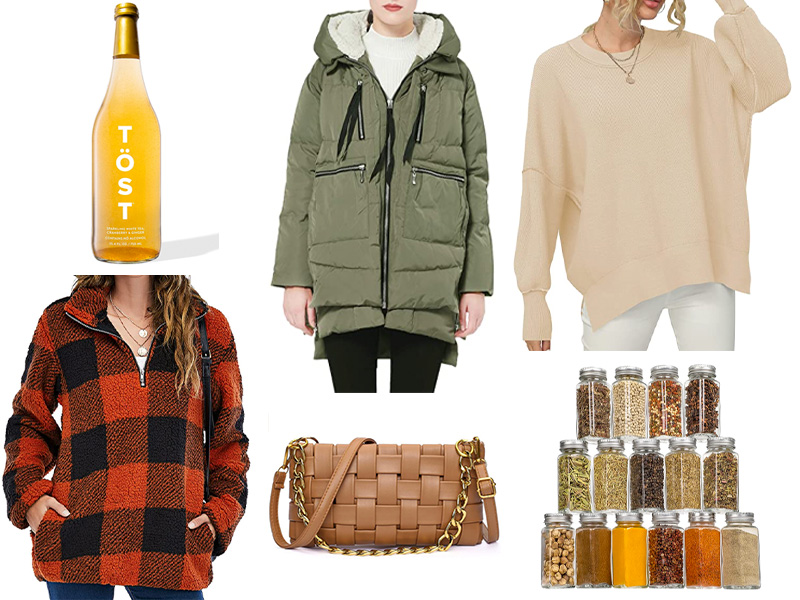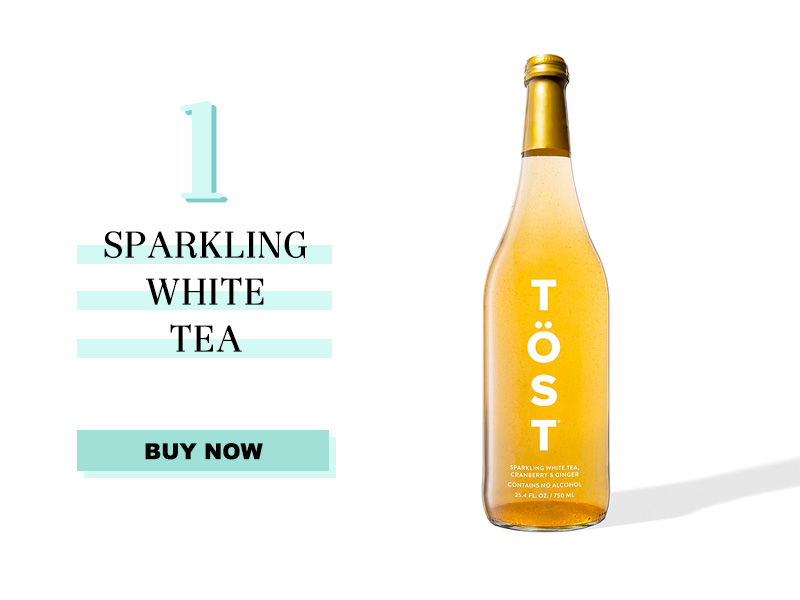 Sparkling White Tea, $36 for three
I'm saving my wine for weekends and not drinking during the week. For me, a glass of wine is less about drinking and more about the ritual; it's a way to transition from day to night and unwind, especially since there is no delineation between my work and home life.
But I'm old, and it's just not healthy to drink that much, so I switch to Tost, a sparkling tea that tastes refreshing and indulgent and has no alcohol.
It also got rave reviews from a few friends who stopped over on Halloween who don't drink. So pour in a wine glass and add a few frozen cranberries for a pretty and delicious mocktail. It's earned a permanent spot on my bar cart.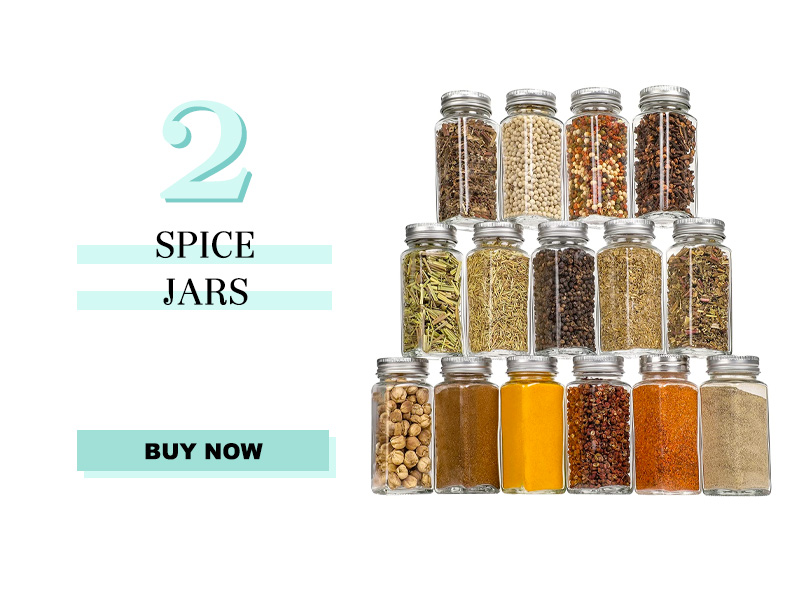 Spice Jars, $40
To say I've been under stress lately is an understatement. Aren't we all?
The number one sign that I am about to pop is when I start to organize things, like my spice drawer. It's called controlling what we can control when things feel out of control.
After seeing dozens of TikTok videos of over-the-top organizations, I ordered these spice jars. In an hour, I had a functional and aesthetically pleasing space in my pantry. PLUS, I used the time to clean, edit and refill stock for the holidays.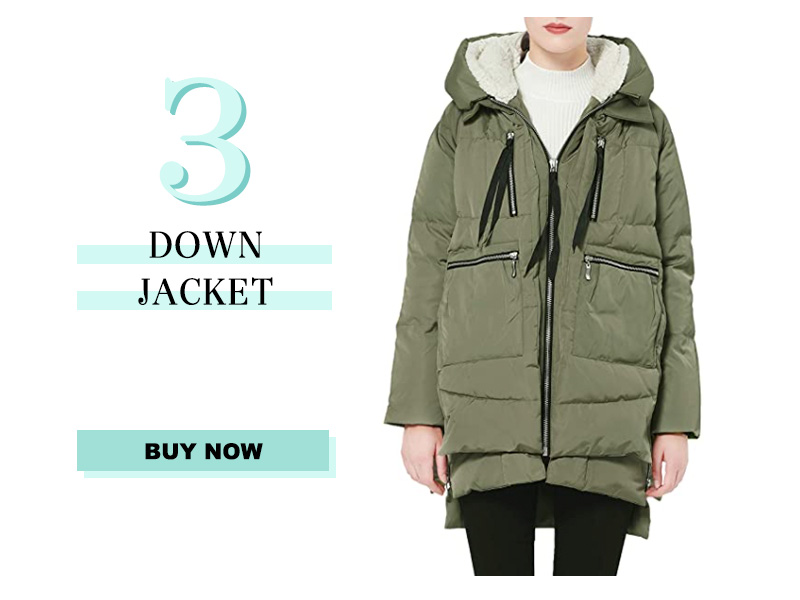 Down Jacket, $160
This jacket is not only a top seller on Amazon, but a Reader Favorite. I ordered it last month for myself and it's awesome, well worth the hype. It's like being wrapped in your favorite blanket. It's available in a range of colors and sizes.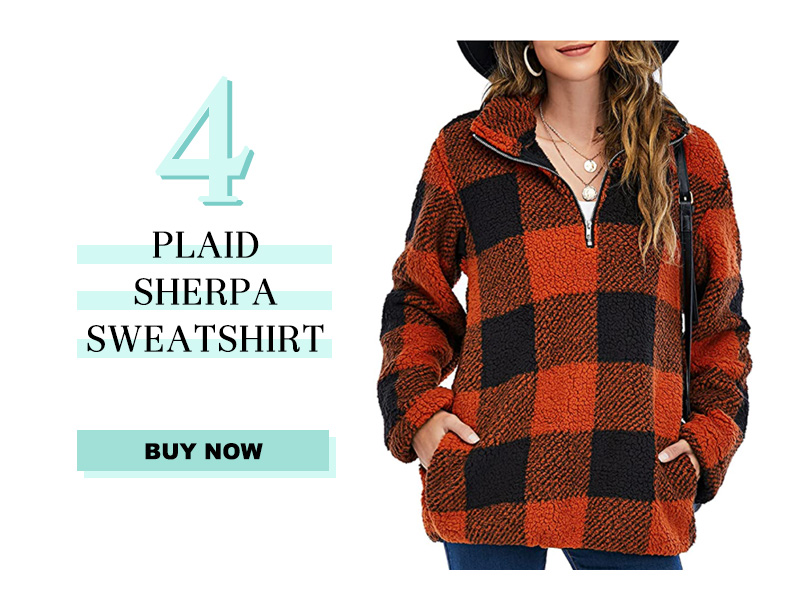 The last time I wore this, my daughter told me I looked like Taylor Swift. I don't know what that means, but I took it as a compliment. This sherpa sweatshirt is warm and comfy. Make it an outfit with black jeans or faux leather leggings and boots, or throw it on over joggers while working from home.
It runs true to size (I originally ordered the large, but a medium fits much better), available in other colors, including black and green.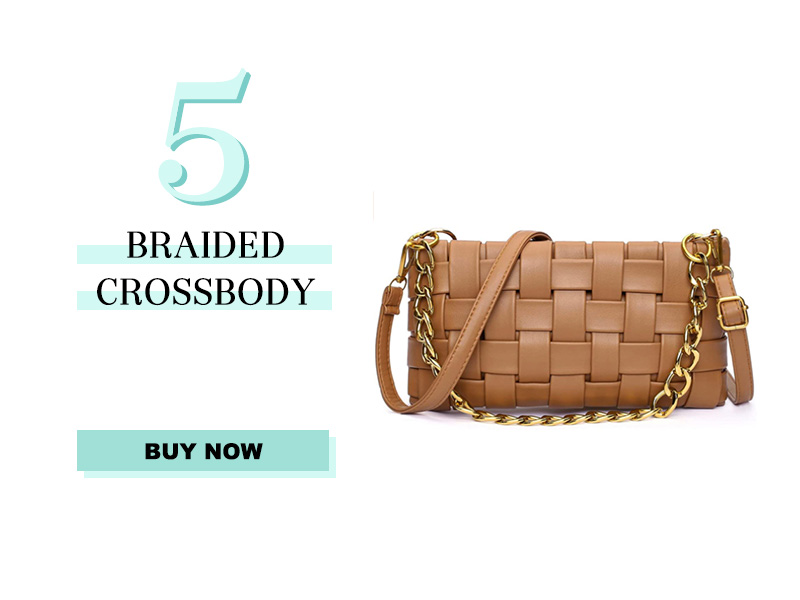 Braided Crossbody, $24
This braided crossbody is so chic and well made I can't believe it's under $25. I ordered it in the tan (above), but you have many other options, including black. You can fit your phone, card case, keys, and a few other essentials in here for a night out. It would make a fantastic and well-priced gift.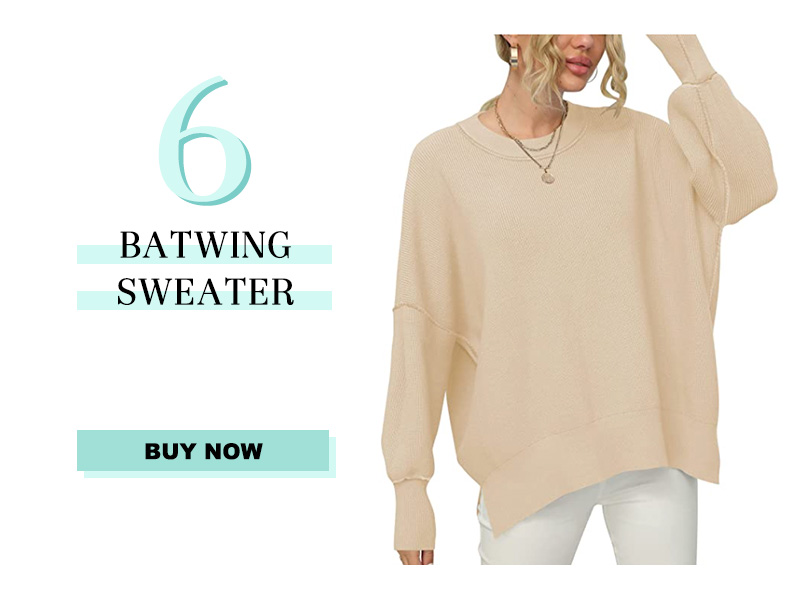 Batwing Sweater, $40
Finally, I ordered this batwing sweater after a friend recommended it. At first glance, it doesn't look like anything special, but I paired it with winter white jeans and camel ankle boots, gave it a little half tuck, and holy-moly did it look great.
I ordered my true size, medium, in "apricot"(above) and it fits well. Tons of color options up to a size XL which is about a 16-18.
Amazon Favorites from September
Below are my favorite Amazon buys from September, including a fresh take on a small bag, an easy way to make your shower feel like a spa, a couple of tops to pair with jeans, and my latest read for book club.
Small Tote Bag
Small Tote Bag, $40
This bag from Amazon's The Drop Collection is a winner. I bought it in tan (above) and black. It has the convenience of a wristlet with elevated styling, so you can be hands-free and keep your essentials close. I love it, two thumbs up from me.
In- Shower Mist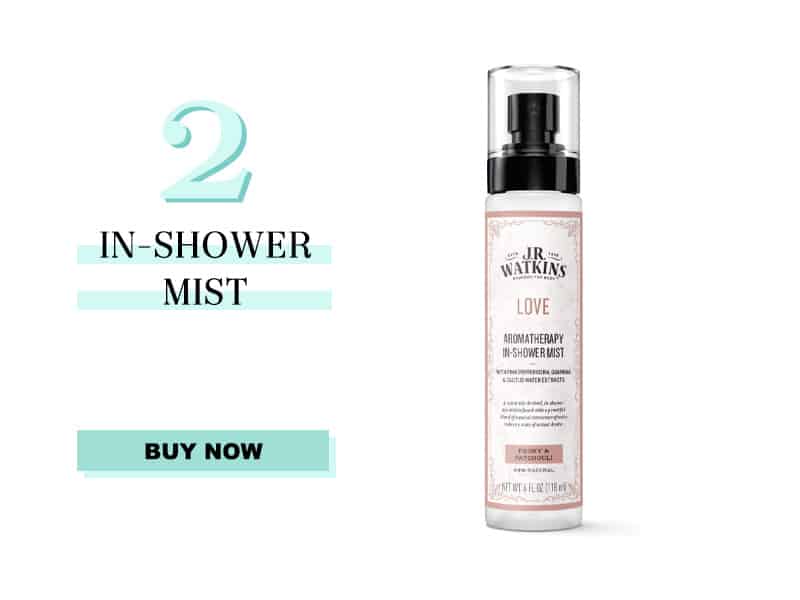 In-Shower Mist, $14
It's going to be a hot minute before I can get my butt to a spa, so I ordered this lovely J.R. Watkins aromatherapy spray to make my showers a bit more enjoyable. Simply spray a few times in the shower while it's steaming to create a mini spa-like experience at home. It doesn't drown out the sound of "Mom, Mom, Mom, MOM!" from the other side of the door, but it smells nice. 😉
Verity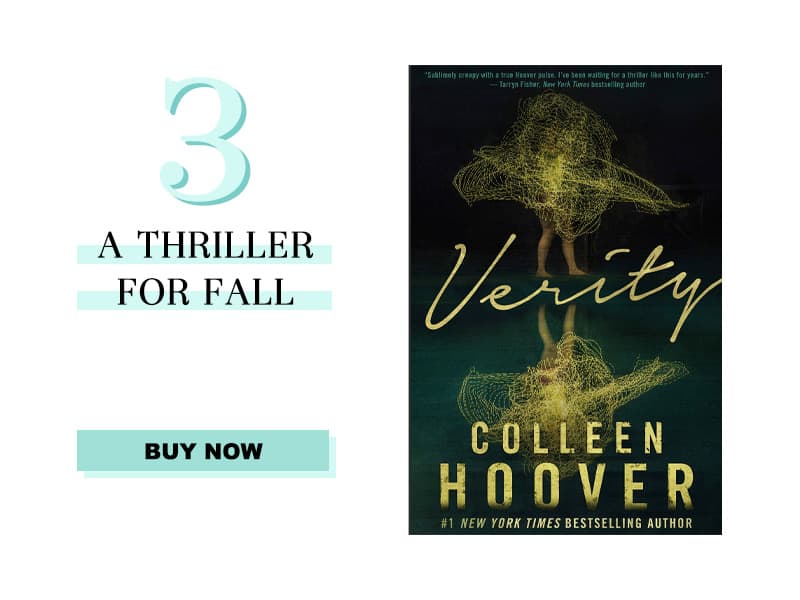 Thriller for Fall, $12
I've only just started Verity after hearing about it from a few friends whose book recommendations never fail. I can't explain it without giving too much away, but it's creepy and intense, just the thing to indulge in on a chilly October night.
Turtleneck Sweater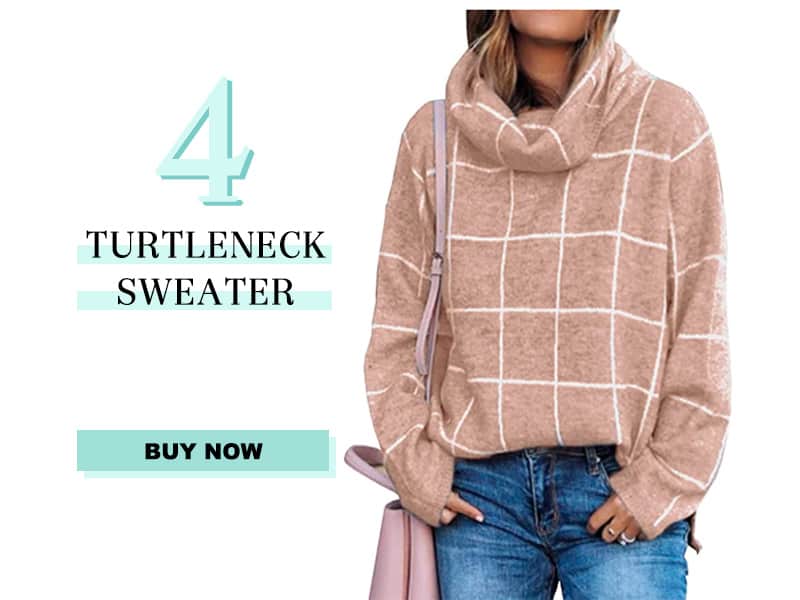 Turtleneck Sweater, $34
This sweater gets five stars from me. It's the perfect sweater/top to throw on with jeans. I wore it out on Friday night to grab happy hour with some friends, paired it with dark straight-leg jeans and tan mules. Available in 15 colors, from S – XL, it runs true.
Puff Sleeve Sweater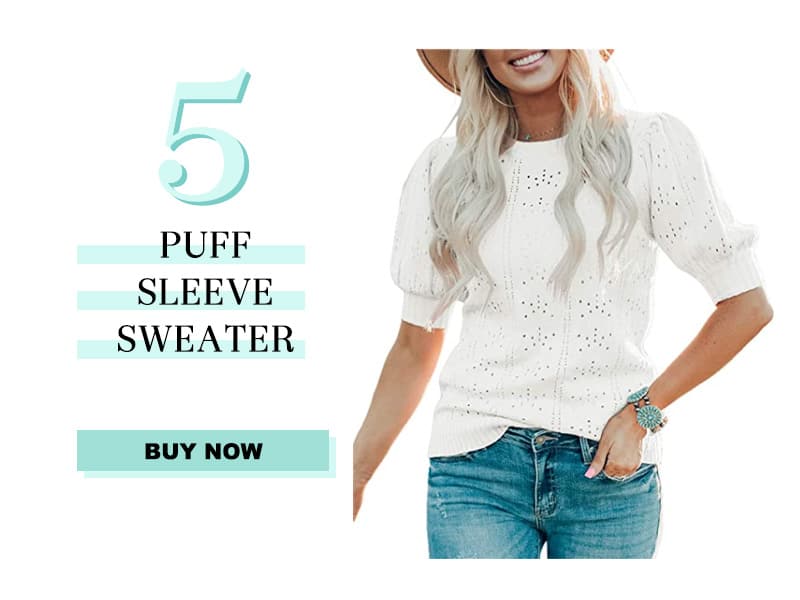 Puff Sleeve Sweater, $33
Finally, this sweet short-sleeved sweater was a total surprise. It would be ideal if you live in a warmer part of the country.
I love the fit and that it's lightweight. I wore it with the Banana Republic navy ankle pants and flats.
It's available in over a dozen colors in a crew or v-neck option.
Oh, and the puff sleeve isn't too "puffy."
Amazon Favorites from August
Nest Reed Diffuser
Nest Reed Diffuser, $50
I visited one of my best friends in Tampa last month for a much-needed girls' weekend. All we did was sit by her stunning pool, talk, nap, drink wine and read books. The whole weekend was perfect, including the guest room that she outfitted with the coziest sheets, a fluffy white robe, and slippers in the closet. It felt and smelled like a luxury hotel; thanks to this Nest Reed Diffuser (in Grapefruit) placed perfectly in my bathroom.
On the other hand, my home feels more like a sorority house, so I ordered it immediately to bring that little bit of luxury into my very non-luxurious life.
Would make a wonderful hostess or thank you gift too!
Food Storage Container Set
Food Storage Container Set, $27.65
In my race to prepare for the school year and all the extracurricular activities on the calendar, I need to make sure that the fridge is stocked with easy-to-grab meals. We are all sitting down as a family for dinner in my dream world, but that's not our reality right now. These storage containers are a great, affordable find. I can very quickly prep some meals on Sunday night, and then everyone can assemble what they like when they need to eat.
Lace Top
Lace Top, $25
This sweet lace top fills a void many of us have in our early fall wardrobe. It's better than a basic white tee and pairs perfectly with jeans and booties. It washes well and fits true to size … easy-peasy.
Yeti Lunch Bag

Packable Lunch Bag, $80
I love when a brand is totally worth the hype. I haven't been disappointed with a single item we purchase from Yeti. The quality is outstanding and well worth the price. I originally bought this for my daughter to take to school – it is expensive, but I figure she'll use it for at least the next three years.
Instead, we've ended up using it for car trips and activities before school started, my husband even takes it when he golfs. It keeps your food and drink cold and cleans up like new every time you wash it.
Tan-Luxe THE BUTTER
Tanning Butter, $60
By now, you know there is not a self-tan product I haven't tried. I was already a fan of Tan-Luxe The Face (easy to use self-tanning drops you add to your daily face moisturizer), So when "The Butter" from Tan-Luxe showed up in my TikTok feed, I couldn't resist.
It's a splurge, for sure, but I like it so much more than anything I've tried from Jergens.
It is not an instant tan. Instead, it develops over a few hours to a very subtle glow. It's a daily moisturizer loaded with vitamin E and Shea butter, so you get incredible hydration and a hint of color. You can use it all fall and winter to maintain your glow.
My Favorite Amazon Purchases in July
Jute Beach Tote, $19
I featured this sweet and inexpensive tote on Instagram last weekend. I wasn't lugging all my kid stuff, so it was a perfect size. And it would be so cute as a gift bag that the recipient can then use as she likes 🙂
Portable Blender
Portable Blender, $30
I am obsessed with this blender. It's ideal to prep individual smoothies before your workouts. I do have a Vitamix (and love it), but it's sometimes too big if I'm just making a shake or smoothie for myself. With this, you can put all of your ingredients, except the liquid, in the blender and keep it in the fridge until you are ready. Bonus, it's portable so you can take it with you anywhere.
The House on Fripp Island
The House on Fripp Island, $26
I look forward to our neighborhood book club night all month long. We actually read and discuss the book, and always end up having drinks and talking about anything and everything well into the night. The August book is The House on Fripp Island. It's a page-turning thriller made for sitting and reading on the beach.
Last month, we read Girls with Bright Futures, and so far it was our favorite book to date!
Swimmers Wellness Collection
Swimmers Wellness Collection, $30
Even though my girls spend their summer swimming, I haven't been great about remembering to incorporate a swimmers shampoo until this year. Our hair stylist recommended Malibu Swimmers Wellness Collection. Boy does it make a difference! Especially on my little redheads hair, which was starting to look brassy from all the chlorine. We use it once or twice a week.
Long Sleeve Cardigan
Long Sleeve Cardigan, $39
There was a similar cardigan as part of the Nordstrom sale that sold out almost immediately, and was a little over $100. It was on my wish list and I missed it. So when I found this almost identical cardigan for under $4o I scooped it up for fall. It's available in S – XL and runs true to size.
Lilly Pulitzer Cover Up
Lilly Pulitzer Cover Up, $148
I don't wear much Lilly Pulitzer in my "regular" wardrobe, but I do love the cover ups for vacation or spending a few hours at the pool. I splurged on this dramatic, ankle length one to wear in Florida. I've also been living in the "Natalie" cover up when I take the kids swimming. It's so soft and light and just what I want to wear when I'm sitting in the blazing sun for a few hours.
Could I go to the store and have more variety? Yes, but then I'd have to go to a store. Prime shipping has completely spoiled me.
My Favorite Amazon Buys of June 2021
The Wreckage of My Presence
The Wreckage of My Presence, $17
The Wreckage of My Presence is a delightful, emotional, thoughtful, and down-right hilarious series of essays by actress/writer/podcaster Casey Wilson. Within the first few pages, I told my friends to buy it by sending screenshots of passages that made me laugh out loud.
I couldn't put it down and was so sad when I finished. Wilson is completely out of her mind in the absolute best way possible. It's earned a permanent spot on my bookshelf.
Oil-Absorbing Face Roller
Oil-Absorbing Volcanic Face Roller, $10
Remember blotting papers? If you were a teenager in the 90s you know they were a staple in our tiny backpacks. Even when I didn't need them, I used them because I thought they made me look cool.
Revlon took the idea and turned it into this face roller, made of real volcanic stone, which soaks up excess oil instantly. You can have shine-free skin any time. Works on clean or make-up skin.
Toiletry Travel Bag
I was in Florida for a few days last week with just my husband and brought along this travel bag. It's awesome. It fit all of my full size skincare products (I checked a bag), all of my make-up, sunscreen and my husbands things. When we arrived at our hotel, I simply hung it on the back of the bathroom door for the duration of the trip. For under $30 it's the best toiletry bag I have ever used. Highly recommend!
Straw Bag
Straw Bag, $25
I can't tell you the last time I only had to bring my things to the pool, and, as it turns out, I'm relatively low maintenance. I packed this straw bag and fit my sunglasses, iPhone, book, keys, and sunscreen in it. It's small, but not too small, and the quality and styling are fantastic. Be sure to order the "brown basic" option in the link.
Air Fryer
Air Fryer, $100
I'm not sure why it took me so long to hop on the air fryer bandwagon, but I am glad I pulled the trigger with this one by COSORI. It's on sale right now for $99, available in black, white, or red with over 50,000 five-star reviews on Amazon.
After a busy school year with a lot of take-out, I'm thrilled to find something that will help us get back to eating more healthy options at home without making a mess of the kitchen. It's so easy to use and clean and now lives on my kitchen counter.
Miraclesuit Tummy Control Swimsuit, $162
Finally, I featured this Miraclesuit last week, but it's worth mentioning again, and again, and again because I love it so much. Amazon has the best size and color range for this particular suit. Simply put, it's the best swimsuit I have ever worn, and I absolutely hate wearing swimsuits.
My Favorite Amazon Buys in May
REN Clean Skincare Glow Tonic
REN Clean Skincare Glow Tonic, $52
Recently, The Goop Exfoliating Mask, one of my favorite beauty products of all time, was discontinued. *sob*
It was an excellent, gentle yet powerful exfoliator for my sensitive skin. After some research, I decided to replace it with the REN Clean Skincare Glow Tonic, and I'm thrilled with it.
The Ren Clean Skincare Glow Tonic is like a toner, but more. Formulated with Lactic Acid (AHA) and Salicin (BHA) which helps to exfoliate, brighten, and tone your skin gently. I use it after I wash my face (I double cleanse at night) and then follow up with hyaluronic acid to start layering in hydration. It's gentle enough to use daily, but I limit it to two-three times per week based on other treatments I may be doing.
Press On Nails
Having manicured nails are one of the tricks to always looking well dressed. When my nails are done, I feel more pulled together, even when I'm just wearing sweats. But getting my nails done, while I love it, takes too much time and chips in a few days.
I decided to hop on the press on nail trend, and ladies, they're pretty great!
I use the KISS Nude French Nails in Petite for only $7.
First, they take about ten minutes tops to apply. Trim your nails and push back your cuticles. Then, take your nail file and buff your nail bed so you remove any moisture and oils. This helps the glue better adhere.
Figure out which press-on fits your nail best, apply glue to your nail, hold in place for 10 seconds, and you're done.
It's so easy, and I get a ton of compliments. Plus, they don't chip, at all, through typing, washing a million dishes a day, or changing diapers.
Tip: If you want a natural-looking short nail, buy them in "petite" size. My nails grow quickly so these last 7 – 10 days.
CeraVe Hydrating Hyaluronic Acid Serum
CeraVe Hyaluronic Acid Serum, $16
Hyaluronic Acid is an essential part of any skincare routine. If you're unfamiliar with it, understand first that it is not an acid or harsh in any way—quite the opposite. Hyaluronic Acid is a serum that helps put back moisture and hydration into your skin. It's typically the first step after you cleanse and tone.
You want to apply it to a damp face to lock in the water, then follow up with other serums, moisturizers, and sunscreen in the morning. I use it day and night.
I'm trying this one from CeraVe ($16), and so far, it does what it should at a great price. Usually, hyaluronic acids are incredibly lightweight and transparent. This one applies more like a traditional moisturizer.
Velvet Hangers
Velvet Hangers, $29
Velvet or "Flocked" Hangers are my top recommendation if you want to quickly and affordably transform your existing closet space. They create a uniform look and keep everything at eye level, so you can see what you have, and they save a ton of space. I have them in every closet in my home.
Appliance Tray
Appliance Tray, $22
If you have appliances living on your countertop that get frequent use, you need this rolling tray. I keep our coffee maker on this, so when we are ready to use it, we roll it out from under the cabinet and then roll it back in place instead of lifting and dragging it, which has caused some staining on our white countertops.
Such a simple fix I knew about when we first redid our kitchen.
Jergens Natural Glow Wet Skin Moisturizer
In-Shower Lotion, $8
If you like the classic Jergens gradual tan moisturizer, you'll love this, "Wet Skin" version. You apply this immediately after you shower on wet skin, locking in moisture and creating a very subtle glow. What's incredible is that it does not rub off on anything, not stains on your towels, sheets, and clothes.
Facial Razor
Facial Razor, $5
I have these facial razors by Tinkle on auto-delivery. I use them as an at-home dermaplane to remove all the peach fuzz from my face. Why on earth would you shave your face? Because it leaves your skin smooth, allowing your products to absorb better and your make-up to go on smoothly.
BB Cream
BB Cream, $35
I mentioned how much I was enjoying the purlisse Radiant BB Cream last month. It's lightweight with medium coverage (with SPF and other good-for-you ingredients), and blends out evenly. You'll get a healthy, dewy glow that lasts all day.
Juicer
Juicer, $50
I've had painful endometriosis since my oldest was born as a result of my first C-Section. Unfortunately, once you have endo, you have it forever, and while I've had procedures to remove it, it comes back, often worse than before.
To manage the pain, I have to follow an anti-inflammatory diet. My girlfriend recommended celery juice with ginger and lemon every morning, so I bought this affordable juicer to get me started. It has everything you need without costing hundreds of dollars and takes up only a small footprint in my pantry.
iRobot Roomba Vacuum
iRobot Roomba Vacuum, $250
I've officially reached the point in life when I would prefer a vacuum to a piece of jewelry for Mother's Day, and I'm okay with it.
The iRobot Roomba Vacuum is my favorite gift for a very long time. It's simple to set up: download the app to your phone, charge it and start using it.
We have a ranch-style home, and our kitchen, dining, and family rooms are all open. This covers the entire main living space. I turn it on when I go to bed at night, it runs for an hour and a half, and I wake up to clean floors in the morning.
Shop this Post
Our Content is Inspired by Our Readers
Our readership inspires all of our posts and is not sponsored or paid for by brands or retailers.
Recommendations are based on my experience as a personal stylist and wardrobe consultant for over a decade. I worked with busy, down-to-earth women who wanted to look chic and feel confident but were often confused by so much of retail.
Some links are affiliate links, which means if you purchase via our site, we receive a small commission.
If you enjoy our content and would like to help us grow, please follow on Instagram and join our Private Facebook Group to access more advice and exclusive in-depth conversations with other like-minded women.
Learn about our mission to help women look and feel their very best, every day, here.
Sign Up for Daily Content and Receive Our Free Classic Wardrobe Checklist