Looking presentable is part of my job, but having a professional hair and makeup team on hand is not part of my budget. Whether I'm getting ready for an event, a photo shoot, or simply getting ready for the day, it's me, in my bathroom, begging my children to leave me alone for just five minutes.
I'm not a beauty expert (and have no interest in becoming one), but I do try a TON of products and tools during the year. I buy everything with my own money and have never done a review or made a recommendation in exchange for any kind of compensation.
That means when I say I like something, you can trust that I do.
And my requirements are high. First and foremost, it has to work. It has to save me time, or in some way, make my life easier. Much like yesterday's Best Buys of 2019 post, I have to be delighted that I bought it every time I use it.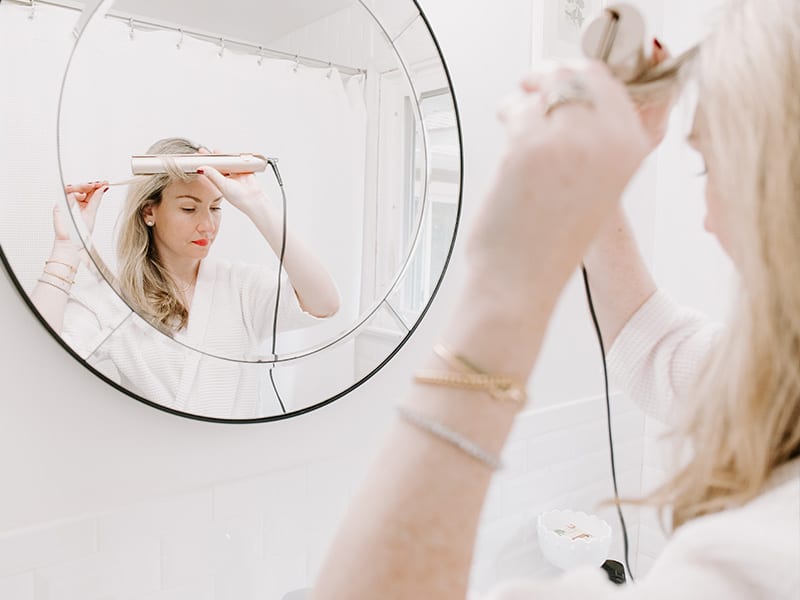 Things you should know:
My skin is normal, but sensitive. I burn just looking at the sun. I used to deal with pretty severe acne in my early to mid thirties, but have cleared it up amazingly with proper skincare and drinking a ton of water every day.
When it comes to products, I am incredibly loyal. That's one of the reasons I don't write regular beauty content. There's not a lot to talk about, since once I like something, it stays in rotation for a long time.
Over the years, my skincare philosophy has gone from focusing on makeup and covering things up, to taking the best care possible of my skin. I put the time and money into that, and the benefit (aside from glowy natural skin) is needing less makeup and spending less time getting ready.
I take my nighttime skin care routine most seriously, as you can see in the post from earlier this year. Some people loved it, some thought I was nuts. It actually doesn't take long to do, and it's a lovely way to get ready for bed. Most important, since my skin has healed from the acne I feel a million times more confident, and I don't think you can put a price on that.
Favorite Products
Vintners Daughter is still my most favorite product of all time. It transformed my skin. The Goop Exfoliating Instant Facial is a close second and I wouldn't be able to pick between the two since I think using them together is the holy grail of skincare.
I am also still obsessed with my dermaroller and recently upgraded to this one. I use it several times a week, depending on what else I'm doing to my skin.
This year I found some real winners, so let's jump in.
My Best Beauty Buys of 2019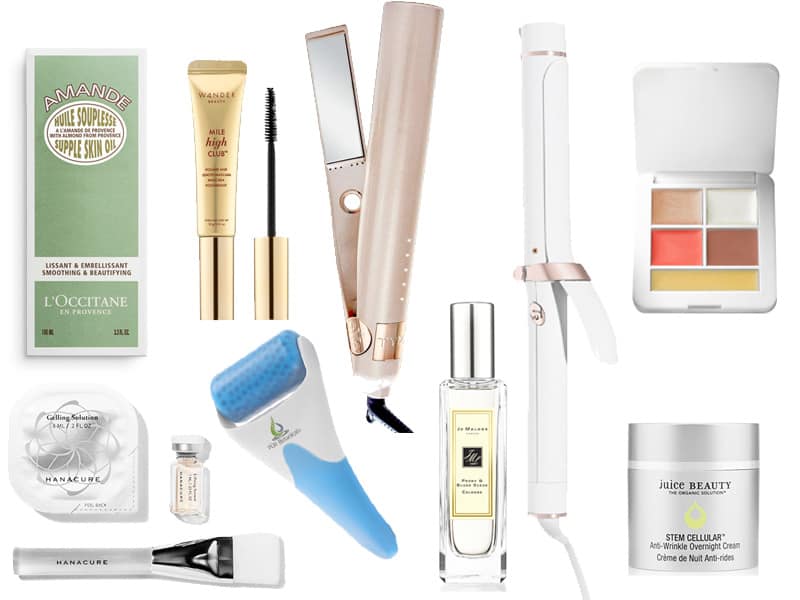 RMS Signature Palette, $44 | Ice Roller, $15 | Juice Beauty Overnight Cream, $75 | Wander Beauty Mascara, $26 | Jo Malone Peony and Blush Suede, $60 | Almond Oil, $50 | Hanacure Facial Set, $29 | T-3 Curling Iron, $136 | Tyme Iron, $165
RMS Signature Palette
This pocket size palette is ideal for an on-the-go, five minute face. It includes a bronzer, highlighter, two lip and cheek stains and a balm. I love it so much I bought two, so I always have one in my makeup drawer and one to float around in my handbags. The colors give just enough pigment, that you can layer, in hues (I use the palette called "Pop") which is a classic color, for warmer tones go with Mod (pictured above).
Ice Roller
I've mentioned this ice roller a few times this year. It was a middle of the night purchase made in between feeding the baby and trying to sleep. I still can't believe how much I use it. It's perfect for the morning after a late night, maybe you overindulged or watched a sad movie and had a good cry. If you're puffy or red, roll this over your entire face, and it will wake you up and depuff instantly.
I'll even use it after my morning routine, before I put on makeup. The cold tightness your skin, and makes your products glide on flawlessly.
Juice Beauty Overnight Cream
For a while, I was using Goop's night cream, and it was just okay – not worth the price. Then I used Estee Lauder's Night cream and liked that very much. But when I read about Juice Beauty's Cell Renewal Night Cream, I decided to give it a try.
It's loaded with good-for-you ingredients, like Hyaluronic Acid, and helps cell turnover and reduce the appearance of fine lines and wrinkles. In the winter, I prefer a thick night cream since it's cold outside, but my house is dry and I notice how the change of temperature almost immediately affects my skin. I can see a difference in my skin's moisture and texture in the morning after I slather this on at night.
Shop: One jar last approx. 2 – 3 months with daily use
Wander Beauty Mascara
Early this fall, my social feed was flooded with ads for Wander Beauty, and after a while, I couldn't resist. (I am clearly their target market.) Admittedly, I have a drawer full of mascaras, yet still always on the hunt for the next great one. This one by Wander Beauty hits it out of the park. It lengthens, it's smooth, doesn't clump, and doesn't leave a dusty residue on your face.
Shop: Mile High Volume Mascara
Jo Malone Fragrance
For the longest time, my go-to fragrance was Flowerbomb by Viktor&Rolf, and it remains an all time favorite. But Jo Malone has always been one of those aspirational brands, with their chic packaging and exotic fragrance combinations. So while I was in NYC a few months back, I splurged on Peony and Blush Suede, and it's stunning. It's a similar scent to Flowerbomb, less sweet, and a little more sophisticated. I get nonstop compliments on it, with everyone saying it smells uniquely fresh and feminine.
Shop: Travel size, currently 15% off
Almond Body Oil
Body oil absorbs into your skin better than lotion, so I went on the hunt for an effective, daily oil that didn't leave a slick residue. After trying a few, I discovered this Almond Body Oil by L'Occitane. It's expensive, but a little goes a long way. It dries quickly, doesn't leave a mark on your clothes, and smells clean without being overpowering. The key is to put it on damp skin right after your shower, so you lock in as much moisture as possible.
Shop: Supple Skin Oil
Hanacure Facial Set
This all in one, at home facial, claims to fix everything with regular use – from dullness, and wrinkles, to fine lines and age spots. That's such a tall order I almost didn't buy it. But out of curiosity disguised as research, I bought the all-in-one set, which includes four treatments.
I used all of them, and I'm telling you, your skin does look amazing when you're finished. Whether I see a long term, lasting difference is yet to be determined.
BUT! I used a treatment before a few parties and photoshoots, and my skin looked fantastic for those events, so I'm keeping a stock of them for that very reason, and if my skin improves over time, even better.
Shop: Starter Set (One Application) / Kit (Four Applications)
T3 Curling Iron
This is my second T3 Curling iron. I bought my first one several years ago and only replaced it because I left the first one in a hotel.
It's fantastic. My hair is flat and straight, but I like to wear it with curl. This lets me get a gorgeous barrel curl, around my entire head, in less the five minutes.
Be sure to use it on dry hair and spray on a heat protector, because this gets hot. To give the curl lasting hold, I let it cool completely in my hand once it comes off the barrel, and then I leave it. I don't run a comb or brush through it. Eventually it falls and gives me the natural wave I'm looking for.
Shop: T3 Curling Iron
Thyme Iron
Yes, I bought two rather expensive curling iron tools this year. I actually bought them within a few days of each other and I ended up loving them both equally. The Thyme Iron is different than the T3. You'll get a lot more volume and a different kind of curl. I use the T3 to get my everyday style, parted to the side, with a soft curl.
The Thyme Iron can be used in several different ways, but I use it for a more dramatic look. It takes some time to get the hang of how to use it, but the company does a fantastic job creating how-to videos and tutorials. Once you get the hang of it, the process moves fast.
The real benefit is how long the curls last. If you do it the right way (and depending on how frequently you need to wash your hair), you can get a full day and then next out of one style.
Shop: The Thyme Iron (be sure to purchase from Thyme and not one of the knock offs.)