Every season, I'm excited for fall in all its romanticized glory.
Leaves falling, pumpkin spiced everything, crisp mornings, fires at night, I love all of it.
And, of course, fall fashion.
Of all the categories this year, I am delighted about the trends we're seeing in shoes.
From a return of classics, pointed toes, and dramatic styles tempered with practicality, all with a focus on making fashion work for how we live, there is something for everyone.
Today, I'm sharing a round-up of the nine wearable styles for fall, with several options in each category.
9 Must Have Shoes for Fall 2023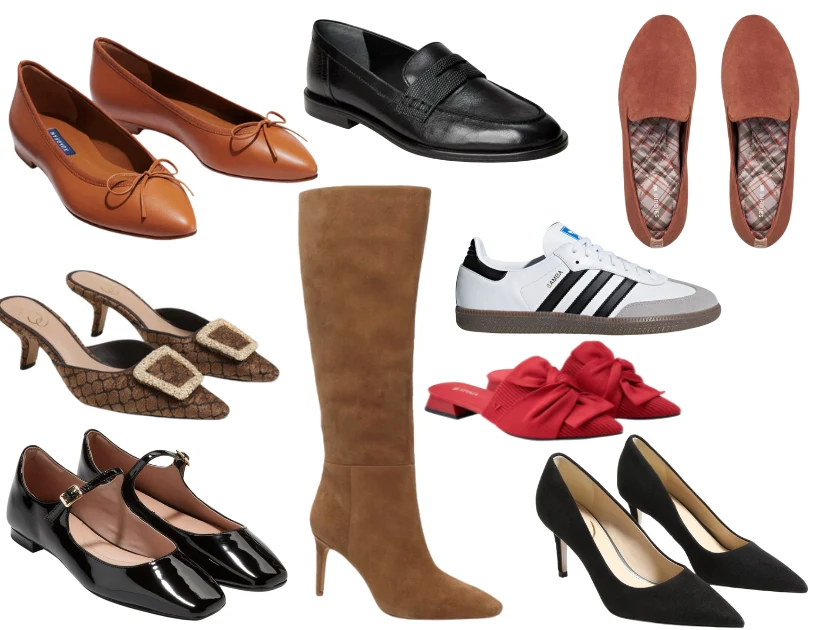 The Flat Point
Starting off with my go-to shoe, the pointed flat.
I have so many of these and wear them with everything from straight leg jeans to knee length dresses.
If one of your dressing goals is to create a long, lean leg line, a pointed toe is your friend.
Margaux The Pointe, $245, is a gorgeous shoe, that comes in eight colors and tons of sizes in medium, narrow and wide.
Next, the Naturalizer Havana Flat, $120. A comfort focused shoe that doesn't look comfort focused, this comes in nude, black, burgundy and blue suede, also in medium, narrow and wide widths.
Finally, one of my go to shoes is The Point by Rothy. These are so light and comfortable. I have the cap toe featured below, and the leopard, navy, and ecru.
But there are 22 colors and patterns to choose from. I go up a half size.
You can wear a pointed flat with a dress or skirt that hits at or above your knee, or with slim or straight leg bottoms that stop around your ankle.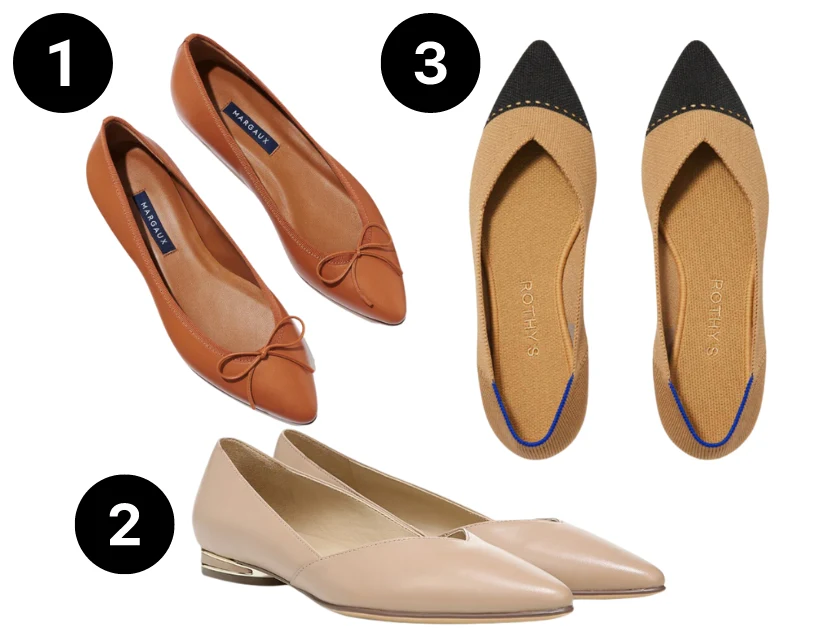 The Classic Black Pump
You didn't miss anything; the class black pump has been in fashion forever.
But recently, we've seen an influx of them on the runway.
Now, do you need to care about what's on the runway?
No, but I do because it's a massive indicator of the trends every year.
Since COVID, runway fashion has featured truly unwearable footwear, while retail has focused more on comfort and practicality (i.e., the sneaker).
So, it's exciting to see designers turn their attention back to classics and mainstream retail follow suit.
Plus, when something classic becomes trendy again, we get more options, so we'll see styles from better-priced and comfort-focused brands.
All that just to say, if you have a pair, pull them out, and if you need a new pair, look no further.

The Nine West Arlene Pointy Toe Pumps are a nice under $100 option.
For a smidge more, you could get the Sam Edelman Vienna Pump, $140. They are calling these a kitten heel, but they are not, since they have an almost 3″heel.
If you want to invest in a high quality, timeless style, go with the M.Gemi The Esatto 70mm, $328.00. I like these more than any Jimmy Choo/ Manolo heel out there and they are half the price.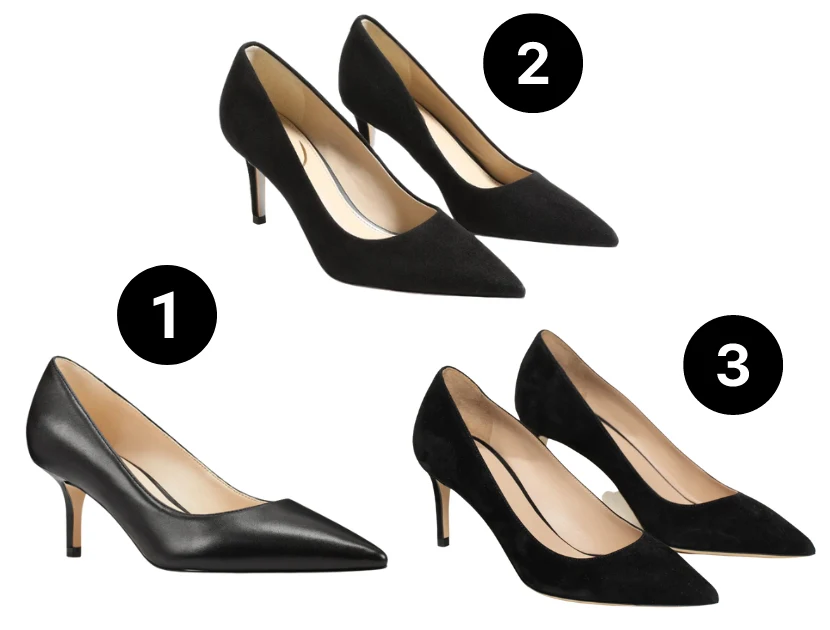 The Mary Jane
We've been hearing about the return of the Mary Jane for a few seasons now.
But this year, they are actually in stores and very wearable.
A traditional Mary Jane is a bit sweet for my aesthetic, but I appreciate them as a classic and I found a few fresh takes that earned a spot in my closet.
First up Rothy's The Point Mary Jane is just their pointed flat with a strap detail, and I think it's super cute.
Next, J.Crew has a leopard print Mary Jan Slingback, and I immediately ordered it. They are such a fun way to lean into a trend without it being literal.
However, if you want a traditional Mary Jane, go with these from Cole Haan, in a glossy patent leather.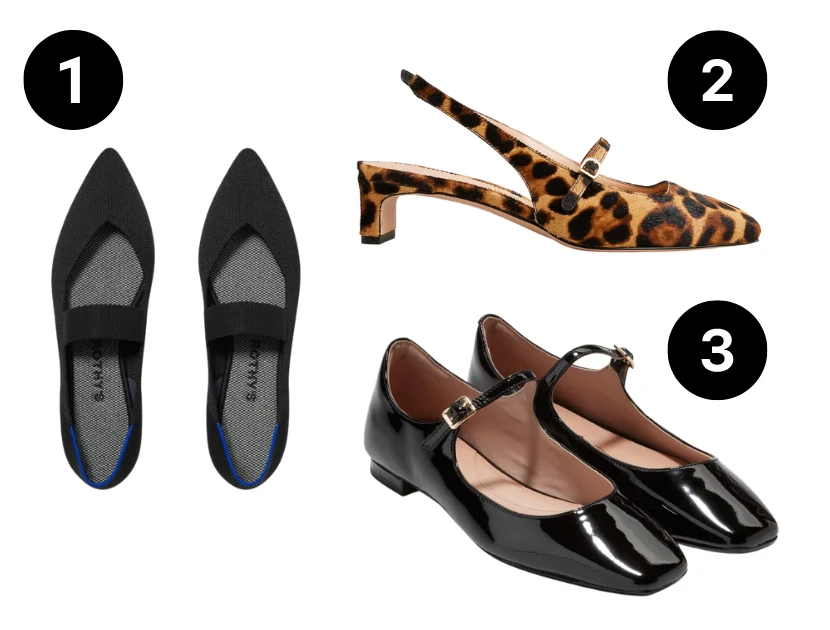 The House Shoe
When I first read this trend described in British Vogue as "Hygge gets haute," I was not excited.
I was even less excited when I saw a rib knit sock boot open the Bottega Veneta show, a similar though wildly more expensive version of the Ugg Sweater Boot from 2010, which was, notably, the only shoe I could wear at the end of my pregnancy with Ava.
But the way I think this is going to show up in real life is in the form of things like Birdies, the reader favorite slipper shoe that gets super popular going into the holidays.
We're also going to see things like backless mules, cloud slides and lightweight driving shoes.
Basically shoes that feel like slippers that look like shoes.
From Vivaia, their fluffy pattern mules are a stylish, under $100 slipper-like shoe that you can wear at home, or wear to walk to your neighbors.
Next, one of our best selling shoes for years, the Birdies Starling Loafer. My personal go-to shoe for holiday entertaining at home.
These have over 34,000 five star reviews and certain fabrics and patterns sell out quickly.
Featured above is the Brandy Suede, but I think the Walnut Raffia is the PERFECT entertaining at home in the fall shoe.
Finally, the Birkenstocks Boston Clogs are holding strong. Throw these on with sweats for school drop off or running to the store. These are also hard to find, but you can get certain colors here.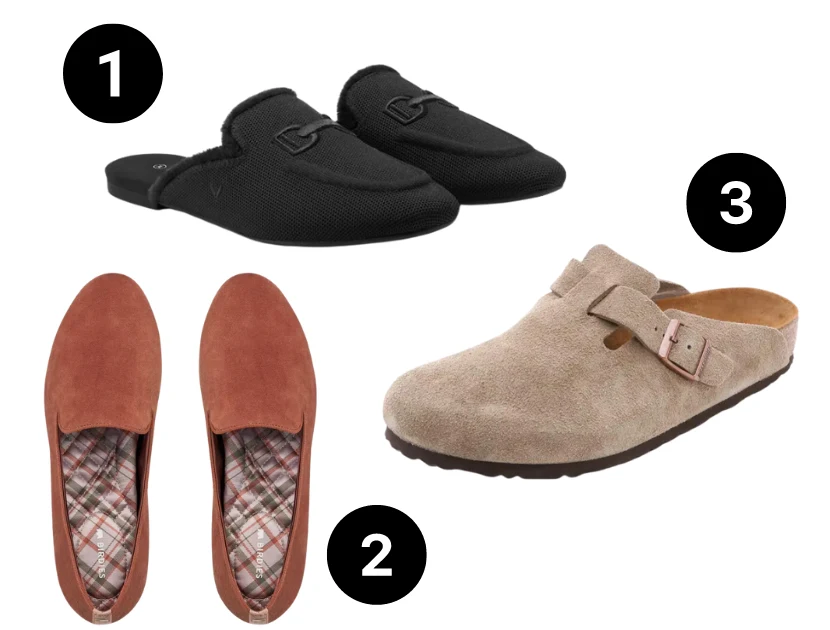 The Thin Heeled Boot
Oh, do I love a thin heeled boot, another classic overvshadowed by the block heel in recent years. I'm delighted this is back in the forefront.
Now, listen, if you have block heels, keep wearing them!
These just add variety.
First up, the Vince Camuto Arendie Knee High Boot, is available in brown or black for $150.
Next, a splurge.
These Veronica Beard ankle boots are simply STUNNING. I love the heel hight, and stitch detailing. Below we're featuring them in the color Hazlewood.
Also available in black here for $495.
Finally, Jeffery Campbell has a practical and stylish stretch bootie that is ideal for wearing under pants for $165.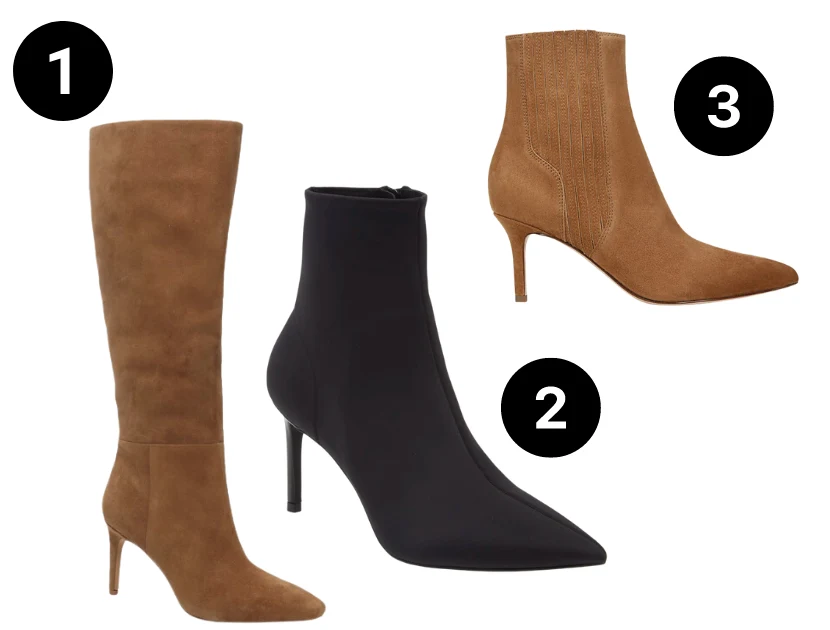 The Embellished Detail
Think jewelry for your feet.
From bows to elevated bedazzled accents, you can take these to cocktail parities or dress up jeans and a tee just for fun.
I have two pairs of these Sam Edelman Brit Kitten Heel (a true kitten heel!) and wore them A LOT in the spring with my black coated jeans. They add just the right amount of glam to simple classic outfit combinations.
For a flat, something like these Steve Madden's with a sweet sparkly bow on top is ideal and under $100.
And if you take a more is more approach, go big with these Kurt Geiger London Block Heel Sandals. They are OUTRAGEOUS and I love them for $165.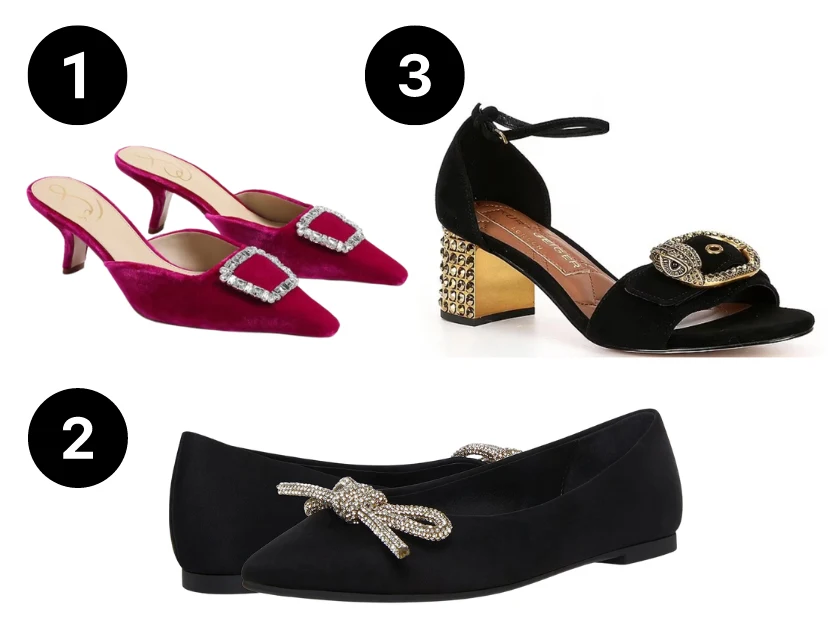 The Menswear Loafer
What I love about the current inventory of menswear inspired loafer is that there are so many iterations.
You could go traditional with a clunky style, or, my choice, a slimmed down profile that will work with more feminine bottoms.
Starting with these J Mclaughlin Concetta Leather Loafers, that combine the pointed toe look with a loafer, these are a bit of splurge but a timeless investment.
Available in black or nutmeg (also stunning) for $278. Look at the textured detail and stitching – so pretty.
Or you could go with the Cole Haan York Bow Loafer, $160, combining a menswear loafer with a subtle bow detail.
Finally, I have the Sam Edelman Loraine Bit Loafer, $150, and they are another light and comfy shoe I wear regularly with slim-straight jeans.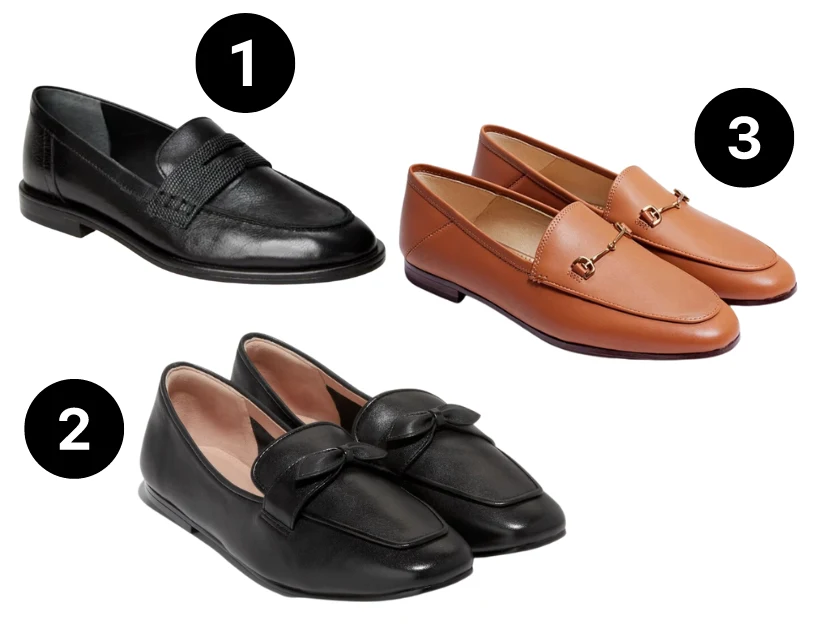 The Red Shoe
For some drama, pull out your red heels because these were everywhere on runways.
Need a fresh pair? I have three options.
In a pump this pair from 27 Edit, the fashion division of Naturalizer, is comfortable and stylish, in a gorgeous red suede for $140.
For an under $100 pump in red (or pink) suede, I like this pair from Michael Michael Kors.
Or, if you are feeling a flat, these slides from Vivaia are a delightful combination of classic and whimsy, also under $100. I may have scooped up the navy and white stripe option for next spring and summer.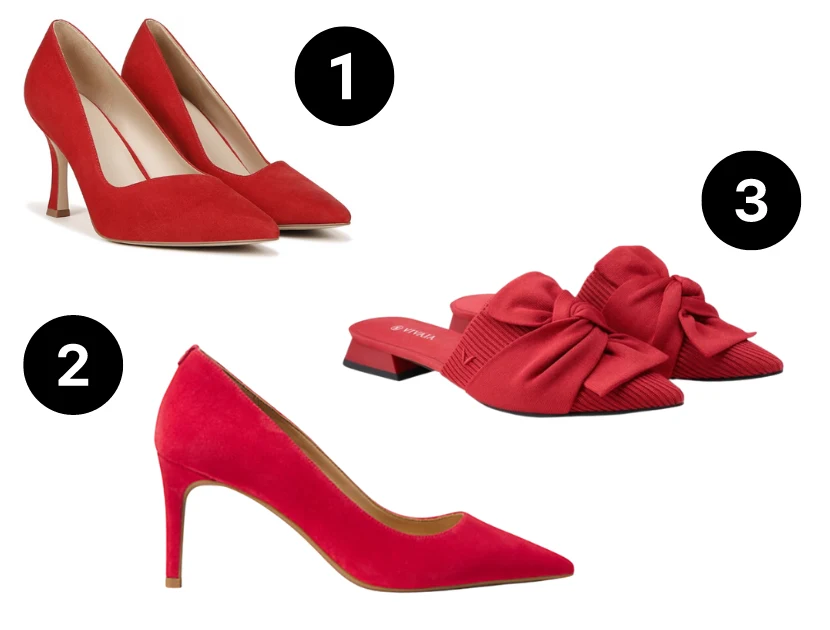 The Throwback Sneaker
Bless who ever is in charge and keeping sneakers at the top of the trend list.
Whatever you bough last year, keep wearing them. And if you want to add to your collection, consider a few nostalgic brands.
First up, these New Balance 574's are an ideal neutral available at J. Crew for $90.
The BIG shoe of the season is the Adidas Sambas. If you are into the sneaker of the moment, all versions of these will sell out quickly. They are only $100, so not a crazy spend, and you'll elevate all your athleisure looks.
Finally, I'm into the Nike Court Legacy Lift Sneaker in the combination below. The platform is fresh, the colors are neutral yet vibrant and they will look great with leggings or sweatsuits for under $100.