I found this quote scrolling through my phone the other day and immediately saved it. It's a great reminder that our thoughts are responsible for the quality of our lives.
When I was at the height of dealing with my anxiety and depression, I learn a trick worth sharing. Often, we think we can't control our thoughts, that they sneak up on us and have all the power.
Visualize
But, with the help of professionals, I finally understood that we can control them. Whenever you feel or hear a negative thought, the kind that you know is going to send you down a spiral, immediately stop, and visualize yourself removing it.
A few years ago, I read an interview with Serena Williams who talked about how she was able to win (crush) the Australian Open right after she discovered she was pregnant. She said, "I had to take all that energy and put it in a paper bag and throw it away."
That visual stuck with me, and now, every time I have a negative thought, I see myself putting it in a paper bag and throwing it away.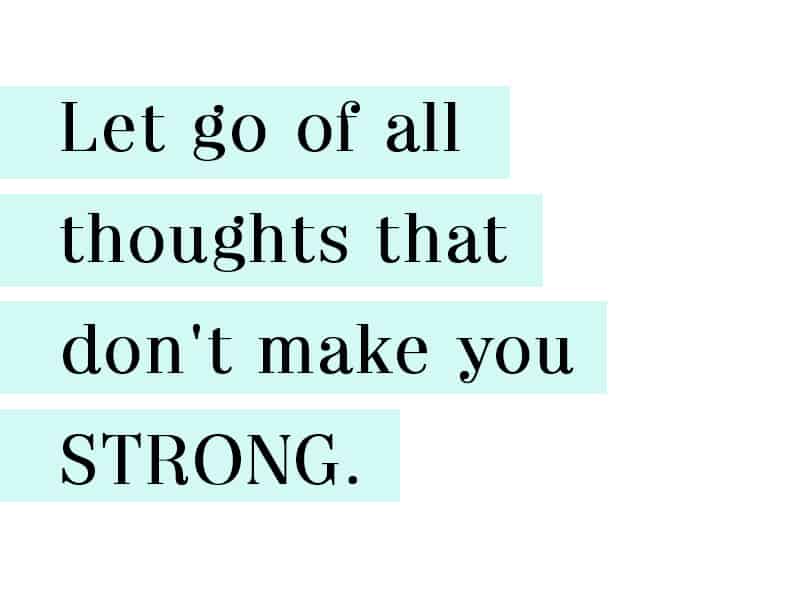 Know the Difference
Of course, not all negative thoughts are bad, but many of them serve us no good. I spent a decade talking to women in a dressing room, where they are vulnerable and facing many of their insecurities head-on.
You can change how you feel about yourself for a few minutes when you look great and feel confident in your clothes. But if you find yourself in a chronic state of negative self-talk or worry, it doesn't matter what you're wearing.
For a long time my pulled-together facade lead everyone to believe that I had it all together, but I was probably at my worst.
Taking the time to learn how to let go of self-sabotaging thoughts will change your life for the better. You'll be amazed at how much more confident and strong you'll feel.
For me, my anxiety disorder worked like a filter. There was who I am: naturally optimistic, eager, cup-half-full, kind of person, but my anxiety and subsequent depression altered that making me feel the polar opposite.
Once I was able to "fix my filter," my true self was able to rise and my outside matched my inside.
Blog News and Updates
P.S. I'm testing out a new format of posts this week. Mondays will feature two quick posts. At 10 am, our "Quote for the Week" will be published. It's meant to be an opportunity to stop and reflect for a minute, maybe start a conversation (we love comments!) before your busy week begins.
At 2 pm, we'll post our "Item of the Week." This is one piece (with additional options for sizes and price points) that will "float" throughout outfits over the week. That simply means, we'll use it in different applications within outfits to demonstrate its versatility. For example, tomorrows outfit will be based on today's Item of the Week, etc.
All of these changes are intended to continue to build our engaged community and make the site easier to navigate.