What I loved the most about working as a personal stylist was the relationships I developed with clients. It sounds silly in such a cynical world, but I sincerely mean this, I had so much affection for all of my ladies.
It's hard not to bond when you're standing in someone's closet or a dressing room listening to their most personal insecurities – most of which I shared myself.
About three years ago, I knew it was time to scale. So I closed my styling business to focus entirely on creating an online community.
My idea was simple: provide the same level of advice and recommendations to a broader audience.
Often, when I write these posts, I imagine I'm standing in a dressing room with you, handing you things to try on, and explaining why I picked that particular piece – just like I did in appointments.
Over the last year, our readership and our social following have grown significantly, and thank goodness since reinventing a business at 38, while pregnant with my third was a disastrous idea to some;)
It's also allowed me to reignite many of my relationships with clients and start new ones with readers.
Nothing makes me happier professionally than hearing from all of you.
I want you to know a few things.
First, I try to get to know as many readers as possible so I can learn about the group as a whole. That's one of the reasons I host our Free Wardrobe Challenge (a new one is just weeks away).
So I read and answer every comment made here and on social. If you are going to take the time to write to me, I am for sure going to take the time to write back.
Second, everything I recommend I stand behind. Of course, not everything is going to work for everyone, but I genuinely like the pieces I promote. Many I own and wear myself (you can see that on Instagram and in the photos we publish here on the site.)
Third, to the best of my abilities, everything will continue to be size-inclusive. I wish I could, but I can't control what a retailer produces, so I do my best to find appropriate alternatives. If there is no suggestion in your size, it's because I don't like the available options.
Finally, I'll continue to be unsponsored. People think I am insane for leaving that kind of money on the table, and maybe I am, but it has taken me so long to build your trust, I don't think it's worth it.
I have much bigger plans for us as part of my long term strategy.
A New Series
One of the things I use to do with clients is send out notes that said, "Hey, here are a few things you could use to get you through without me coming over." Because, after a while, I'd rather have them save my fee and pick up things they needed.
It's a wonder I ever made any money.
So I thought it would be helpful to feature my top five picks each month. I share a lot of content in these pages, and sometimes it might be hard to see the really good stuff, the things that will build and expand your wardrobe, especially if those pieces are hidden in the text.
Today I'm kicking it off. Look for my Top Five on the last Tuesday of every month.
Let's dive in.
My Top Five of February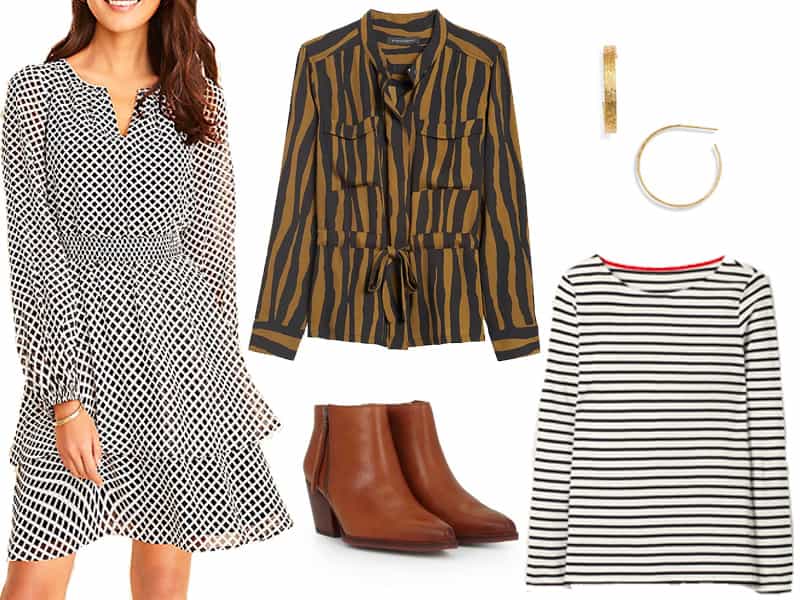 Dress, $149 | Zebra Top, $85 | Booties, $60 | Hoops, $55 | Striped Top, $38
Love, love, love this sweet dress from Ann Taylor.
Wear it now with black tights and boots, later with sandals or flats and a denim jacket.
Sizing is phenomenal. Available in petite, missy, and tall sizes. Tall goes up to an 18.
When you need a simple top with a little more than the basics going on, this tie waist top from Banana Republic is idea. It's what you grab and pair with your favorite black pants for a low key day at work. It also looks great with jeans.
I'm featuring the zebra print (see two ways to wear it here), but there are five other colors to choice from.
There's not much I can say about these booties that I haven't already said, and hundreds of you have picked them up. The Whiskey Leather is my top pick, since it goes with everything and adds a lovely richness to your look. You can see me in them below from my Instagram:
I've been wearing these hoops on repeat since I bought them a last month. It's SO HARD to find affordable, yet high quality jewelry. These are $55, look super posh, are comfortable on your ear and go with everything. I worship the entire Gorjana line.
I've never met a striped top I didn't love. This one by Boden is one of my favorites. The ivory/black and ivory/navy combinations are timeless. I pair them with jeans and loafers in the spring, and with a crisp pair of shorts in the summer.
Our readership inspires all of our posts and is not sponsored or paid for by brands or retailers.

Recommendations are based on my experience as a personal stylist and wardrobe consultant for over a decade. I worked with busy, down-to-earth women who wanted to look chic and feel confident but were often confused by so much of retail.

Some links are affiliate links, which means if you purchase via our site, we receive a small commission.

If you enjoy our content and would like to help us grow, please consider following on Instagramand join our Private Facebook Group to access more advice and exclusive in-depth conversations with other like-minded women.