This content has been archived. It may no longer be relevant
One of the many things I've learned over the last few months is that I love getting dressed.
Don't get me wrong, during this stay-at-home experience I've had more than my share of days where I look down at 3 pm and realize all I did was put a fleece over my pajamas.
But more often than not, getting up and getting dressed as made the difference between a miserable or great day.
Now that it's Spring and orders are relaxing, let's look to the future! While working from home is going to be the norm for some time, entertaining at home is going to surge too.
Many of us are excited to start to welcome friends and neighbors back into our homes and onto our patios for some much needed human interaction.
So today's collection offers some relaxed yet polished looks for the coming weeks and beyond.
How Our Capsules Work
At the beginning of the season, I publish a cornerstone collection filled with size inclusive wardrobe basics. Specifically for this year, I focused on versatile stay-at-home appropriate pieces that you can easily transition back into normal life.
In the following months, I create smaller capsules meant to help expand those pieces and build out your options.
Within the content of these posts, please pay attention to the links and notes about size. If a featured piece is not available in all sizes, I make every effort to offer an alternative, but please remember I am limited to retailers and their inventory.
To help create a mix and match wardrobe, also reference pieces you picked up in April's Collection so you can see how all of this builds.
Related: Stay and Work From Home Capsule Collection: April
Let's jump in …
2020 May Casual Capsule Collection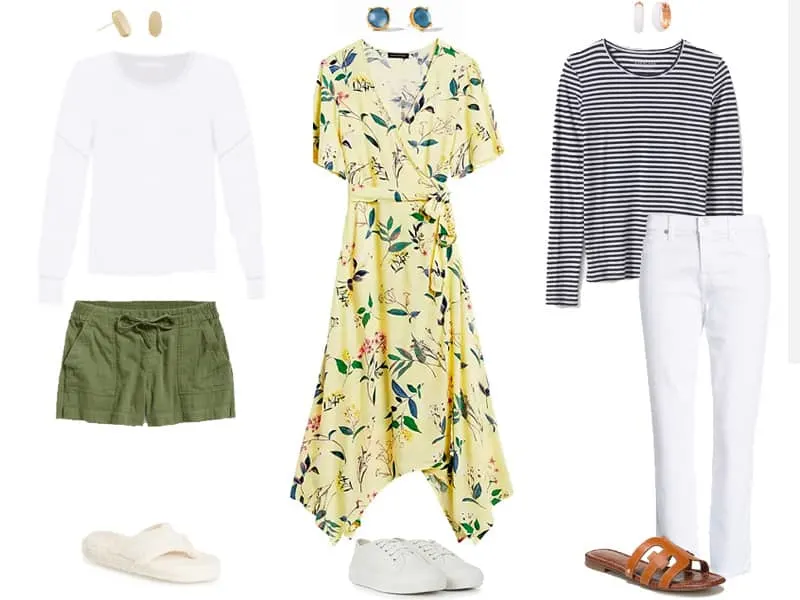 Maybe it's the color combinations, but this capsule feels so optimistic. I'm extra excited for the shoe options. Two of which are going to require an at home pedicure 😉
You can use this post one of two ways.
First, you can shop it. I recommend all of these pieces based off my experience as a stylist and personal shopper, AND my deep knowledge of our readership.
Or, you can use this as inspiration. Maybe you have similar pieces already in your closet and this gives you a push to try a new combination, or you're simply motivated to get up and get dressed in something you love.
Either way, there is nothing but good intentions behind all of my posts.
All Dressed Up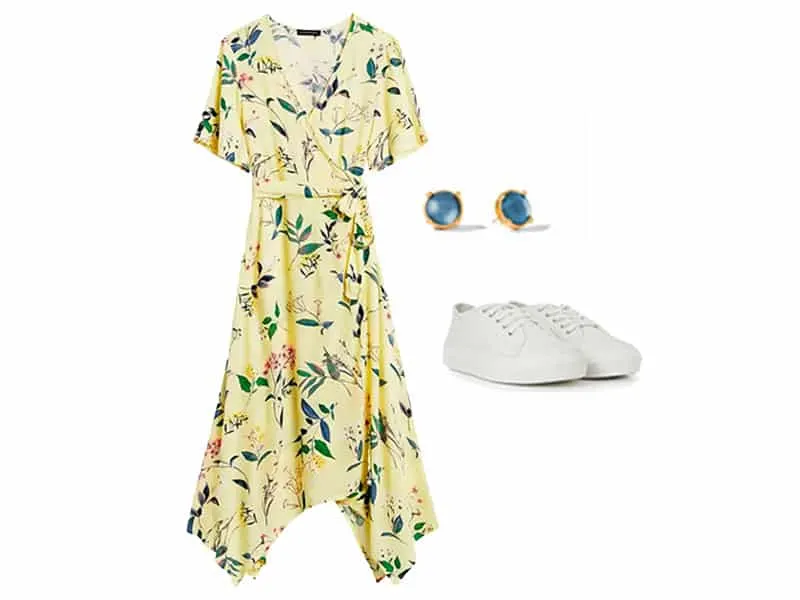 Dress, $75 (on sale $50) | Sneakers, $42 | Earrings, $135
I have this dress from Banana Republic in "Sandy Beige Dot." (You can see it here.) The yellow is limited, but worth highlighting. Either print is beautiful.
A dress is even more comfortable than sweats but looks and feels a 1000 x chicer. Give it a try this week and throw on any dress you may already have hanging in your closet. Banana is excellent for size range. This dress is available in missy, plus, and petite up to a size 20.
I'm showing it with sneakers so you can run in and out of the house, play with the kids, go for a walk, etc. I'm loving the look of these by Sam Edelman, on sale here.
The trick to pairing sneakers with a lightweight dress is to make sure the sneaker has a slim profile. If the shoe is too bulky, it will look off-balance. Whatever you do, not wear your white "gym" shoes – they are an entirely different animal.
Finally, adding a gorgeous earring can elevate your look and mood. I am becoming a big fan of Julie Vos Jewelry. Her pieces are the kind that you don't see coming and going. They are also reasonably priced for the quality and craftsmanship.
If you need it, grab the denim jacket we featured last month
Better Than Pajamas
Shorts, $20 | Sweatshirt, $35 | Slippers, $40 | Earrings, $45
A few days ago on Instagram I took a poll to see who loved shorts, and who loathed them. To my surprise, the results were straight down the line. So if shorts aren't your thing, you can easily replace these with the linen ankle pants we featured earlier this week, see post here.
For this outfit, I use an olive pair of pull on shorts from Old Navy. Olive is a fantastic neutral, but these come in six other colors. My second color choice would be the caramel, and for the preppy pop of color, the mango. They have a 4″ inseam and come in sizes XS – XXL.
Whenever I wear shorts, I always pair them with a 3/4 length or long sleeve top. That's just me, it helps balance out my proportions. Otherwise, because I'm tall, I look like all arms and legs.
This sweatshirt from LOFT doesn't show well in the image above, a better image is here. It's lightweight, and has a flattering curved hem in the front. Available in missy, petite and plus sizes, in three colors.
It also pairs with these jegging jeans from our April Capsule, and these adorable leopard print sneakers.
For this look, I kept it casual and realistic with these "spa" slippers, basically fuzzy flip flops, for under $40.
Then a simple pair of studs by Kendra Scott so you can hop on a Zoom call and look kind of professional.
At Home Nautical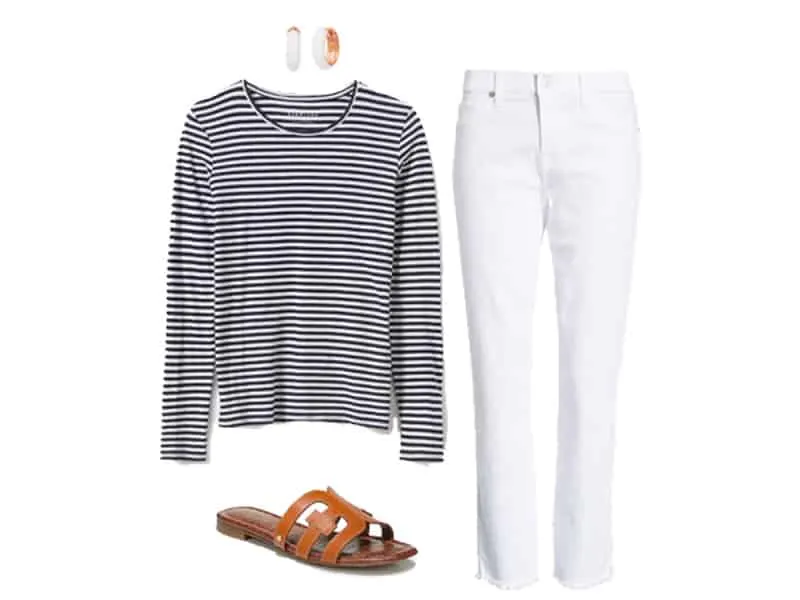 Shirt, $25 | Jeans, $99 | Sandal, $89 | Earring, $58
I could not love this outfit more. I live for a striped shirt and this one from Everlane is only $25. I paired it with crips white jeans with a relaxed frayed hem. Next week I have a round up a white jeans (that aren't see through – so stay tuned!).
These are under $100 from 7 for all Mankind. They are a mid rise, with sizing up to a 33. They run true, and remember, they might feel snug when you first try them on, but they will stretch.
For shoes, I went with another Sam Edelman, these are a neutral flat in the color saddle, for under $90. They go here, with the dress, with shorts – pretty much everything but leggings and sweats.
Finally, earrings. These chic white enamel hoops are comfortable enough to wear all day, so why not! I like them here, or with the dress in either color.
---
Our Content is Inspired by Our Readers
Our readership inspires all of our posts and is not sponsored or paid for by brands or retailers.
Recommendations are based on my experience as a personal stylist View Postand wardrobe consultant for over a decade. I worked with busy, down-to-earth women who wanted to look chic and feel confident but were often confused by so much of retail.
Some links are affiliate links, which means if you purchase via our site, we receive a small commission.
If you enjoy our content and would like to help us grow, please consider following on Instagram and join our Private Facebook Group to access more advice and exclusive in-depth conversations with other like-minded women.
---