When was the last time you just sat and read a book? Typically, the only time I indulge in a few uninterrupted hours of reading is on a flight. Inflight wifi is expensive and unreliable so a few years back I decided to make my regular flights something to look forward to by always having a good book on hand.
The last time I sat at home in the afternoon and read a book was … never. Sure, I read at night before I fall asleep. But that usually results in me passing out with a book on my face 15 minutes later. That's why I'm so excited to read our May book club selection, Little Fires Everywhere, by Celeste Ng, on Sunday afternoon as my Mother's Day treat.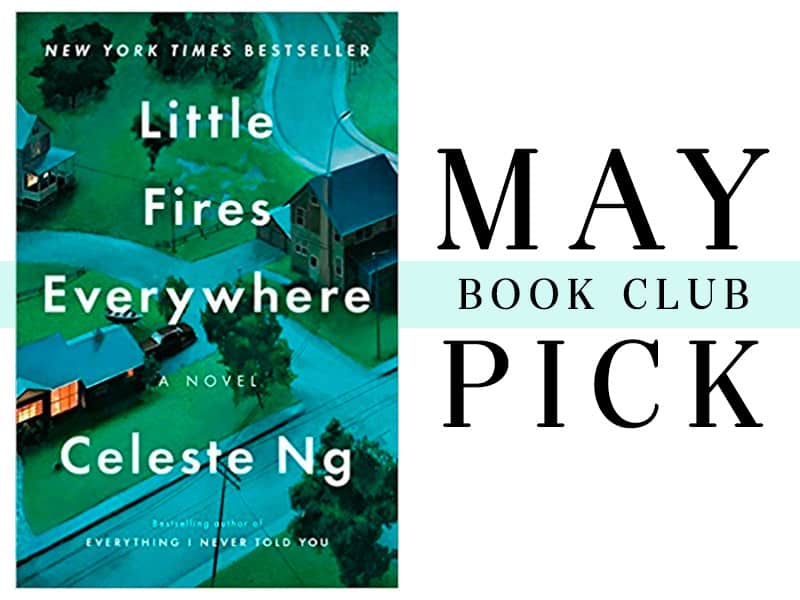 Little Fires Everywhere, by Celeste Ng
A brief description of the book via Amazon:
From the bestselling author of Everything I Never Told You, a riveting novel that traces the intertwined fates of the picture-perfect Richardson family and the enigmatic mother and daughter who upend their lives.
In Shaker Heights, a placid, progressive suburb of Cleveland, everything is planned – from the layout of the winding roads, to the colors of the houses, to the successful lives its residents will go on to lead. And no one embodies this spirit more than Elena Richardson, whose guiding principle is playing by the rules.
Enter Mia Warren – an enigmatic artist and single mother – who arrives in this idyllic bubble with her teenaged daughter Pearl, and rents a house from the Richardsons. Soon Mia and Pearl become more than tenants: all four Richardson children are drawn to the mother-daughter pair. But Mia carries with her a mysterious past and a disregard for the status quo that threatens to upend this carefully ordered community.
When old family friends of the Richardsons attempt to adopt a Chinese-American baby, a custody battle erupts that dramatically divides the town–and puts Mia and Elena on opposing sides. Suspicious of Mia and her motives, Elena is determined to uncover the secrets in Mia's past. But her obsession will come at unexpected and devastating costs.
Little Fires Everywhere explores the weight of secrets, the nature of art and identity, and the ferocious pull of motherhood – and the danger of believing that following the rules can avert disaster.
The book has received glowing reviews, so I'm looking forward to getting lost for a few hours on the one day I'm required to get a break. If you'd like to read along, simply order the book, and take your time reading it. We'll post Lauren's review on June 8th and have an ongoing conversation in the comments.
Wishing all you moms out there a wonderful Mother's Day.
Have a great weekend xx