You can almost hear a collective sigh of relief on the east coast now that it is April. Typically, I pride myself on keeping my sh*t together (90% of the time), but March took everything out of me. My kids had countless snow days, half days because of the weather, late arrivals because of the weather, and too many days off because they thought the weather was going to be bad but it never actually snowed. Add to that the five days without power in between two snowstorms last month and it's safe to say I've never been less productive or more overwhelmed.
I need to get out in the fresh air and sunshine. From the looks of what you loved from the blog last month, it seems like you are getting ready for the same. Every month, we receive a report that shows us what you ordered based on our recommendations. It's incredibly helpful as it allows us to continue to refine our suggestions by style, category and price point. It's also useful to recap what you purchased over the last 30 days, so we can share that information with new readers, and help everyone build a functional wardrobe together. Here's what was popular last month.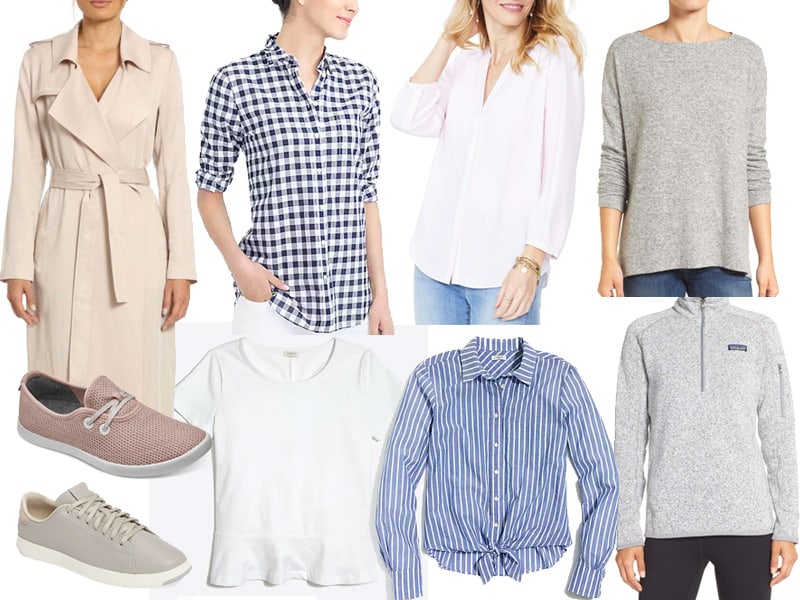 Trench, $130 | Gingham Shirt, $28 | Blouse, $89 | High/Low Shirt, $33 | Tree Skippers, $95 | Sneakers, $130 | Peplum Tee, $20 | Stripe Shirt, $25 | Zip Pullover, $99
Trench, $130: This trench is more of a dress topper than a utilitarian trench coat. (See original post here.) It's lightweight and ideal for layering over an outfit. The drape is lovely, and it's available in a few soft, neutral colors. Looking for a traditional trench? Try this one from Everlane
Gingham Shirt, $28: J. Crew Factory always has easy tops to pick up to add something new to your wardrobe for little money. (See original post here.) This gingham shirt works with crisp white jeans, dark jeans or preppy cotton blend shorts for the summer.
Blouse, $89: One of our more popular post last month was a simple roundup of white blouses. (See original post here.) This loose fitting v-neck is sold out in white, but is available in three soft pastel colors perfect for spring.
High/Low Shirt, $33: The feel of a sweatshirt with a bit more polish, this is the top you wear when you want to be casual but not sloppy. (See original post here.) Works best with a slim ankle length jean.
Skippers, $95: Allbirds is the new "cool" shoe that is as chic as it is socially conscious. (See original post here.) Add to that their affordable price point and you have an everyday sneaker that will elevate your look without breaking the bank.
Sneakers, $130: Another sneaker options, these gray leather Cole Haan's are gorgeous. (See original post here.) Wear them with your gray jeans and a cozy top for any easy, yet pulled together weekend outfit.
Peplum Tee, $20 and Stripe Shirt, $25: If you are looking to freshen up your spring tops, a stop at J. Crew Factory might be in order. This Peplum Tee adds a little something extra to your basic jeans and tee shirt look. And this Stripe Shirt, with a subtle front tie, works perfectly with jeans or classic flat front poplin pants.
Zip Pullover, $99: I was so happy to see this Patagonia pull over fleece on the list since I purchased it myself and LOVE it. I've worn in every single day since it arrived. I throw it on to go to the gym, run tot he market, pick kids up at after school activities. Even though it's sporty, it feels finished, unlike some of my worn out hoodies I've been caught wearing on occasion.
Shop this Post