By now we all know that we shouldn't wear leggings as pants. But what if we found a pant that was a legging and a pant? Because I just discovered these Liverpool Ponte Knit Leggings (plus size here) and they are the best of both worlds.
They showed up a few days before Christmas in my Stitch Fix delivery. (Yes, I started that up again. More to come in a later post.) I almost sent them back without trying them on.
"I don't need another pair of black pants," I thought. Thank goodness I changed my mind at the last minute because they are fantastic.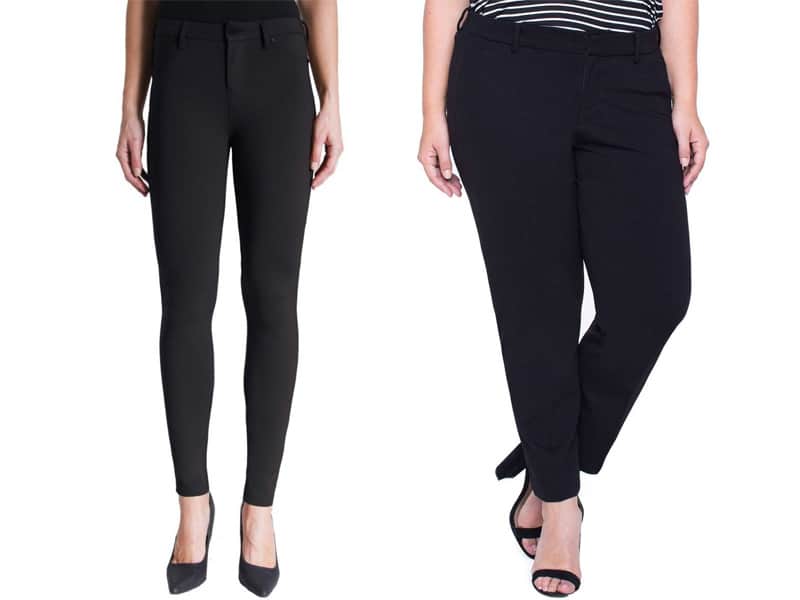 Pant: Missy, $68 and Plus, $89 (Sizes 18 – 24!)
There is a lot to love. The fabric is soft and comfortable but doesn't look like athletic wear. The waistband sits high (hallelujah!), has a proper waistband and back pockets. These details help make these less legging and more pant. I would still wear them with a top on the long side, but you don't have to cover all of your bottom if you don't want to.
I pretty much lived in these since the holidays and found that tops that hit at around my hipbone worked best for my proportions. Of course, you could wear something longer. If you do go longer, look for something with a bit of swing that cuts away from your body. Below is two ways you could wear these to a casual and creative office.
Day in the Office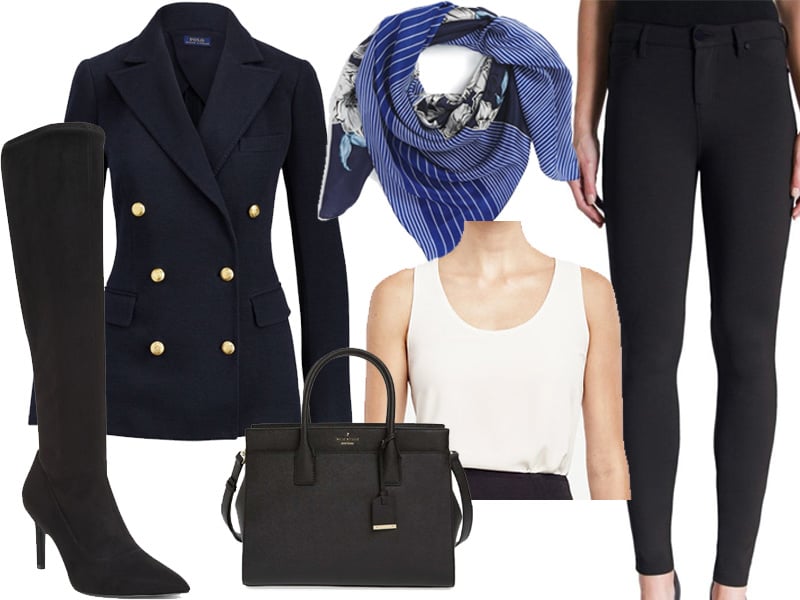 Outfit one: Blazer, $298 | Shell, $40 | Bag, $378 | Scarf, $35 | Boot, $83
Navy and black is a chic and sophisticated combination. This navy blazer by Ralph Lauren is the stuff of dreams. It hits around the hipbone giving you the length we're after but fitted to show your shape. I love a gold button but if you'd like something more traditional and in a variety of sizes, including petite and plus, check out this Talbots option. For a less expensive look, this Lush blazer is on sale for under $30. You could pair any of these blazers with a black or white tank. I prefer white as it adds a crispness to the look. Both colors are available in the Ann Taylor tank.
One of the reasons I love these pants so much is because you can layer a boot over them seamlessly. I have these Nine West boots, and they are the best shoe I've bought all year. The heel is reasonable (ish), they are comfortable, and the price is right. To bring the look together I used this navy and black scarf. You can loop it around your neck or tie it to your handbag. Don't get stressed about it, the messier you tie your scarf the better. I kept everything else simple in this look. Add your daily jewelry, grab your work bag, and off you go.
After work Dinner and Drinks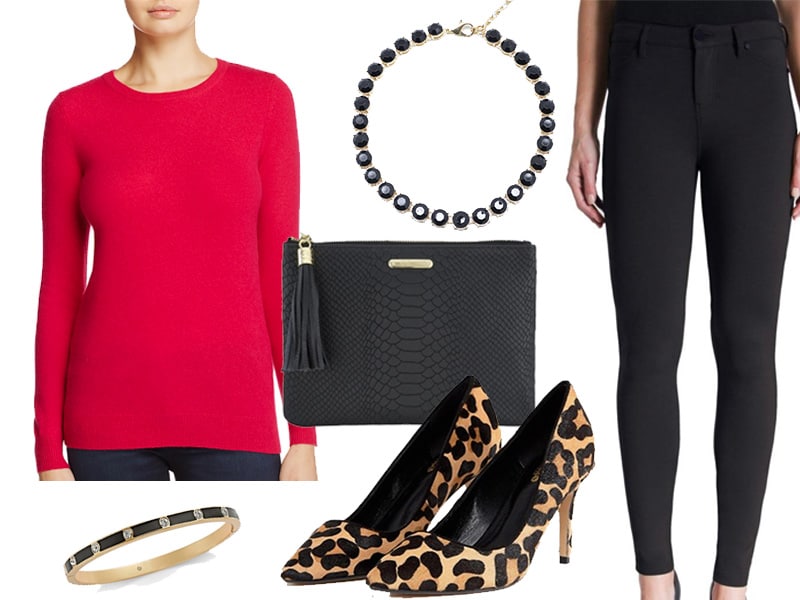 Outfit two: Sweater, $80 | Necklace, $50 | Bracelet, $48 | Clutch, $128 | Pump, $119
For the second outfit, we still kept it simple, but bold color, a statement necklace, and patterned pumps make it look so much more complicated. I'm pretending we are closer to spring than we really are and using a poppy, hot pink cashmere sweater. I reads red online but it's a bright pink. C by Bloomingdales makes high-quality, reasonably-priced cashmere. This comes in a ton of gorgeous colors, but the pink feels fresh and preppy. Need plus size? Look at Sejour, a private label at Nordstorm, for high quality basic sweaters.
A simple tip to make any outfit look and feel cohesive is to repeat the main color (black in this case) three or five times. Here, I included a black crystal statement necklace and animal print pumps, in addition to the pants. A few things make this impactful. First, three is a key number because it creates a pattern. Second, the placement of the pieces is essential. If you were to divide your body into thirds, the main color is in each section. This creates balance and harmony. Cool, right?
I rounded out the look with a black and gold bangle; you can wear one or stack them up your arm. I included this clutch because you can slide it into your work bag and grab it for dinner and drinks. Also, I just really like it.
Shop this Post