This content has been archived. It may no longer be relevant
Working moms know that having a full-time job, and raising a family is exhausting and immensely fulfilling. We talk a lot about "work-life balance," and it seems like we all agree it doesn't exist. Instead, it's a juggling act, where we do everything we can to keep all the balls in the air.
Recently, a reporter asked a famous actress during a press junket, "How do you balance work and family?" She took offense and made headlines with her response, "Would you ask a man that?"
Now, I've always considered myself a card-carrying feminist, but I don't find the question sexist. I ask women all the time for advice about how to get through my day as a working mom. What I do think is silly is asking a movie star how she does it all.
Don't look to celebrities for advice.
Women, by nature, are generous with their knowledge. If you want answers, if you need advice, if you want to feel like you're not alone in the struggle, go talk to a real working mom. Not one that has a glam squad helping her get dressed every day and someone cooking her meals for the week.
If I'm seated at a dinner with a female senior executive or someone with a career I admire who is on the other side of raising young kids, I want to know how they did it and what they would do differently. Amongst my contemporaries, I'm always curious to learn about routines and tips no matter how obvious they might seem. Even with our wonderful community of readers, our comment section and my email are often filled with personal stories and insights.
In the spirit of sharing, I came up with my favorite tips that make my daily life a bit easier.
The Best Life Hacks for Working Moms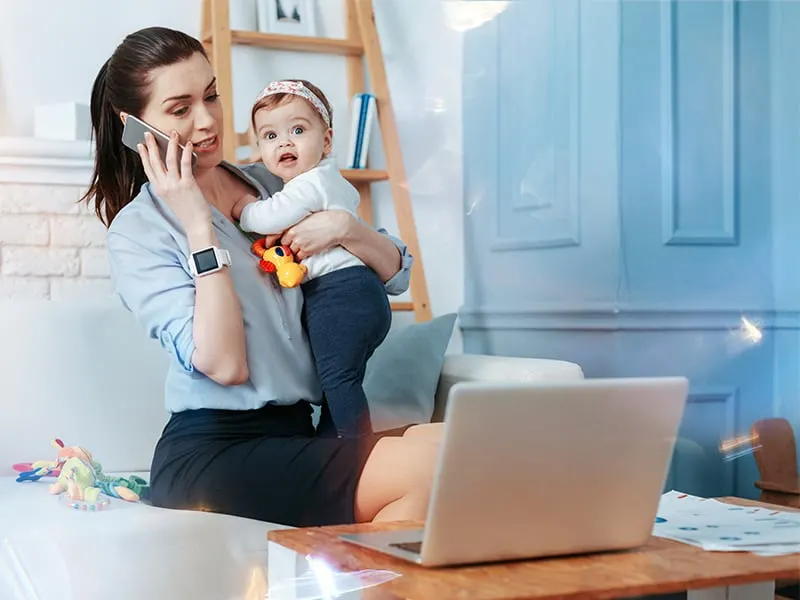 Sunday Prep
Break your tasks down into weekly and daily chores. On Sundays we do a handful of things to prep for the week, but we try to make sure we're not spending our whole day getting ready.
Finish up the laundry in case we didn't stay on top of it during the week.
Lay out the girls clothes for the week. They wear uniforms to school, so we hang every day together, pair socks, and have outfits for sports ready to go. Quickly check to make sure their shoes are where they should be.
Write a loose meal plan and order groceries. I still use Instacart, it's worth the extra money to not have to go to the store. After a few orders it remembers your favorites so in 15 minutes your food shopping is done.
Update calendars and confirm all the logistics of the week. This is especially important because my husband and I both travel so much for work.
Clean out cars. This takes all of 5 minutes, but I always come back in with an armful hoodies, flip flops, books and water bottles that "mysteriously" go missing.
Your Night Makes Your Morning
Do everything you can at night to set yourself up for success in the morning. This is easier said than done. Lately, I all but collapse by the time I get the kids settled in bed between 8:30 and 9:00. But I find if I push through for another 30 minutes and go through my evening checklist, my morning is so much easier. At night I always:
Clean the kitchen, load and run the dishwasher.
Set up the coffee with a timer.
Check school bags and my own bag for the day. I can't say enough good things about this simple felt handbag organizer. It make switching out your handbag a breeze.
Pack up the car with whatever we might need: sports equipment, store returns, things for the post office, etc.
Lay out my outfit for the next day and the kids if they are not old enough to do it themselves
Have a Solid Morning Routine
Everyone's mornings look different. I try to get up 30 minutes before the kids so I can sip my coffee in peace. Sometimes my youngest, who is known to start her day at 5:30, for no reason at all, will crawl into bed with me and I really treasure these last few weeks with her as my baby. Most days, though, we're up and running.
I pack lunches in the morning so nothing gets soggy, but most of the elements are easy to assemble. I use these bento boxes for the kids and that make the process easier.
Throw in one load of laundry as we get ready. (Moving our laundry to the main floor right off our kitchen changed my life, more on that later.) By the time they leave for the bus, I'm putting a load in the dryer.
The girls have to make their beds while I make mine.
Having kids old enough to get their breakfast together makes a big difference. I keep a handful of healthy things they like in the pantry. There's no arguing or protesting and I know they're not leaving the house hungry.
If you're headed to an office, avoid sticky fingers and stains on your work clothes by either getting dressed as the last minute or get dressed and ready first but wear your robe on top of your outfit. You'll thank me later.
Keep a Running To-Do List
As a working mom, your brain is moving a million miles an hour, it's impossible to keep it all straight. Don't assume you'll remember anything. Whether you use an app or pen and paper, write down every thought you have. I do two things:
This moleskin notebook lives in my handbag so I can brain dump at a moments notice.
To keep me organized, I use this Emily Ley planner and map out my month and day.
Bri and I share a calendar online and we keep a dry erase one that shows us where everyone is suppose to be every day. I bought this wall calendar system from Pottery Barn years ago. It's survived multiple moves and will live in our new kitchen once it's complete. The quality is fantastic. It helps corral not only your calendar, but invitations, receipts, notes, and miscellaneous school paperwork.
Make Meals Easy
Back in college, I lived in my sorority house, and we had something called "screaming hour." I don't remember how it came about but it was the time of day when the house was at capacity, everyone was coming back home from classes, getting ready for dinner, and settling in for nighttime plans. It was the most fun kind of chaos. Now, my screaming hour looks really different, because it's mostly me screaming while trying to wrap up my work day, kids doing homework, running to and from practices and dinner time. Let's make meal time a little easier shall we?
A reader recently mentioned that she "assembled" dinners during the week more than cook a traditional meal. It's a great idea. It's easy to pull together a salad, lay out some crudites and hummus and buy and cut up a rotisserie chicken. Especially on busy nights, lay out simple, healthy options and let everyone pick what they want.
Keep a list of easy to make favorites that take 30 minutes to make. I'll "cook" four meals during the week, like a pot of turkey chili, or an easy chicken recipe, then we assemble a few meals, have leftovers and order takeout, usually on Friday night. When I stopped trying to be Martha Stewart durning the week, my stress level eased tremendously.
Be an Amazon Prime Mom
December isn't the only month my front door is covered in boxes from Amazon, it's basically every day. Because I'll do anything to avoid having to go to Target, I buy just about everything on Amazon.
Buy your bulk items with subscribe and save. You'll never run out of toilet paper, paper towels, dog food, water, or water ever else you need.
Keep the app on your phone so when the kids say, "Oh! I need … whatever." You can order it immediately.
Give Yourself a Break
These hacks will make life more manageable. But we all know life is unpredictable. Kids get sick, you or your spouse might have to hop on a last minute flight, or there's a snow day, or two, or 12. Sometimes, life as a working mom, by design doesn't allow you to be available 24/7. Being organized will help you navigate crazy days a little better, but they're not a failsafe.
When life gets nuts, when you feel bad that you can't make every middle of the day school event, or every PTA meeting, cut yourself a break. (Also, middle of the day school events are stupid.)
You're doing the best you can. We've all had those moments we feel like everyone else is thriving and we are barely surviving. You're doing a great job, and your kids are proud of you. Here are a few things I do to let them know they are always my priority and to carve out quality time:
Schedule regular dates with the kids. A few time a I schedule a day datet: once around Christmas, once in the summer and then a surprise day during the school year . I wake one up and let the other one sleep in. We'll spend 1:1 time at a museum, go shopping, or go to lunch. Whatever we do, it's just us for the day.
I mentioned on Monday that I like try to leave little treats and treasures out for them on occasion. I don't do it all the time, because then it's not special. but When I see things like lipglosses and books, I buy them and leave them out when one of the girls is having a tough day, or if I'm on the road.
Personally, I keep to my self care routine as best as possible. Working out keeps me calm and focused. I also enjoy a nighttime ritual of taking care of my skin and unplugging before bed. Both help me sleep better so I can manage whatever gets thrown at me during the day.
Okay, so now I want to know. What are your go-to "hacks" or tips as a working mom that work for you and your family?