I shared some top picks from J.Crew's Early Spring Sale on Sunday.
Since then, the sale has changed.
However, I was delighted to see the response to these straight-leg "Kate" trousers in lavender.
The color is like springtime, bright and lovely. But, as I mentioned, if you are going for bold pants or anything that's not neutral, you'll get the most out of it if you buy it in a classic cut.
So here, a slim-straight leg in a cotton stretch is perfect.
Don't love color? No problem. These pants are also available in ivory, navy, or black, in all sizes, including petite and tall.
3 Springtime Outfits with Lavender Pants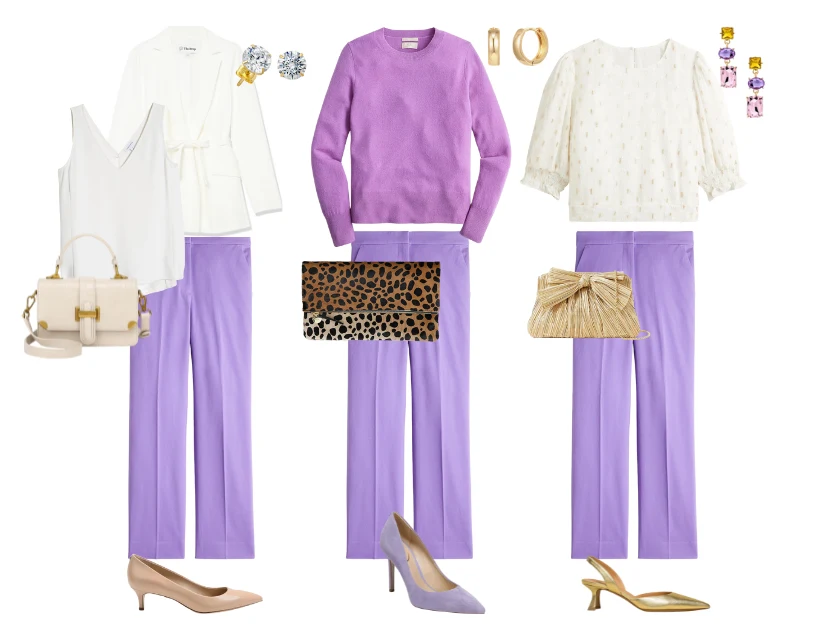 My mission here at The Well Dressed Life is to give you practical options, recommendations, and outfit inspiration, using the items you buy from our links.
This helps you get the most out of your purchase. Because the last thing I want is for you to buy something, and it's just hanging in your closet.
I'll reference other popular items to pair with current recommendations as we move through the seasons.
I used to do this when I was a stylist, so I write these posts as if I were sending an email to a client.
Today, we're focusing on how to style the J. Crew Kate Straight-Leg Pants in Bi-Stretch Cotton in lavender.
Again, if a colorful pant is not your style, there are still many tips you can make your own below.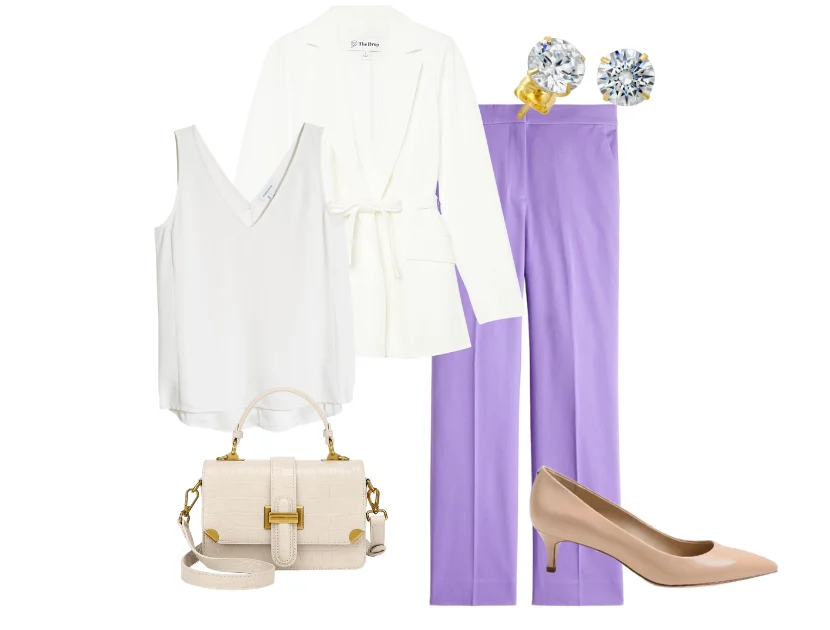 Let's start with a blazer look.
Above I'm using this tie waist jacket from Amazon's the Drop line. An incredibly well-priced and well-made collection of modern basics sold exclusively on Amazon with sizing up to and including a 5X.
You can, of course, wear this with a classic, one-button blazer. In addition, J. Crew has an option in the same fabric as the pants (you can also make this a suit).
The Drop also has a one-button blazer option that's been a reader's favorite for months.
Underneath I'm using a simple V-neck tank from Nordstrom for $50 with sizes up to an XXL (18). This is a great basic, also available in black.
So here's the deal with shoes. Because the jacket is on the long side, you want at least a little lift in your shoes.
Above, I'm using the Sam Edelman Dori Kitten Heel, on sale for $90 in their beige blush.
This is the lowest heel I would wear in this look, so the jacket can drape. You can also wear a classic pump.
Then it's just a bag and some earrings.
Keeping it simple and affordable, the white version of this best-selling top-handle bag and these CZ studs are both from Amazon.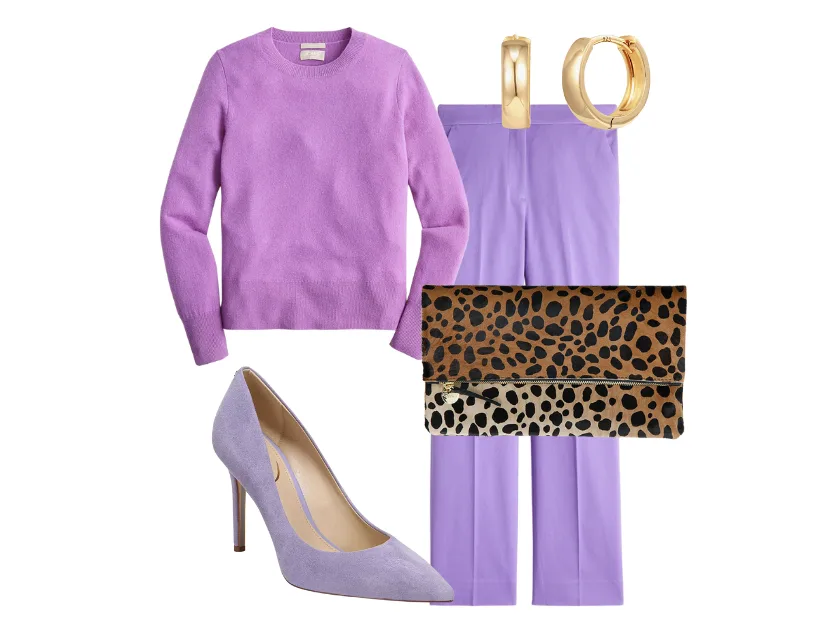 Moving to our second outfit, let's play with one of my favorite looks: monochrome.
The trick to wearing one color, head to toe, is to mix various textures and color saturations. So we're not looking for an exact match.
Instead, you want to play with shades of one color to build dimension and interest.
Above, I'm using a simple, crewneck cashmere sweater from J.Crew.
You can use a sweater in this shade from anywhere; I like J.Crew's cashmere. And when it's on sale, it's about the same price as Quince with a much better size range.
To keep the line of the body moving, I'm using the Sam Edelman Hazel pump in purple suede. I love the color and the interest the suede adds.
Grab your everyday hoops; this pair is another reader favorite from Amazon. In addition, you get a gold and silver pair of huggie hoops for under $25.
And for a bag, I'm using the Clare V. Foldover Leopard Print Clutch. This is a splurgy bag, but many of you picked it up at the last Nordstrom Anniversary Sale, so I want to remind you to bring it out no matter the season!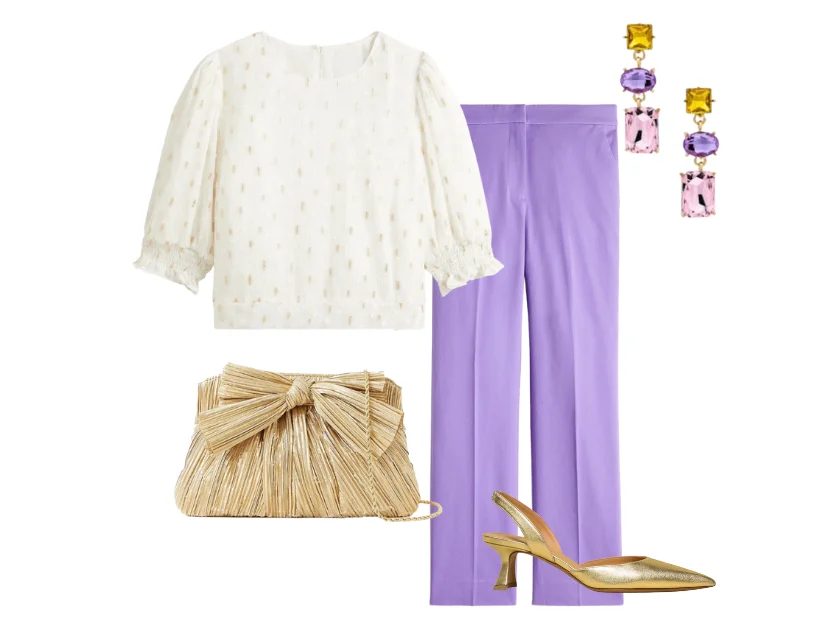 Finally, for a date night look that doesn't involve jeans, I had in my head a look that mixed white and gold.
I found this gauzy white top from Boden with little flecks of gold sewn throughout.
It's not going to be for everyone as it's cropped, but reviews say it works well paired with high-waisted pants.
Alternatively, try this full-sleeved blouse with gold embroidered detail from Vince Camuto.
The shoes and a bag featured are also splurges, but ones I want to mention.
First, this Loeffler Randal Pleated Framed Clutch was a surprising best-seller around the holidays, so friendly reminder that you can carry it year-round.
I promise the second I find a dupe; I will share it!
And the gorgeous gold shoes are by M. Gemi, an excellent brand of stylish, well-made, comfortable shoes.
These have replaced any prestige brand in my book of where I would put my money if investing in a higher-priced shoe.
Finally, we finish the look with a whimsical pair of earrings for only $20 at Revolve. This long-lined earring will pop up everywhere this spring, so they are a fun way to add a trend at an affordable price.