I recently discovered the Kopari KP Body Bumps Be Gone Exfoliating Body Scrub.
I try a TON of products, and 90% of them never get a mention, so when I change up the calendar to fit in a recommendation, trust it's a good one.
As any self-tan enthusiast knows, the life of your tan lives and dies by how good you exfoliate. (I know I say ridiculous things.)
So, preparing for my first spray tan of the season last weekend, I ordered the Kopari KP Body Bumps Be Gone Exfoliating because Amazon could get it to me fast, and Kopari has a great reputation and my goodness it's wonderful.
And it's so much more than an exfoliator.
Kopari KP Body Bumps Be Gone Exfoliating Body Scrub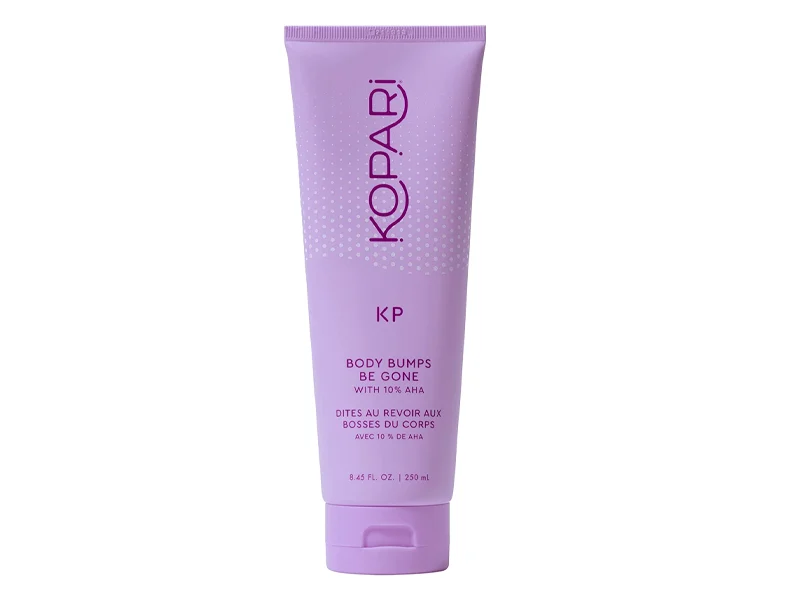 Kopari KP Body Bumps Be Gone Exfoliating Body Scrub, $24
Most exfoliants are rough and corse and feel like they are ripping your skin. And because my skin is extra sensitive, it reacts to everything.
I can't even get a scrub during a pedicure because I'll break out into an itchy rash, so I have to be extra careful.
But the second I used this, I knew it was a winner.
It's soft and luxurious and not only does it gently exfoliate, but it does heaps of other good for your skin things too.
If you have patches of rough skin, or KP, Keratosis Pilaris, sometimes called "chicken skin" (tiny bumps or pimples that are dead skin cells plugging hair follicles), this will remove them.
Any dry patches around your ankle, knee, or elbows will feel baby soft.
And I can't explain it, but my skin just looks and feels better, smoother, has a glow.
So if you want to start to treat the rest of your body with the same goodness you treat your face, use this once or twice a week.
It will remove dirt, grim, and the extra layer of sunscreen most of use are applying this time of year. Your pores will be cleaned, and your skin will drink in any moisturizer you apply next.
Your skin will be in tip top shape just in time for spring and summer.
It's a 10/10.
I liked it so much; I ordered it for a few girlfriends to try too 🙂
This post is not sponsored. I just really love it, and encourage you to learn more about Kopari if you are interested in clean and effective beauty products.
Kopari skin care products are also manufactured in sustainable, solar powered labs in Southern California, and are non GMO, sulfate free, cruelty free and paraben free.