Over-the-knee boots have been popular for some time. Over in our Facebook Private Group, I get questions about them frequently. Specifically how to wear them and if they are age-appropriate.
So let's start with the question of age. It's simple. AGE DOES NOT MATTER. The Well Dressed Life is all about helping you achieve a modern and classic style, which is inherently timeless and ageless. I break down my philosophy on age and "appropriate" dress here.
For style inspiration, you have a lot of options. But first, lets talk about the boot.
I wanted one that was versatile, affordable, casual and easy to incorporate into my uneventful life.
Last December, I started to hear (unsponsored) praise for these Best Selling Amazon Over-the-Knee Boots on social media, so I decided to give them a try.
I've had them for almost a year now and still highly recommend them.
The Best Selling Amazon Over-the-Knee Boots I LOVE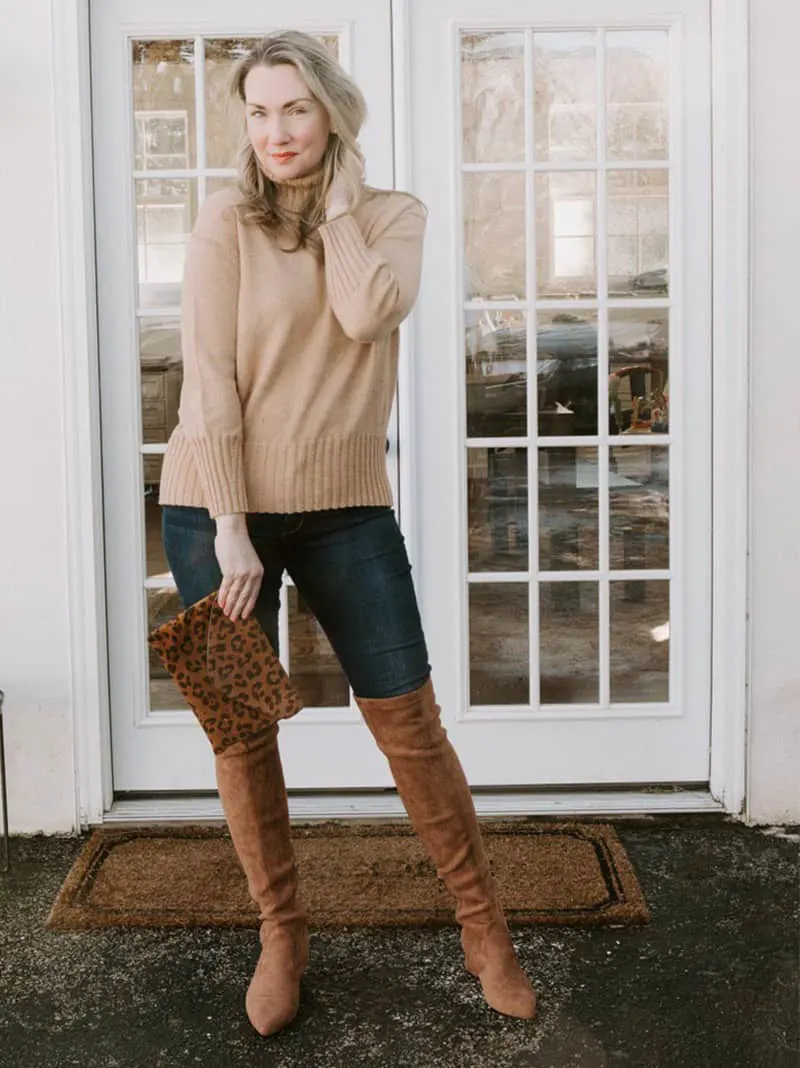 I will never be comfortable posting pictures of myself, but thank you to everyone for being kind. I know the pictures are helpful, even though I feel like a major dork in them.
For some context I am (almost) 41 and am 5'10. However, I found these on Pop of Pippi's Instagram and she is petite and looks fantastic in them. So don't be afraid to give them a try if you are petite (and follow her Insta for some great petite looks).
Are they the best quality? They do the trick, which is to let you wear a trend while it's popular without feeling committed to it and spending a small fortune.
They are surprisingly comfortable. The block heel gives nice support and they are not too high making them super easy to walk in.
I paired them with the Joe's Curvy Skinny Ankle Jean. (On sale for $80 at Nordstrom Rack – they usually retail for $189). I LOVE these. They are high waisted, with nice stretch. But the slide over any skinny jean easily.
I've worn them a few different ways, usually with jeans (above) or leggings and a long cardigan (below). The key is to keep it simple. Almost think of them as pants, if that makes sense.
This weekend I'm going to wear them with this black sweater dress from the J.Crew factory sale for dinner on Saturday (I'll share over on Instagram).
I original purchased the tan suede, and just ordered them in black for the holidays. I think the suede adds a richness to the look but again, has a casual vibe.
Our Style Content is Inspired by Our Readers
Our readership inspires all of our posts and is not sponsored or paid for by brands or retailers.
Recommendations are based on my experience as a personal stylist and wardrobe consultant for over a decade. I worked with busy, down-to-earth women who wanted to look chic and feel confident but were often confused by so much of retail.
Some links are affiliate links, which means if you purchase via our site, we receive a small commission.

If you enjoy our content and would like to help us grow, please follow on Instagram and join our Private Facebook Group to access more advice and exclusive in-depth conversations with other like-minded women.
Learn about our mission to help women look and feel their very best, every day, here.
Sign Up for Daily Content and Receive Our Free Classic Wardrobe Checklist