Of all the seasons, the summer seems to move the slowest. The days are longer, and routines are relaxed, but this year, I feel like I blinked and it's the 4th, and I'm going to blink again, and we'll be back to school. Life is moving faster than ever, so we are taking the rest of the week "off" to enjoy the holiday and some distraction-free downtime with family.
June Readers' Favorites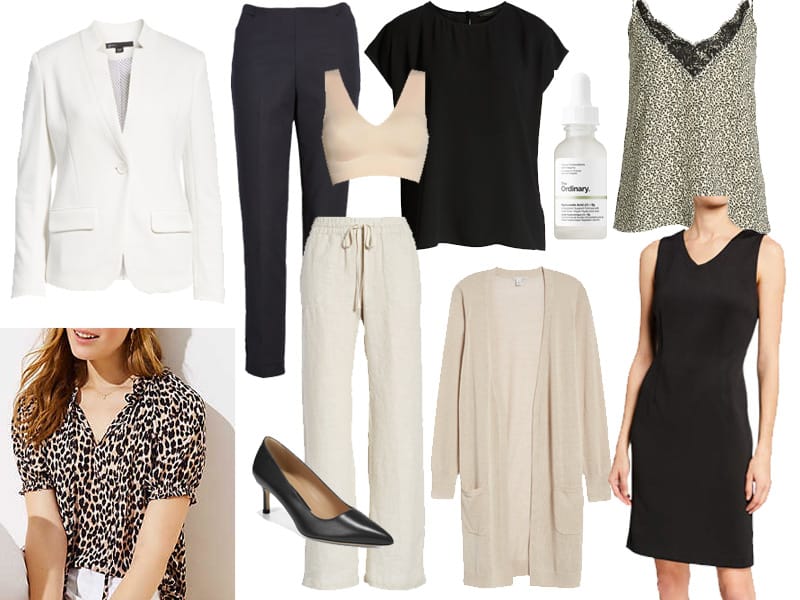 Long Cardigan, $40 | Blazer, $98 | Linen Pants, $59 | Stretch Cotton Pants, $51 | V-Neck Bra, $49 | Sheath Dress, $34 | Boxy Blouse, $49 | Hyaluronic Acid, $6.80 | Leopard Top, $54.50 | Pump, $195 | Lace Trim Cami, $35
But before we head out, let's round-up June's top reader picks. At the end of every month, we compile a list of the products and items you loved the most. Last month was all about professional and casual neutrals. If you still need a few basics check out our list above, many sizes are still available, and almost everything is at a deep discount.
A few personal favorites made it to the top of the list. This feminine leopard print top works with everything like a pair of dressy black shorts, or crisp white jeans. You can also wear it with these reader favorite ankle pants (above).
Need a dress for work? This T Tahari "scuba" dress is only $34. The length is on the short side, so check the measurements before ordering.
I have this lace trim cami and adore it. I recently wore it with black joggers and a pair of block heel sandals for dinner and drinks with friends.
This True & Co. bra is a new every day favorite too. It's surprisingly supportive and incredibly comfortable – I even sometimes sleep in it.
Hope everyone enjoys the holiday! See you back on Monday when we pick up our regular content. While we're away, be sure to follow us on Instagram and Facebook as we'll still be posting and chatting on those platforms over the extra long weekend.