Thank you so much for all of your sweet comments and well wishes last week. We're thrilled and the time is definitely flying by. Somehow, it's already July, so today we're rounding up your top buys from last month. The summer, while a welcomed break from the business of the school year, is my least favorite when it comes to getting dressed. I appreciate the simplicity of throwing something on and heading out the door, but after a while I tend to go blank creatively and I start to long for blazer and scarf weather.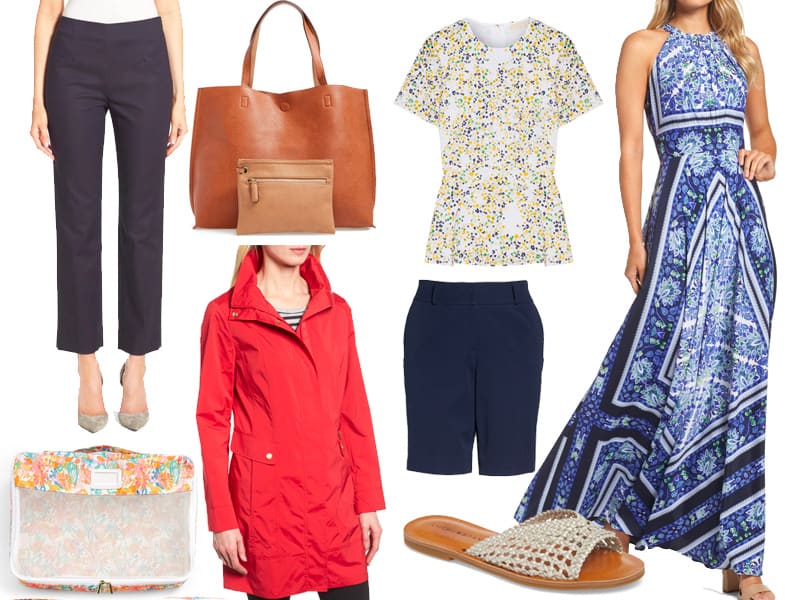 Pants, $128 | Bag, $49 | Top, $62 | Maxi, $95 | Sandal, $79 | Shorts, $40 | Raincoat, $130 | Packing Cubes: $48
Before I wish away the rest of the season, we did feature some great items last month, and some are still available, though a few are in limited inventory. Here are the pieces you scooped up that will help you make it through the rest of the summer in style:
Pants, $128: These ankle pants are a classic alternative to the dreaded capris. You can wear them to work or dress them up on the weekend. I like that they have a side zip, which is sliming and allows you to wear any kind of top you like.
Bag, $49: This bag is a ridiculous workhorse, and an even better deal when you consider the cost. Since the summer is so casual, I carry it every single day. To keep it organized pick up this organizer insert – life changing.
Top, $62: I LOVE this fitted, peplum top by Michael Kors. We featured it last month with slim navy pants for a polished look for the office. The best part? It's 60% off now.
Maxi, $95: I was so happy to see how many of you picked up this gorgeous print max by Eliza J. It's ideal for summer weddings or weekend showers. And it's also on sale for 40% off.
Sandal, $79: These simple slide on sandals add just the right amount of texture to your warm weather outfits. They are available in five wearable colors.
Shorts, $40: Women sized shorts aren't always easy to find, so I was thrilled when I discovered these polished Bermuda shorts at Nordstrom. Sizes are very limited, but the price can't be beat. Stay tuned for later this week when we round up every pair of shorts in retail for grown ups.
Raincoat, $130: Many readers were headed on a rainy European adventure this summer, and picked up this chic and PACKABLE rain coat. Don't miss it, it's a seasonless staple you'll be happy you have sitting in your closet.
Packing Cubes. $48: These packing cubes will forever alter your packing game. If you haven't gone off on your summer vacation yet, consider picking up a set. Our family is driving up to Toronto this month and I picked up enough to keep me and my girls organized.