It's not often that an item warrants its own feature.
But sometimes, I need to single out an item so it doesn't get lost in another piece of content.
And the Jeffrey Campbell Linques Sandals are worth interrupting our regularly scheduled programming.
They will be a stand-out piece for the spring and summer and are selling out fast.
Jeffrey Campbell Linques Sandals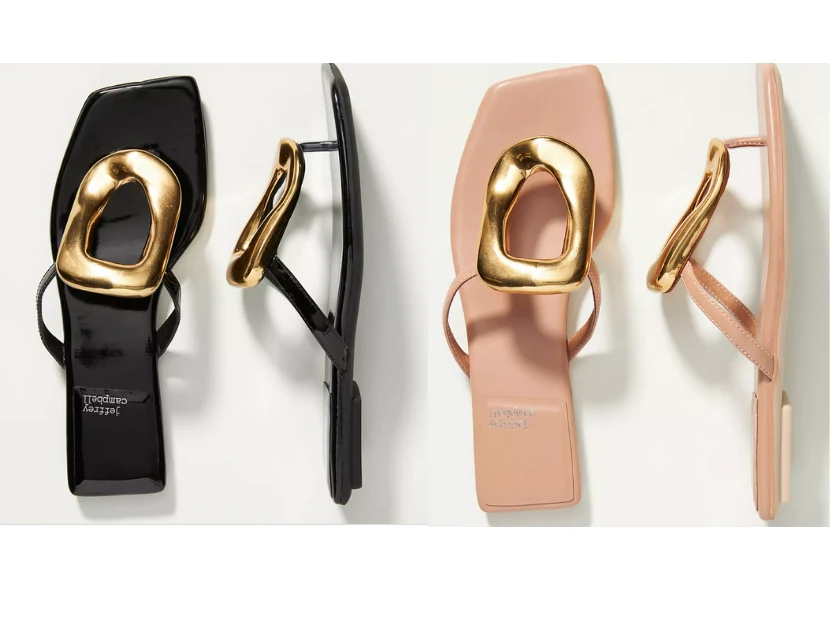 Many years ago, Tory Burch came out with her Patos Sandals.
I bought their very first version (similar to the new iteration but less strappy).
They were my favorite summer shoe of all time; they went with everything, looked elegant, and were just incredible.
Well worth every penny spent, considering how long I owned them and how frequently I wore them.
And then, like an idiot, I left them at a hotel last spring and didn't realize it until I returned home a few days later.
So long story short, I've been looking to replace them.
And I could buy the new, equally gorgeous, and versatile version.
But they are $250.
And while I think I spent close to that last time and got my money's worth, I don't like this style as much as the first ones.
As luck would have it, I stumbled on this pair of "Linques" Sandals, but Jeffrey Campbell, with the same organic, 1960's vibe as the Tory's, for half the price. and bought them immediately.
There are a few signs that these are going to be a hot shoe this season.
Mainly because they are sold out at on the Jeffery Campbell site and at Nordstrom when we are only a few days into spring.
The only place they are available is at Anthropologie, with many of the prints and bright colors are sold through. But neutrals are still available, though going fast.
I ordered the black (backordered until May 11th) and the neutral.
We'll style them with long and short dresses, linen ankle pants, even shorts.
They are an elevated option for the Tory Burch Millers but can be worn in similar ways.
Would be great for dinner on vacation, or if you have a beach wedding.
So if these are something you've been looking for, scoop them up now before they are completely sold out.