How perfect is this look for an early fall weekend, or any day of the week when you want to look casual but still chic? This is the kind of outfit that I wear and feel like maybe I know what I'm doing. Wear it to meet friends for brunch, or to run over to a PTA meeting. If you work from home, you basically wear the jeans and tee shirt, and then throw on the blazer to run errands or have a quick, casual in person meeting.
The best part?
This entire outfit is available in sizes 0 – 3x with petites included. Be sure to click through to see all size options.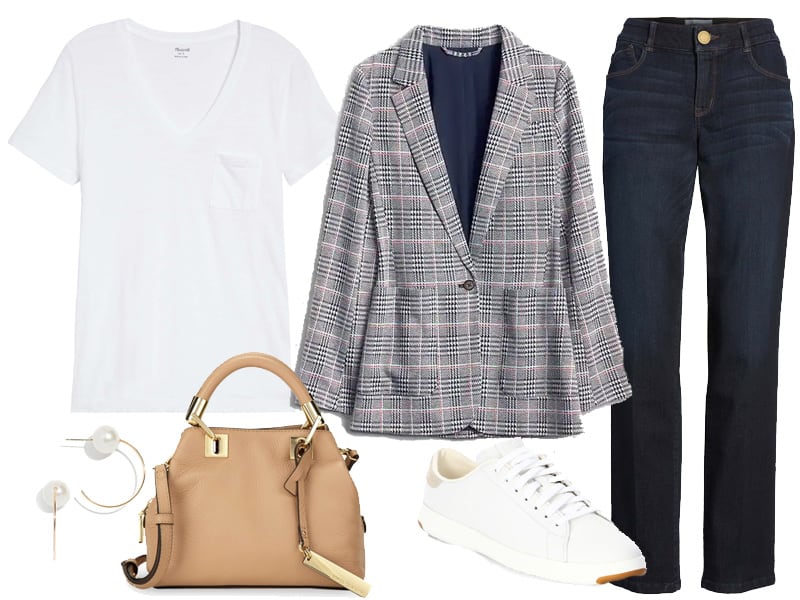 Blazer, $128 | Shirt, $20 | Jeans, $68 Plus Here | Bag, $70 | Sneakers, $130 | Earrings, $38
The Blazer
It's been a long time since I turned to GAP for anything, but this blazer has put the retailer back on my radar. It has the feel of a boyfriend blazer, with enough tailoring to keep it feminine. The modern plaid pattern, one button styling, and length all work to make this an ideal casual layer to pair with your jeans. I especially love how it looks with the sleeves pushed up the arm on the model. Good news, it's available in sizes 00 – 20 and includes tall and petite options.
The Tee
We talked yesterday about where to splurge, spend and save when building your wardrobe. Tee shirts will forever be in my "save" category. I've done the legwork for all of us and spend a ridiculous amount of money on white tee shirts. Bottom line? The more you spend, the more see-through the tee. I don't know why, but it's true.
You can find high quality, great fitting tees at Target, Old Navy, and J. Crew Factory all around $20. I also like this Madewell tee. The v-neckline works well with the lapel of the blazer, and it's slouchy yet still fitted to the body. It's available at Nordstrom, in nine wearable colors from sizes XXS – 3X. Now that's size inclusion!
The Jeans
Oh, hello jeans under $100. I'm turning into a big fan of Wit & Wisdom, and I know many of you are too. I picked this particular style for a few reasons. First, the inky blue denim works beautifully with the plaid of the blazer. Second, because the blazer is ever so oversized, you need to wear a straight or skinny style bottom to balance your proportion, and I'm trying to offer more straight legged options. Finally, you can't beat the price/fit combination. Available in plus sized here.
The Sneakers
The trick to making jeans and sneakers stylish is wearing the right jeans with the right sneaker. That is not the time to wear your gym sneaks or your old kicks you wear to do yard work. The sneaker, in this case, is more like an athletic style shoe. Avoid anything oversized or bulky, you don't want the sneaker to be the first thing someone sees when you walk into a room. Instead, you want the shoe to be slim and straightforward. These Cole Haan tennis shoes are a fantastic option. They make your foot look narrow, disappear off the line of your leg and are super chic and comfortable. For something under $100 I like these white Supera "Cotu" Sneakers.
The Accessories
No surprise here, we're keeping it simple. For a twist on a classic hoop, I picked these Rebecca Minkoff gold tone hoops with a pearl at the top. They are understated but still make a big impact (you can see the approx. size on the model).
For the bag, I went with a crossbody style satchel in a color they are calling "fresh." It looks like a light caramel, and with the gold hardware, it's hard to believe it's under $100. It's the BEST option for this kind of quintessential laid-back weekend look. It's on sale at Off 5th so it will likely sell out, also available in black.
Shop this Post