The text chains between my girlfriends and me an hour before we're supposed to meet for a night out are always focused on what we are wearing.
"What are you wearing?"
"I don't know, what are you wearing?"
Then we try on a bunch of things until someone says, "Just jeans and a blazer."
And we all wear some version of just jeans and a blazer.
Honestly, I love jeans and a blazer. Am I basic? Probably. But there's something comfortable and classic about it. You're not too dressed up, and not too casual. The blazer pulls you in at the waist. The jeans keep things from feeling like you're going to work and by adding a glam shoe and accessories, you create the depth and contrast. It's a winning formula.
How to Wear Jeans and a Blazer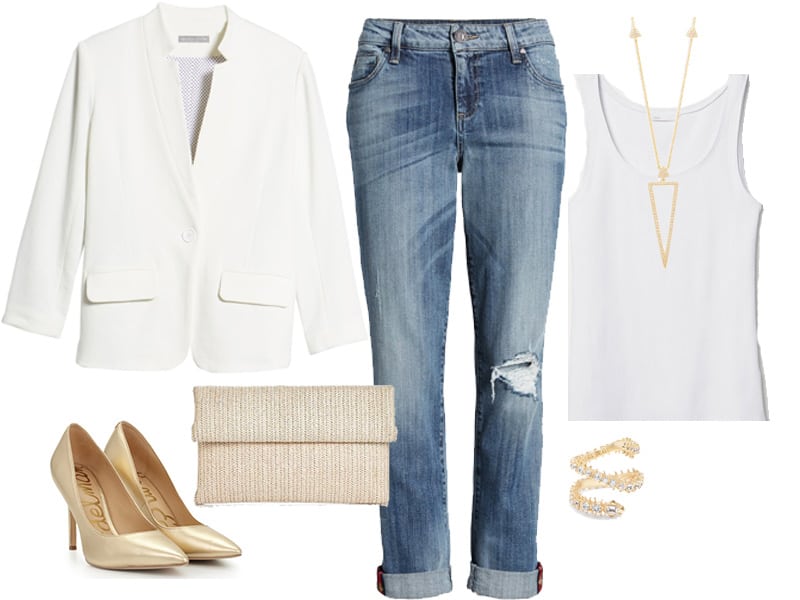 Blazer, $98 | Jeans, $90 (plus option here) | Tank, $5 | Heels, $120 | Clutch | Necklace, $117 | Ring, $75
You would think this is an easy look to pull together, and it is, but there are a few things to keep in mind. The pieces you combine are important. So often, when I worked with clients, they would be frustrated because they tried to recreate a look with pieces from their closets, and it didn't look right.
The key to pulling this look off is all in the blazer. You need to make sure you are using a separate jacket, not a jacket from a suit, or something in a set. There is a huge difference between a standard suit jacket, and a blazer. The fabric and cuts are designed for different purposes. So be sure as you're building out your wardrobe that you have one or two blazers.
I like this white cotton blend jacket at Nordstrom (under $100). It's available in 00 – 18 including petite in four colors. When working with a look like this, keep the jacket to only one or two buttons. It creates a better shape. Need plus? Talbots has a similar fit on sale.
You could also use this as cardigan-alternative for the office. You can roll the sleeves to show off the lining if you wear a top of the same color; otherwise I would keep them to your wrist. Want something longer? I still love this boyfriend blazer we featured a few years ago. It's a great find at a great price. I would grab them in black and white.
You can wear your favorite jeans with this look. I happen to like a lived in light wash jean paired with other more "dressy" elements. It doesn't feel fussy, but I would just as quickly wear these with a dark pair of straight or skinny jeans. (Take a peek at our Denim Closet for our reader's favorite pairs.)
For today's look I picked these boyfriend jeans by KUT (under $100) also available in plus. They're nice for this time of year with a pair of high heels or simple white sneakers.
If you're not taking your jacket off, and in this case you don't have to because the blazer is so light, go with an expensive tank. You can find these anywhere you like, Old Navy, Target, or like we did today, H&M for $5. Don't spend on basic tanks and tees. I've spent $100s on what other bloggers claim or the best white tank, and guess what? They are almost always see through. These are always in the save category.
Sometimes you need a gold heel. I like these because the have a conservative shape and an ultra glam finish. If you have these in your closest, you'll wear them. For a few other options, I like these D'Orsay pumps that are on sale, and these more subtle pumps with a lower heel from Nine West, also on sale for under $50.
The accessories in this outfit are important. I love this clutch. We've featured it before. It adds texture while bringing some gold up the look. For the necklace, you want something with length to enhance the line of the blazer. It should fit in between the collar and end before it hits the button. The shape of the necklace is modern and adds almost an architectural element.
As for the ring, it's just rather fabulous. I want to start wearing more fun rings. I wear the same every day, never thinking to swap something out. Am I a ring girl? I don't know. We'll see. I think if I had this one, I could figure it out.
Shop this Post