Our Reader Favorites has always been one of our most popular series. So when we redesigned our site, I knew I wanted to keep it. Once a month, we round up all the items YOU loved the most, as a way to crowd source the best of the best. I was so excited to check out or analytics and see that you have gravitated not only toward the items we talked about in our posts, but also what we've featured in some of our closets. We kick off our first Reader Favorites of the year with some classic pieces and a few affordable, cozy tops to carry you to Spring.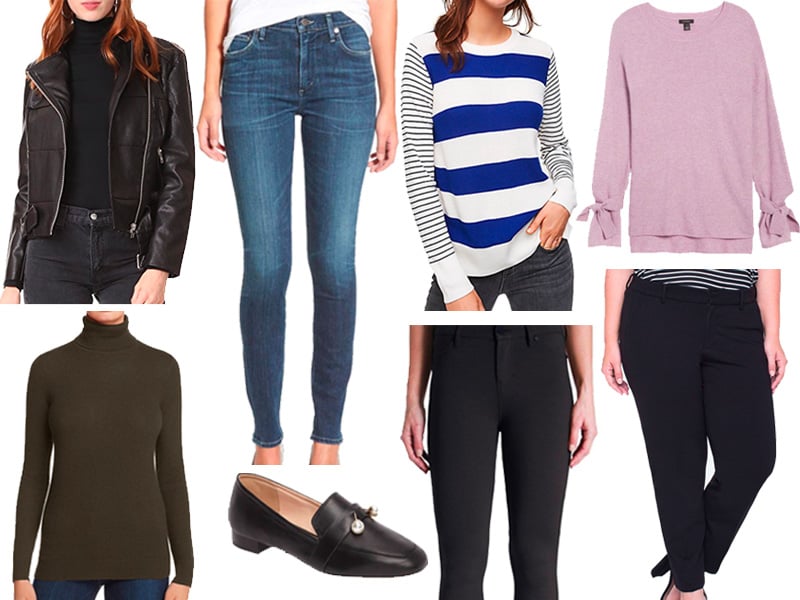 Mixed Striped Sweater, $23 – The quintessential weekend sweater at a price you seriously cannot beat. I picked it up in navy, but if you have the skin tone for it, the yellow is divine.
Moto Jacket, $55 – A simple way to look cool even if you're not 🙂 Pair this with jeans or go-to black pants for a chic and sophisticated look.
Loafer, $90 – The pearl accent on these traditionally styled loafers adds a feminine and whimsical twist to a classic.
Turtleneck sweater, $60 – A piece to stock up on, ideal for layering, or add a statement necklace or scarf with a pair of slim lined pants.
Ponte Knit Trousers, Plus, $89 – I'm always so happy to see plus size options at the top of our analytic reports. I try so hard to find alternatives for woman sizes that still flatter and show your shape. These trousers are a great example of classic style, modified slightly to fit you best.
Ponte Knit Trousers, Misses, $68 – These trousers are great quality and an even better price. Buy a few of these if you end up loving them.
Tie Bell Sweater, $35 – Just cozy and perfect for chilly days when you want to look lovely but have zero time for effort.
Jeans, $198 – Expensive, yes, but so comfortable, especially after they get a little lived-in. I particularly love the higher waistband. My over 35, 2-C-section belly likes it even more.
Shop this Post