January was a month that would never end. By the time it was over I was expecting it to be March. But, alas, here we are in February. So let's cross our fingers for a short winter and round up your favorites from the first month of 2020.
Reader Favorites of January 2020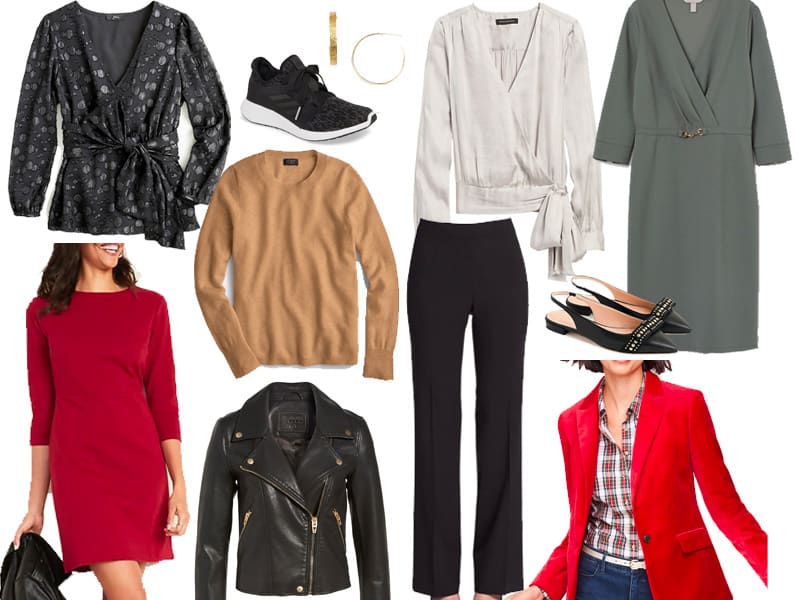 Metallic Top, $50 | Fitted Dress, $35 | Sheath Dress, $20 | Cashmere Sweater, $98 | Sneakers, $85 | Slingbacks, $99 | Hoops, $55 | Puff Sleeve Top, $85 | Black Pants, $120 | Red Blazer, $52 | Moto Jacket, $98
There's a lot of good things here, from a gorgeous date night top (at a fantastic sale price) to a rocker moto jacket – I was so happy to see some not so basics make this month's list.
Let's jump in:
Date Night Top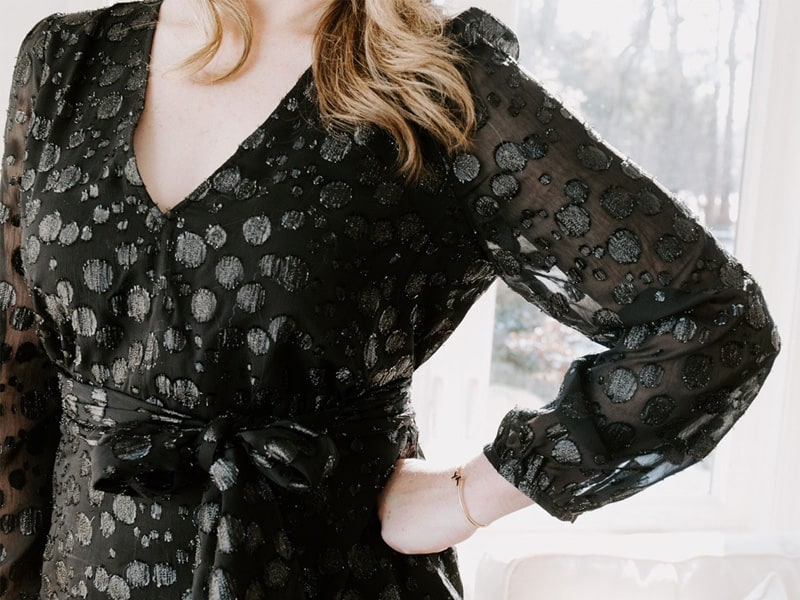 Metallic Top, $50: I scooped this gorgeous blouse up the second I saw it. It's just the thing for a date or night out with the girls. Pair it with jeans for a more casual look, or dress it up with a slim fitting pair of black pants.
Review from our loyal reader Samantha:
As always, a wonderful recommendation!! I never have anything to wear when I (rarely) go out in the evenings so I knew this top would fill a big void in my wardrobe. My local J.Crew happened to have this top in store so I was able to try it on. Wrap and even faux wrap tops are hard because I am much smaller on top than bottom. Beautiful and fits perfectly! I snagged it on sale for around $30 but love it so much would have probably paid more. I already have 2 or 3 occasions where I plan to wear it. Thank you!
Fitted Dress, $35: H&M is my not so secret resource for affordable pieces that look high end. You might need an alteration here and there, but it's beyond worth it. This dress and the stunning blue/grey color looks incredibly hight end for under $40.
Sheath Dress, $20: This dress is always at the top of our list – it's that good. The fact that it's $20 (FOR A WHOLE DRESS!) doesn't hurt either.
Cashmere Sweater, $98: If I could live in cashmere sweaters, I would and they have, over the years, become a big part of my everyday uniform. My go to is to pair this with dark jeans and pretty flats for a work from home outfit that is finished but not formal. This one comes in black and camel, with a 3/4 length sleeve so it's ideal for transitioning into spring.
Embellished Slingbacks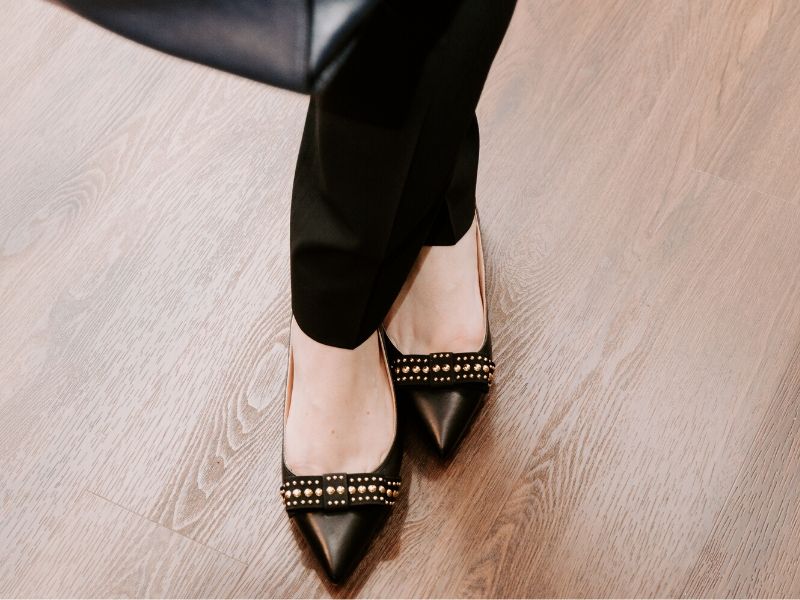 Slingbacks, $99: When you have a wardrobe based on better basics, you need a few things to infuse personality, like these slingback flats from J. Crew. They jazz up any outfit in a subtle way and are surprisingly comfortable.
Hoops, $55: I get countless requests for jewelry options that are affordable, yet well made, so I was thrilled to find Gorjana. Everything I've seen so far I love, and am happy to recommend. I own these hoops and wear the frequently. They are lightweight but don't feel cheap, and the price point is right on the mark.
Puff Sleeve Top, $85: Banana Republic has done such a good job growing up with us. (I bought my first interview suit there in 2001.) They offer so many great pieces, like this puff sleeve wrap-inspired top. It comes in five colors for sizes missy, petite, and tall, from XXS – XXL.
Black Pants, $120: Back in my personal shopping days, Lafayette 148 was a client favorite. They are just a fabulous, professional wardrobe workhorse – with a price tag to match. So when one of their basics goes on sale, you have to grab them. Typically they are $300 +, but right now there is a nice selection on sale at Off 5th for half that. Size wise the run full, more in line with Talbots fit, so keep that in mind when ordering.
Red Blazer, $52: Speaking of Talbots, this red velvet blazer is adorable and on also on super sale. It's available in missy, plus and plus petite up to a size 24. Don't be scared to wear velvet to work. With a classic bottom or dark jean, it will bring some texture and interest into your look.
Moto Jacket, $98: Pretty much the opposite of the Talbots blazer is this rocker chic moto for under $100. Wear it with jeans, throw it over a dress, it adds just the right amount of edge to the pieces already hanging in your wardrobe.
Feather Weight Sneakers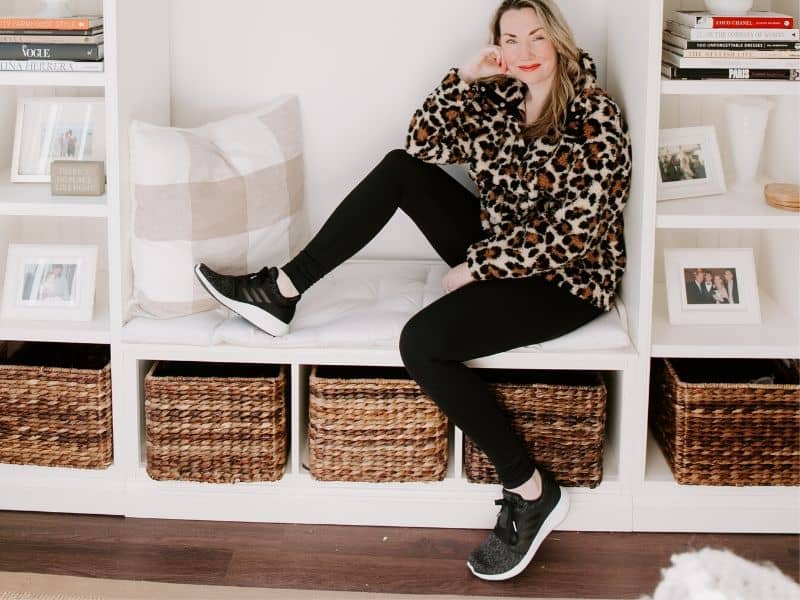 Sneakers, $85: These sneakers are light as air on your feet while still giving support. I picked them up to be gym sneakers, but quickly started wearing them all the time. They come in black (above), white with gold detail, and a super fun black and grey combo with a hint of leopard.
_________________________________________________________
Our content is not sponsored or paid for by brands or retailers in any way. Recommendations are based on personal experience and my time working with women as a stylist and wardrobe consultant for over a decade. Some links are affiliate links, which means if you purchase via our site, we receive a small commission.
If you enjoy our content and would like to help us grow, please consider following on Instagram for even more free tips, and join our Private Facebook Group for access advice in-depth conversations with other like-minded women.